Discovering charms of China with my mother
By Kyle Goldberg | chinadaily.com.cn | Updated: 2012-01-05 10:14
China Daily website is inviting foreigner readers to share your China Story! and here are some points that we hope will help contributors:
"Can your nerves handle this? You are going to need a lot of patience."
I remember asking my nearly 60 year-old mother if she was capable of conditioning herself for the maniacal streets, steer like conditions of public places, and a rather nonchalant attitude some unsavory taboos not commonly found in America (i.e., nose picking, spitting, and babies peeing and pooping in the open).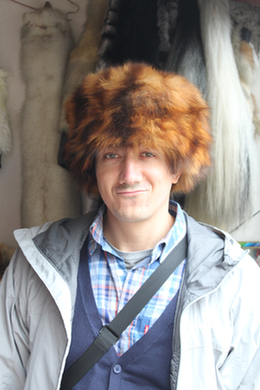 Kyle Goldberg [Photo provided to chinadaily.com.cn]
She responded with a resolute confirmation that this was not her first rodeo. A seasoned veteran of travel in the African Sahara, countless European countries, paragliding in Mauritius, trekking (albeit lightly) in the Amazon and swimming with whales in the Canadian Nunavut my mother had indeed experienced a great deal of adventurous places.
"China is not like those other places," I added, not wanting to be responsible for, to borrow from GWB, the 'shock and awe' that accompanies so many new faces each year within the borders of the Middle Kingdom.
She did, after all, play a big part in my coming to China. Flipping through years of photos from my parent's travels had instilled a pressing need to take my own pictures and hike my own paths. Would she feel the same enthrallment that I had felt when I first stepped into China?
I had about two months to prepare an itinerary that would suit her, my new wife and me. There was an overwhelming feeling of pressure to deliver the best of China as well as avoiding the less desired aspects that, in time, one learns to shove into one's subconscious. Did I have to worry about her acclimating to China? Traveling is a tricky thing and sometimes your happiness is ultimately decided by your willingness to accept the situation and not trying to change people and/or places to be more suitable for your own interests.
Fall would be in mid-swing so, although being accustomed to Chicago's blustery winters, heading into the grasslands of Inner Mongolia or into DongBei (Northeastern China) wasn't quite ideal. Going south would offer somewhat better weather conditions but would also consume too much time. So, despite having already visited most of our intended destinations, the plan was set to travel a smaller circuit that would start and end in Beijing as well as making our way through Xuzhou, my home and the future scene of the greatly anticipated meeting of the in-laws. The trip would include must see places of interest such as the Great Wall and the Terracotta Warriors, as well as the spectacular beauty of northern Sichuan at Nine Valley Gully and Yellow Dragon National Park.
I have seldom re-visited places in China so, initially, returning to some of the planned locales wasn't entirely appealing. However, as the three of us began scurrying about those skeptical feelings were quickly washed away. The itinerary didn't leave allow for much rest and there was little room for delays or any other random quirks which happen so often here.
Each place in China has its own charm and uniqueness, falling somewhere on a scale of antiquity to modernity. Quite the joy of living in China is witnessing the meteoric development and its subsequent affects on people's way of life and different parts of the country. Having settled on the logistics and a loosely defined plan of activities there were still some unanswered questions jostling around in my mind as well as some anxiety. How was the dynamic going to play out between the three of us? Would my mother adapt to the maddening pace of travel through the world's fastest growing country? Would she hit the ground running in this sometimes frighteningly chaotic and other times a delightfully tranquil place? The answers would unfold over the next eleven days and 5500km of rail, road, and jet stream.
Unsurprisingly my mother and her Er Xi (daughter-in-law) got along famously. While there were verbal limitations between them, the three of us quickly realized that some things just don't need to be spoken aloud. Replacing small talk were heartfelt hugs, long stretches of walking hand in hand, and shared delight at the mesmerizing views that held us captive along every stop of our journey. And so our crash course of seeing, living, breathing, and of course eating China was in full swing.
To attempt to explain all the exciting, intriguing, and spectacular places, people, and foods we encountered would be an impossible and perhaps futile task. We stumbled across the good, the bad, the ugly, and the unbelievable. Traveling doesn't necessarily have to be picture-perfect the entire way. What resonated much more were robust feelings in my heart and mind during and after our barnstorming adventure through China. Re-visiting places with people who share the same passion for understanding, exploring, and mingling with the very tangible energy an unknown place can offer was rewarding on so many different levels. I sensed a change occurring inside me as well.
The smoke caked air swirled around us and it brought dusty memories to life again. What had been a collection of distant and hazy scenes from the past four years suddenly were injected full of new energy and became sharp once again. The inquisitive nature of my mother and the boundless knowledge of my wife were symbiotically working together to help unlock, discover and understand the bewitching charm that so lures so many people here. At times, however, China can give you pause. The noise, the movements of people and vehicles, the non-stop action all seems like it could swallow you if it chose to. Fortunately we were doing most of the eating this time.
The fascinating wonderment that is China began to take hold of my mother, much the way it did me. Around every corner, inside every nook and cranny, and down every hutong (traditional alley) from Beijing to Sichuan to Shanghai to Xuzhou were mysteries and delights that my mother wanted desperately to understand, or at least take a picture of. Things that were commonplace for my wife and all too familiar to me were finding a new face to amaze. And slowly the intrigue and allure of this place was coaxed back to life within me. Those exquisite differences that make this country so intriguing were once again captivating my attention in the same ways they had over four years ago.
We were re-tracing some of my steps, both literally and figuratively, at the same time my mother was making her very own footprints in China. We did some of the very same things I had done years before, stayed in the same hostels, ate from the same snack stalls that litter most cityscapes, and gradually the past began to morph with the present. The bewilderment, frustration, humor, delight, sweat and tears (from the spicy food) all rushed to the forefront of my memory. I silently recalled mouthing the same questions my mother was asking. We were all hypnotized by the same things that held my interest before. Amazingly the three of us wandered the same pathways of the People's Parks in Chengdu and Shanghai I had plodded several years ago. Isn't it usually the other way around?
The picture is usually of a mother and father leading their child through the park that they themselves have walked a dozen times. But here was a different story. The role of guide and mentor had been reversed, flipped on its side just like so many things in China. My mother was making her way through China with the same intensity and excitement that had captivated me nearly five years earlier. All the long-winded e-mails and static-filled phone calls had come to life for my mother and resuscitated a cache full of fond memories from my own not-to-distant past. All the vivid pictures and entertaining anecdotes were living and breathing again. The same feelings that gripped me had firmly taken root with my mother, much to my enjoyment and the amusement of my wife.
It was an absolutely memorable experience to have my mother visit China for the first time while at the same time resurrecting some idle feelings and memories that had been stored away. I fully expected and was prepared to be tired from all the walking, riding, climbing, and flying we had planned. What absolute surprised me was the joy I felt rediscovering (with my wife and mother) the allure that had initially attracted me and kept me here. Perhaps I will capture this magic in several more years with my own child or whenever the next visitor comes knocking on China's big red door. What I do know is I will be more than willing to take a trip down memory lane again.

The author is originally from the suburbs of Chicago, now making his home in Xuzhou, Jiangsu. He has been teaching English in China for almost five years at a few different universities and now at one of China's many English training schools.

The opinions expressed do not represent the views of the China Daily website.

[Please click here to read more My China stories. You are welcome to share your China stories with China Daily website readers. The authors will be paid 200 yuan ($30). Please send your story to mychinastory@chinadaily.com.cn.]