Coping in China
By Duncan Anderson | chinadaily.com.cn | Updated: 2012-01-10 10:16
China Daily website is inviting foreigner readers to share your China Story! and here are some points that we hope will help contributors:
Living in China has its charms, and it has its drawbacks. To cope with one of these drawbacks, I had many tricks up my sleeves, like the preventative method; the determined method; and the dreaded "hold it and get a taxi home after class" method.
Using such tactics, I had avoided it for nearly 5 months.
However, the time had to come, and when it did, I was completely unprepared.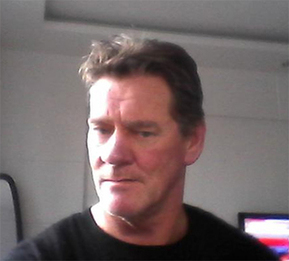 Duncan Anderson [Photo provided to chinadaily.com.cn]
I was overjoyed when I was given the opportunity to visit Tonghua, a small city in North-east China, even if it was only a day trip and 2 long bus rides to get there and back. The city sits in the south of Jilin province, and is near the Changbai mountains though not near enough to give one a view of them.
Since I had arrived in China 5 months earlier, I had been 'cooped up' in Changchun, the capital of Jilin, which lies on the flat plain called Songliao. I desperately wanted to 'see' the land, the topography. I wanted space, and a hilltop view to get my bearings. I had no idea which was north, south or whatever. I vaguely knew where east was, I suppose, because when you could see the sun through the smoky haze, it was over thataway.
My wife had even taken me to Jinyue Park, on the outskirts of the city, where, she told me, there was a hill. We climbed to the top of that hill, but, even though there was a beautiful view of the park, when I looked to where the city should have been, all I could see was ... (that's right) the smoky haze.
My next opportunity came months later. I was asked to travel north to the town of De Hui, a two-hour bus ride. "Great", I responded, "Now I can see the Chinese countryside". My wife was not sharing my enthusiasm. "Why?", I asked. "Ask me again when you return", she said.
She was right. De Hui also lies on the Songliao plain. It is dead flat all the way from Changchun, mostly featureless, and because it was the middle of winter, the fields lay fallow - nobody was out working, and the monochromatic nature of a snow-covered plain eventually became monotonous. The only good aspect of that trip was that the people and students I met were warm and friendly, and that 'my tactics' had worked.
My tactics? For the De Hui trip, I had adopted the preventative tactic. My plan was to use this also for the longer Tonghua jaunt.
The preventative tactic involves getting up at least 2 hours before I have to go anywhere, eating a very large bowl of porridge (i.e. the western variety, made with oats), and drinking at least 2 mugs of hot, black coffee. This generally could produce movement, enabling me to utilise the private, seated facility at home, thus avoiding the public, squatting facility at my college.
The preventative tactic had served me well for 5 months at college, and the day trip to De Hui, and there was no reason why it should not work just as well on a day trip to Tonghua.
It all started off so well. Up at the crack of dawn. Porridge. 2 cups of coffee (oh, and a piece of bean curd cake, this too is part of the 'P' method). 15 minutes sitting in my own private porcelain paradise, and I was ready to travel.
Travelling south-east out of Changchun is rather pleasant. You very quickly hit the edge of the Songliao plain, and the topography turns to rolling hills. Even in winter, the bare trees stand out sharply against the monochromatic background, and little villages tuck themselves cosily on the southern side of most hills. It was pretty, and interesting. All was going well.
It was a four-hour bus ride so we had a halfway comfort stop. I needed some relief and was pleased to note that I was well-prepared. Here, there were six adjacent holes in a concrete floor, no doors - in fact, no cubicles. I felt a little smug as I took my standing-relief shoulder-to-shoulder with my fellow travelers.
Coming into Tonghua is a delight. The road follows a river through a gorge for some distance and then emerges into the open and leads you over another ice-bound river into the city. It was clean, the sky was blue, no haze, no smoke to speak of, and surrounded by hills. Traffic was light! And orderly!! This was a new, different China for me.
I was met off the bus by a very friendly local woman and as had I arrived at lunchtime we ate a veritable feast at one of Tonghua's, I believe, many fine dining establishments. We strolled through the not very busy streets of the central city area, to our appointment. All was going well.
It was a good school. I noted there were toilet facilities on each floor and there were full-height cubicles and even doors. I always check the facilities - is this obsession?
There was an hour to spare before I had to start working. I took a stroll through a city park. It was here that I had my first inkling that things may not be going so well. My stomach was gurgling. No worries. I could always adopt method number 2, if it got serious.
Method number 2 is a low risk exercise. It might also be called the tough-it-out-and-forget-it method. The idea is to pull all your stubborn resource into play, hold, and eventually transfer it to the back of your mind and forget it. It's worked well for me many times. A lack of stubbornness has never been a problem for me, I am Taurean.
Taurean or not, I soon realised method number 2 was not going to work. I started walking back to the school. As I walked, I knew that method number 3 was going to be entirely useless. Number 3 is really an extension of number 2, when, having adopted number 2 for an hour or so, you leap into a taxi and head for the peace and the privacy of your very own slice of porcelain real estate. It's worked for me for 5 months now, but my college is only a 20 minute ride from my home. I was in Tonghwa, and the 4 hour bus home wasn't even leaving for another 3 hours!
Thus, another chapter in my many varied adventures in China (have I mentioned my 'get-lost-on-a-bus-and-see-Changchun-for-1yuan tourist adventure plan?'). Today would be the day I finally used the common Chinese squat facility.
My wife has promised to give me proper instruction so that, next time, I am better prepared.
I think we all know that westerners are perhaps not as flexible in the knees and hips as the Chinese. Do we know that? Or is it just me? I can squat, of course I can squat. But I found that I can't squat with my pants around my ankles, or even round my knees! And remember, this is winter and in north-east China we are wearing a lot of stuff from the waist down. I mean, my padded undergarment weights about 4 kilos. Does that paint a picture?
So, I had carefully removed my padded jacket and my long woollen scarf so there was nothing dragging, as it were. I had hung them neatly outside. I lowered my trousers, and my long johns, and my underpants (regular kiwi underdungers) to my ankles and stopped when I realised I could not squat with my feet together. I raised them all to my knees... remember this all takes time and I was desperate by now. I raised them to my knees and found out that while I could do a partial squat, this position left my trousers, my long johns and my undies in a vulnerable spot. In a 'catching' position, one might say. What to do?
Finally, and this is a tip for all westerners new to this country, I found that by placing a hand on the back wall, bending the knees a little, and leaning back, I could 'hover' comfortably over the desired spot. One must be fit to hold this position for any length of time, but thankfully I was quick and not challenged in this way. Also, for the final act of the exercise, one must utilize one hand for the purposes of um ... clearing up. So, best if one leans back on the hand which is least suited to said 'clearing up', spread the knees a little so as to hold trousers and undergarments in position, releasing the other hand for the clearing purpose.
One more finally, finally. Don't forget to take your own paper, and don't leave the wrapped packet of tissues in your jacket pocket which you hung so neatly outside your cubicle!

The author is a retired journalist/producer from New Zealand who came to China last year to marry his sweetheart. He lives in Changchun and teaches at Changchun University of Science and Technology.


The opinions expressed do not represent the views of the China Daily website.

[Please click here to read more My China stories. You are welcome to share your China stories with China Daily website readers. The authors will be paid 200 yuan ($30). Please send your story to mychinastory@chinadaily.com.cn.]