Dog meat, to eat or not to eat?
By Lucy Mills | chinadaily.com.cn | Updated: 2012-02-02 12:48
China Daily website is inviting foreigner readers to share your China Story! and here are some points that we hope will help contributors:
Lucy Mills with her dog Coco [Photo provided to chinadaily.com.cn]
The first time I saw dog meat, I cried. I was walking down a small side street in an 'Ancient Town' located in Yunnan, when I started to notice a rancid smell. The air was so thick with this odour, I couldn't escape it. I became curious to find out the source of this, and noticed a man behind a small kiosk selling a type of meat I was unfamiliar with. As I looked closer, it hit me. Ten little tails, which once wagged were placed neatly next to paws of various sizes on a dish. A torso lay next to the head of a terrified face. It was no doubt dog meat. While I threw the seller a dirty look and quickly moved on, others casually walked by without noticing. Instantly I tried to imagine what the short life of this dog was like. For an animal that gives me so much joy, which has unique personalities, who displays human-like emotions, it was hard to comprehend a human wanting to kill and eat such a creature.

I have asked a number of people about their thoughts on dog meat. One older American man who lives in Taizhou, Jiangsu recalls waiting for winter so he can select a dog to be dished up, just as one can select a fish to be served in a seafood restaurant. He says you know you are eating dog because of the strong smell and taste unlike any other meat. On the contrary, another older American recalls being invited out to dinner and witnessing a paw (still with claws and a bit of fur on) clinging to the inside of a hot pot dish. His reaction was to politely decline the invitation to eat from this hot pot and stick to the fried rice. One Chinese woman I know hates seeing dog meat on the streets, as it reminds her of when her pet dog, QQ was stolen. She later found her dog on the street to be served as a snack. Many young Chinese I have talked to refuse to eat dog based on the fact that they have dogs as pets, and can't imagine eating little Mimi for lunch. However, their grandparents seem to recall a time where they ate this as children, and would happily much away at a dog leg. I also met a German woman who lives in China and owns four beautiful dogs.She wouldn't mind eating canine if it was humanelykilled. She says that it is not just the consumption of this creature that is the problem; the most disturbing part is the killing. This woman recollected witnessing the horrific slaughtering of a dog which was hung up and beaten alive "to make the meat soft." They then skinned the dog alive, saying it was easier to remove. Some use the skin to make a range of products they can sell.

As a tourist on holiday in Lijiang, Yunnan, I came across dog skin bags. It was literally a bag made from a skinned dog, with the head used to decorate the front of it. I came across all sorts of breeds I recognised. I really wondered what kind of person would purchase these.There were also other dog fur products I have seen before. It reminded me of a time when I entered the house of a wealthy acquaintance and noticed a sleeping pet in the corner. It actually turned out to be not a dog, but a pile dog fur. There were dog furs to step on, sit on and sleep on scattered throughout the house. In my eyes, it was not beauty; but death. A nightmare.It is likely that each one of these animals suffered greatly in their short lives at the expense of a sick version of fashion.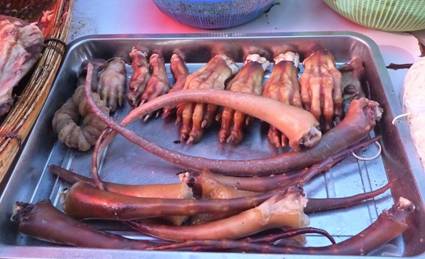 Dog meat sold in an 'Ancient Town' located in Yunnan. [Photo provided to chinadaily.com.cn]

People here are starting to take action against eating dog meat. Before the Beijing Olympics in 2008, Chinese officials in Beijing ordered dog meat to be taken off of the menu at 112 restaurants. In 2010, a proposed draft was drawn up to prohibit the consumption of dog meat, which the Chinese Animal Protection Network, among other animal rights groups supports. Some people may be starting to realise that eating dogs can be harmful, (dogs may carry diseases, and the preparation of the meat can be unsanitary) but it also encourages animal cruelty.

As a Westerner, I am not used to seeing dogs this way. To be honest, it does shock me, as I have been kept in a world where animals clearly have rights, and many people give dogs a voice. The practise is just so cruel, that I still don't understand why people still pay animal abusers eat it. I hope one day the dogs in China can have rights, but this can only happen when the majority of people here make a change, and say no to animal cruelty. Dogs are not meant to be bred for food, but for companionship, unlike other animals such as sheep and cows. They have different needs and respond to the kind touch of a human. Many of these poor creatures suffer in the hands of the greedy and ruthless in unimaginable ways, only to be made into a quick snack, or accessory to show sign of wealth. They are often kept locked up in unsanitary conditions until their brutal, painful death. We live in the 21st century, where plenty of food is available. Murdering these animals is absolutely unnecessary when there are other kinder options. Slowly but surely, I hope China will make a change for the better and outlaw mercilessly slaughtering dogs.

The author currently lives in Yunnan, China.

The opinions expressed do not represent the views of the China Daily website.

[Please click here to read more My China stories. You are welcome to share your China stories with China Daily website readers. The authors will be paid 200 yuan ($30). Please send your story to mychinastory@chinadaily.com.cn.]