Lack of rating system is the real dirty laundry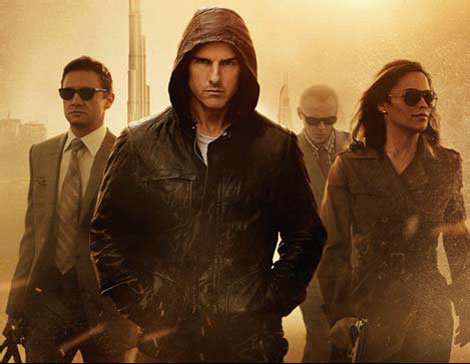 Mission: Impossible - Ghost Protocol is a winner at the China box office. [Provided to China Daily]
Review
Mission: Impossible - Ghost Protocol, the latest installment of the spy thriller franchise, grossed $15 million within two days of its Jan 28 China premiere.
One of the online reviews is snarky: "I wonder how this film could be allowed to be screened in Russia and India?"
The comment doesn't quite come out of nowhere.
An extremist bombs Russia's symbol of power, the Kremlin, and the government tells the public it is an accidental gas explosion, in the film. And Tom Cruise's character, Ethan Hunt, mocks the guards as if they are buffoons, adding insult to injury.
In India, where US agents try to stop a nuclear conspiracy, Bollywood actor Anil Kapoor plays a salacious tycoon who is easily seduced by Ethan's colleague, Jane.
Would the plotline encounter trouble in China if the film were set here? The answer to that question can perhaps be found in the last M:I film.
M:I 3 was partly shot in Shanghai. Scenes depicting laundry hanging on bamboo poles when the film hit Chinese theaters in 2006 were required to be cut.
The South China Morning Post reported Chinese officials were also unhappy Shanghai police didn't respond fast enough to crimes in the flick.
The central government late last year released a draft law on the film industry, as the sector has continued to grow by more than 30 percent annually since 2003.
Many believed the proposal would conjure a rating system. Instead, the categories of banned content increased from 10 to 13 to include "instruction in crime" and "exaggerating terrorism".
China is not the only country to censor films.
With the absence of a rating system, censorship has a sound reason to exist. Without it, disturbing erotic and violent scenes can reach audiences of all ages, including young children and teenagers.
But a more reasonable way, as widely agreed upon in the industry and among audiences, is to set up a rating system that clearly defines who can view what content.
Filmmakers choose how to tell a story themselves, depending on their target audiences. Viewers choose what they want to see and are best informed by ratings. This protects both the freedom of artists and viewers' interests.
A senior Hong Kong director once told a forum it requires subtlety to get a film approved in the Chinese mainland.
Regulations are often general, so filmmakers find themselves guessing where the lines are drawn. The director has a few hints and advice: It's wise to do close-ups of faces during sex scenes and panoramas during gory tableaus.
When filmmakers have to spend so much time and energy divining such understandings, they are dancing with shackles.
Some optimistically consider this a challenge to generate greater creativity and willpower. But arts thrive in freedom and imagination in the long term.
We may need to place more confidence in filmgoers. In an era of such pervasive information flows, few would conclude from any film that all Shanghai residents hang their socks and underwear on bamboo poles.
And even fewer would assume all of India's nouveau riche are lascivious or that the Kremlin is easy to attack.
China Daily
02/03/2012 page18)