Traveling in the Middle Kingdom with my kids
By Manjula Karunaratne | chinadaily.com.cn | Updated: 2012-02-10 14:17
China Daily website is inviting foreigner readers to share your China Story! and here are some points that we hope will help contributors:

Travelling with my children is not a small part of my life; it is my air, my food and my water. Recently I spent 4 weeks backpacking around China with my 10-year old son. It was the first time in China for both of us. I understood that now there are more and more families travelling in the Middle Kingdom I just didn't realize at what point it would be so wonderful. I encourage everyone to consider Zhongguo as a family vacation destination because it is very safe and the hundreds of layers of civilization and culture will open your families' minds as never before. Appreciation of this culture and its history will be very important for the next generation all over the world. But why is it so wonderful for children?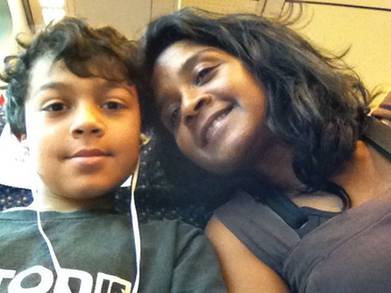 The author poses with her son, Antoine, on a train somewhere in China. [Photo provided to chinadaily.com.cn]
The youth hostels are affordable, very safe, everyone speaks English and their attitude to customer service is impeccable. It is also a wonderful place to make friends with other Chinese travelers where generally in youth hostels around the world you meet foreigners of that country. There is a special attitude of patience and kindness towards children. At one youth hostel, Wada, in Guilin the owner was driving up to the rice terraces on the same day I hoped to go with my son. So the kind girls at the hostel organized transport for us with the owner. It was an adventure due to the fog in the mountains and I was very grateful to her. Also during the Christmas there are many dumpling parties at the hostels which we loved.
Train travel is on-time, affordable and safe while domestic air travel is comfortable and inexpensive especially when travelling off season. Of course we were very excited to ride the Maglev at 300km hour in Shanghai and the fast train in Hainan at 200km an hour. It was wonderful to see so many people generous with my son on the trains. At one point when we lost a backpack the police acted swiftly, found the back pack and sent it to my next hostel in Xi'an. The youth hostel workers helped me have a handmade 'flag' made thanking the Pingyao police and sent it to the police station. This is an ancient tradition in China and I felt privileged to participate.
In Hainan I had to go to a Haikou hospital because my son had an infection in his eye. The youth hostel workers drove me to the hospital and showed great concern. The time it took to get a hospital card, the cost of a doctor's evaluation and the cost of the pharmaceuticals left me speechless. The cost was so low and the service was so fast. Could this be a country that strives for excellent customer service? Or were privileged because we were foreigners?
But wait a minute, did I just filter out all the negative points and just give you a travel document? The truth is there were difficult times. Not every taxi was available - even in Sanya when the group of taxi drivers playing cards with a container of money waved us on with 'no taxi, no taxi' I can only imagine that it was their 'break'.

On a few other occasions my son said, 'Those girls are laughing at you.' I personally don't mind this. I sarcastically replied with, 'Maybe they have never seen someone so beautiful and it makes them happy.'
Furthermore I'm sure we were charged more for food and some things we bought. I specifically remember a 30RMB instant coffee at a village in the rice terraces. However, where is there a utopia with everything that every foreigner is looking for? All the countries I have travelled in have their strengths and drawbacks and China is no different. What is interesting is for us, the foreigners, is to finally find out for ourselves now that China is more and more accessible.
As I travelled what was important for me was to talk to the Chinese people I met and better understand the country. I began my exploration before I stepped on to the plane with the history of China and several books by Pearl Buck, Anchee Min and Jan Wong. The thousands of layers of history and culture are what will keep me going back to China as well as the ease with traveling. I am now organizing my next trip to Zhoungguo with language classes, another itinerary and this time I will take my 12-year old daughter. Travelling in China with a child is a different experience perhaps because children are so well loved here.

The author is a resident of Quebec. She is a teacher and I run a small language school in the Gaspe Peninsula where she lives with her husband, two children and English Mastiff.

The opinions expressed do not represent the views of the China Daily website.
[Please click here to read more My China stories. You are welcome to share your China stories with China Daily website readers. The authors will be paid 200 yuan ($30). Please send your story to mychinastory@chinadaily.com.cn.]