Leaving Beijing on the wings of kindness
By Mark Takefman | chinadaily.com.cn | Updated: 2012-02-18 10:18
China Daily website is inviting foreigner readers to share your China Story! and here are some points that we hope will help contributors:

In October 2006, after a short visit to China, my wife and I were leaving our Beijing Hotel to go to the airport to fly back home to New York.

The hotel had arranged for a private taxi to take us and the driver was patiently waiting for us. As we traveled the wide boulevards full of traffic and people and had our last looks at The Forbidden City walls, our driver miscalculated his breaking ability and gently hit the car in front of us.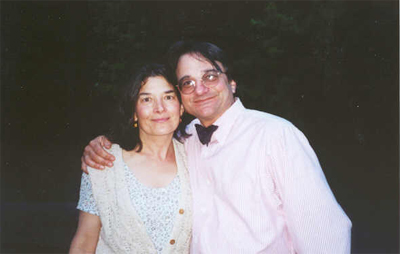 Mark Takefman and his wife Christina LaBarre [Photo provided to chinadaily.com.cn]
We were in the far left lane and traffic was heavy, but he got out to assess the damage and speak with the other driver, while my wife and I wondered and worried if we were going to get to the airport on time. As we didn't speak any Chinese we didn't know how we could talk our way out of the situation.
Shortly, or what seemed like a long time, the driver came back, gave us a sad look and signaled us out of the car. He then took our bags out of the trunk and pulling them behind him stopped the traffic in 5 lanes, and took us and our bags across the roadway.

Upon reaching a safe perch he hailed a cab from a side street, told the driver (my assumption) to take us to the airport, paid the cab driver with the money he had been pre-paid with, stuffed us in the cab and sent us on our way uttering but one little word, perhaps the only English word he knew: "Sorry".
We were heartbroken when he said this with a sad look in his eye, but we fondly remember him as a typical example of how wonderful and kind the Chinese people were to us on our trip. He was one of the reasons I am back in China today.

Mark is presently living in Chengdu, Sichuan as an organizational development advisor for the Chengdu Urban Rivers Association.

[Please click hereto read more My China stories. You are welcome to share your China stories with China Daily website readers. The authors will be paid 200 yuan ($30). Please send your story to mychinastory@chinadaily.com.cn.]