Plans afoot to open second 'dragon mart' commercial center in Mexico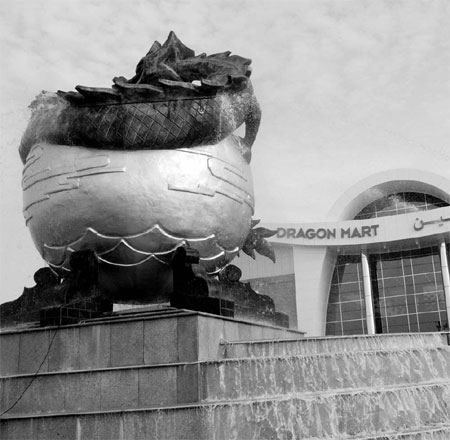 The Dragon Mart commercial center in Dubai, United Arab Emirates. A second Dragon Mart project in Cancun, Mexico, will receive 10 billion yuan ($1.54 billion) in investment. Wu Wangsheng / for China Daily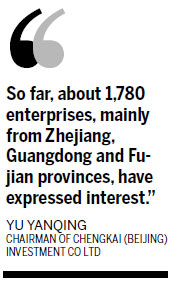 Govt to take 40% stake in project sponsored by Commerce Ministry
BEIJING - China plans to establish a "dragon mart" in Cancun, Mexico, as a way to further promote trade between the two countries, industry insiders said on Wednesday.
Ten billion yuan ($1.54 billion) is expected to go into the Cancun Dragon Mart, as the project is to be called. The Chinese government plans to take a 40 percent stake in the project and the Mexican and US governments a 30 percent stake each, said Yu Yanqing, chairman of Chengkai (Beijing) Investment Co Ltd.
Sponsored by the Chinese Ministry of Commerce's foreign trade development bureau, the Cancun Dragon Mart is to be undertaken by Chinamex Middle East Investment & Trade Promotion Centre Ltd - which helps to promote Chinese products throughout the world - and Chengkai (Beijing) Investment Co Ltd.
The project will be the second dragon mart China has helped to open overseas. The first was opened in Dubai in 2004 and is now the largest site for trade in Chinese products outside of China.
"I believe such a large-scale trading site is highly necessary in the Middle East, Latin America and Africa," said Hao Feng, chairman of Chinamex Middle East Investment & Trade Promotion Centre Ltd.
Hao said a Chinese commodity fair will be held at the Cancun Dragon Mart after Spring Festival - which starts with the Chinese New Year - in 2013.
Occupying 283,600 square meters, the Cancun Dragon Mart will contain a shopping area, warehouses and residential sections. The project will be divided into three phases and will take from five to seven years to complete.
"The first phase will be finished in the fall," Yu said. "So far, about 1,780 enterprises, mainly from Zhejiang, Guangdong and Fujian provinces, have expressed interest.
"As far as industries, electronic products, building materials, medical apparatus and instruments, textiles and home appliances are mostly what we would like to concentrate on in the mart," he said.
Hao said Chinese business people will find huge opportunities in Mexico.
"Most of Mexico's imports come from Japan, India, South Korea and the US, which can cost about three to five times more compared with Chinese goods in the Dubai Dragon Mart," Hao said.
Statistics from the Ministry of Commerce showed that the value of China's exports to Mexico stood at $23.9 billion in 2011, up 34.16 percent from a year earlier.
The value of Mexican exports to China, meanwhile, was $9.39 billion in 2011, up 36.3 percent from the year before.
China Daily
(China Daily 02/23/2012 page17)