So far, so bad...and that's good
By Uri Toch | chinadaily.com.cn | Updated: 2012-03-14 10:17
China Daily website is inviting foreigner readers to share your China Story! and here are some points that we hope will help contributors:

I knew that my first trip to China (for three weeks) would be enlightening and educational. I was fairly well prepared, having talked to friends and colleagues that had made the trip and I also did some reading on the politics and history of China. I knew about the "paper" shortage and avoiding street food and tap water. I also knew that probiotics might make my intestines operate at a higher capacity. Most of all I was prepared to meet wonderful people. All this preparation, of course, was designed to make things go as smoothly as possible.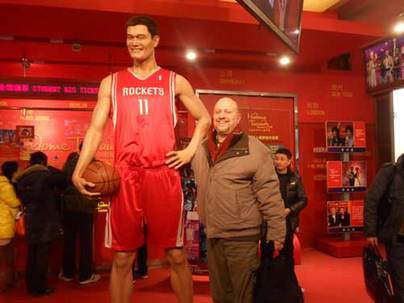 The author poses with Chinese basketball star Yao Ming wax figure in an undated photo. [Photo provided to chinadaily.com.cn]
As much as positive experiences are beneficial, I found that many of my most enduring experiences came through miscues. There is nothing as healthy as a good old-fashioned mistake to help sear experiences into your brain (and heart).
On our first night in Xi'an, we were hosted for a nice meal. I was the first person in the room and looked at the round table for a place to sit. My eyes spied a nice chair with a tall napkin in the glass in front of the plate. I thought that that place looked inviting, so I went to sit down. I was then informed that the plate with the tall napkin signifies the seat of the person of honor, or more correctly, the seat of the person who is going to pay for the meal. I hastily moved my seat to a setting with a flat napkin!
Later at that same meal, the person hosting the meal offered a toast. I, of course, happily matched our wine glasses together. I was then informed by a colleague that I should have lowered my wine glass as a sign of respect, something I would have happily done.
While in Xi'an, I had the pleasure of going shopping in the Muslim quarter. One of the things I needed was a light hat. Of course, the stalls have all sorts of merchandise and my eyes alighted on a soft, cashmere-like hat, green in color. The hat had large ear flaps and so did a great job of calling attention to itself and whoever was wearing it. The hat was comfortable (and well-priced after careful negotiations), what else could an intrepid traveler want?
I proudly wore my green hat through the stalls poising to have my picture taken with some of my colleagues, including some female colleagues. Later that afternoon, we hooked up with some of our other Chinese colleagues and one of them took me aside and told me the story of how wearing a green hat is a sign that a spouse (or girlfriend) is cheating on you and to wear one is to be a bit of a dim idiot! I immediately took off the hat but I rather sheepishly asked what I should do with the photographs that I was planning on showing to my wife of 25 years!
We were also looking to purchase some flags so we made our way to the area that sold flags. Having been tutored in the subtle art of negotiation, we knew that the stated price was only the starting point for negotiations. We found some flags we were interested in and asked how much they were. The vendor replied that the flags were 300 Yuan. Without missing a beat, we countered with an offer of 250 Yuan. The vendor gave us a quizzical look and quickly lowered the price to 240. Such a deal, we thought! It was only later that we learned the 250 rule. If someone bids 250 or brings it up in conversation that is a sign of disrespect of calling the other person stupid.
Finally, I gave a shirt to a colleague because it had the name of my American college on it and I thought he would enjoy wearing it after we left. He looked pleased and asked me how I knew his size and if the shirt was new. Both of my responses would have been uncomfortable for both of us, so I asked how someone in China would respond in such situations. He responded "I would just laugh." So, that is what I did!
All cultures have the tradition of people overcoming intellectual adversary and triumphing (think of the Chelm stories in the Yiddish tradition, for example). I am sure there is a Chinese equivalence where folly or at least fearlessness in the intellectual realm is rewarded. This is the China I am preparing to meet. I look forward to many more miscues in my romps through China, a country rich in symbolism and word plays.

The author is an associated professor of College of Lake County, Grayslake, Illinois.

The opinions expressed do not represent the views of the China Daily website.

[Please click here to read more My China stories. You are welcome to share your China stories with China Daily website readers. The authors will be paid 200 yuan ($30). Please send your story to mychinastory@chinadaily.com.cn.]