Fiction writers in China
By Justin Nicholes | chinadaily.com.cn | Updated: 2012-03-22 13:29
China Daily website is inviting foreigner readers to share your China Story! and here are some points that we hope will help contributors:

Most Chinese know the city of Xinyang, Henan, by its famous tea, Xinyang maojian. What I remember most vividly about the city, however, might resonate with a number of expats in China: my experience with the homeless. Homeless are everywhere in the world, of course, and China is not unique. Beggars have approached me in Columbus, Ohio, just as often as anywhere else in the world I have visited. Still, one incident from Xinyang has become something I have contemplated ever since, and which has inspired a lot of my recent fiction.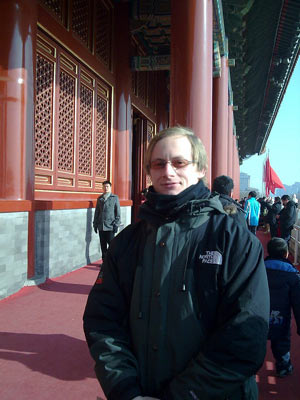 Justin Nicholes [Photo provided to chinadaily.com.cn]
A little background may help. Over one hundred foreign teachers live where I teach. In this city located south of Zhengzhou, foreign faces commonly appear. When I visited Xinyang, however, this did not seem to be the case.
As soon as I stepped from the train station, beggars surrounded me. I did not have money ready at the time, so I waved my hand and kept walking — or rather, I kept trying to walk. A woman pivoted in front of me and walled me off from continuing down the sidewalk, which vendors selling the usual wares and street-side snacks had already narrowed. The Chinese young lady I was visiting in the city had met me at the station, and when we continued walking away without giving money, the beggar accosted her, saying that Chinese should stick together. When we proceeded on, the woman pinched my Chinese companion on the back of the leg, an assault that left a considerable welt.
That event unsettled me. As we hurried away, I felt a rush of guilt. Didn't I come from one of the richest and most giving (also one of the most wasteful) countries in the world? Perhaps I should have given something, even if it meant digging into my coat for a wad of travel cash. On the other hand, I also felt some injustice had happened. Pinching a stranger could get you arrested in the States. (The humorous side of it, of course, was also not lost on me.)
A couple of days later, however, something happened that was nothing to laugh about. The same woman spotted me walking with three Chinese into a restaurant. She noticed me from maybe one hundred yards away, and she crossed four lanes of traffic to wait for me to finish my meal. Once again, I was not allowed to walk away after leaving the restaurant; the woman, pleasant enough, smiled and bobbed a bowl in front of me, and when that did not work, she planted a shoulder into my arm to slow me down. This time, I had some coins in my pocket, so I dropped maybe five mao into the bowl. From then on, though, I was wary about going anywhere in the city. The woman's aggressiveness made me very conscious of the fact that I could never blend into Chinese society, at least not in a city unfamiliar with foreigners. I also realized that no matter how little money I actually made in China (I teach English, which doesn't exactly allow me to buy that BMW with tints), I would always symbolize a guy with money to spare.
That night, I drafted a story told in the first person from the perspective of a beggar in Xinyang. The beggar spots a foreigner, who is described as looking exactly like me, through a restaurant window. Writing the story and drafting it over the next year allowed me to empathize even more with her perspective; it also allowed me to more objectively view what I must look like while cruising through Chinese society, relatively untouched and unrestrained by its cultural web and economics. With this story of fiction, the stars aligned, and it was accepted by a respected literary journal in New York City. (The journal later nominated it for a Pushcart Prize, though the story did not win one.) The same story in different form also became the prologue of my forthcoming novel, which Hong Kong-based Signal 8 Press will publish in June of this year.
I am not sure that one place in the world can be essentially better for a writer than any other place. Still, here are some questions worth exploring. My hope is that readers of this China story will post their own experiences and thoughts about being a writer here so that we can flesh out this topic together.
To begin with, does a certain level of alienation that comes with being in China encourage or enable a foreigner to look inward? In this way, does being here, and always being even to a small degree excluded, enable a writer to develop his or her capacity for thoughtful understanding, which is necessary for a writer? Another question: Does the newness of Western writers' experiences in China imbue their writing with some unique newness publishers are seeking? To put it more simply and perhaps even cynically, are editors in the Western world of publishing simply more likely to publish submissions about China?
Let's start with the "alienation = introspection" question. Perhaps all expats have heard and know the cliché that expats go abroad because they are "running from something,' only to find that what they thought they were fleeing was always inside themselves. (Sigh.) Like all clichés, some partial truth exists here. I was happy in the US and came to the Henan province to teach English composition. Still, I am an introvert and have always sought new experiences. The generous side of me would like to believe that my being here has developed my capacity for patience and understanding, but that was sort of the kind of person I was before (I would like to believe, anyway). Does being in China change a person, or does it simply accentuate an essential self?
The second question for a writer, about whether or not being here bestows some unique vision upon us that Western readers are hungry for, is an interesting one. My gut feeling is that, yes, we can offer stories that nobody else can. Being an editor at an online literary journal myself, I know what these editors tend to encounter in the slush pile: heaps and heaps of stories from a suburban American's point of view, touching on themes of anxiety and somewhat sophomoric angst. Have you ever looked at the causes of death in the Western world compared to leading causes of death in Asia? Our regions, statistically at least, have different concerns. Sometimes I feel that being in China reminds me of our interdependence. It sometimes feels like, in China, I observe a physical nearness and harmony lacking in my experience as an American. Can such observations and others like it expand a writer's ability to convey character in fiction?
The most cynical question, and one I have asked myself from time to time, is whether publishers in the States simply pay more attention to works of fiction or articles about China. My easy answers is: yes, they do. That, however, does not mean editors will publish a story or article only because of the "China factor." Speaking again as an editor, I know a story about India or Russia or China will not work if other elements expected in literary fiction are absent, such as fleshed-out characters, evocative prose, and a sense of tension or forward momentum. A good story is a good story, but all things being equal, editors seem more likely to take the good story about a new place than the good story about a place mostly everyone knows about.
Perhaps, after all, being in China simply gives a writer more time to write, as well as more topics and insight to explore in writing. What do you think?
Justin Nicholes is the author of the novels Ash Dogs (Another Sky Press, 2008) and the forthcoming River Dragon Sky (Signal 8 Press, 2012). His fiction has appeared in Slice, Prick of the Spindle, SLAB, Karamu, and elsewhere. His essays have appeared in Narrative and Dark Sky Magazine. Justin currently teaches English composition in the Henan province. More at www.justinnicholes.com

The opinions expressed do not represent the views of the China Daily website.

[Please click here to read more My China stories. You are welcome to share your China stories with China Daily website readers. The authors will be paid 200 yuan ($30). Please send your story to mychinastory@chinadaily.com.cn.]