15 minutes of fame
By Daniel Walsh | chinadaily.com.cn | Updated: 2012-03-26 13:36
China Daily website is inviting foreigner readers to share your China Story! and here are some points that we hope will help contributors:

Having lived in China for more then 2 years, I have had many wonderful and interesting experiences. I have paraded through the streets of LaiBin during their Culture and Art Festival, I have dressed as Santa Clause and sung Christmas songs with hundreds of students during a language school's Christmas Party, I have been interviewed by a local news paper about my life in China and I have met so many new friends, but the most interesting experience I have had was when I acted in the film Hong Shui Yao.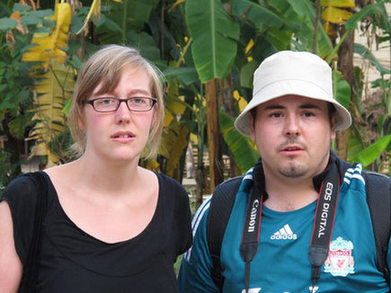 Daniel Walsh (R) and his German classmate Julia. [Photo provided to chinadaily.com.cn]
In October 2010, I was sitting in my Chinese class at Guangxi university when a teacher and group of Chinese people turned up at our classroom door. They spoke among themselves for a short while and then asked myself and a German classmate to come outside with them. We didn't know what the people wanted, nor why they wanted to speak to us, but we joined the group outside the classroom and waited patiently for them to stop their conversion.
When they had finished speaking among themselves, they introduced themselves to me and my German classmate Julia. The group of people were from a production company, currently in the process of filming a movie based in DuAn, a rural area a few hours north of Nanning. They tried to explain the plot of the film, but neither me nor Julia's Chinese was good enough to fully understand what they were saying. They then asked if we would be interested in being pert of the project.
I came to China to experience new things and new opportunity, being in a movie sounded so very exciting, so in less then a second, I jumped at the chance of being in the film, Julie on the other hand was not so enthusiastic. It took 30 minutes to convince her to be part of the film, but she eventually accepted the chance.
That afternoon we were taken to the production company's office to meet the director and some of the cast. We all set together, drinking tea, talking as best we could about why me end Julia were in China and about the film, it seemed a little bit like a dream.
Ever since I was a small child, I dreamed of moving to America and becoming a movie star, I would never have guessed that my dream would come true, especially not in China.
At the end of the talk, we were given scripts and had a few photographs taken, we were given the production schedule and ensured that our scenes would only be shot writing weekends so it did not interfere with our studies. We left the office excited about the film, but unknowing of what filming was actually like.
On our first day of filming, we were picked up in the early morning from the university and we drove deep into the countryside. The film is set around the Hong Shui river in DuAn county, a place I had never heard of before, but a place I will never forget because of its scenic beauty and the amazing experience I had in making the film.
We arrived on location and waited for our scene to be shot. We watched as the other actors and crew went about their work, busy shooting and re-shooting the same scene from different angles and perspectives, I never knew how much effort and care went into filming even the most short and simple scene. It was then our turn to shoot, I was very nervous and very excited.
After repeating the same lines many many times and repeating the same actions over and over again, the director finally called cut. I was relieved to hear the words, the heat and constant repetitions had made me feel very tired, I needed a rest. I remember thinking to myself, "so much for the magic and glamor of the movies!", in reality, it is hard work, though it is very fun and interesting.
Over the next few weekends we filmed more scenes in different locations including a school in the DuAn countryside, the Stone Market in Nanning and beside the HongShui river. We got to see some beautiful places which we would never have seen if it had not been for the film.
On our final day of filming, when the final cut was called, everyone cheered and clapped with joy, our experience was over, but our memory will last forever!
The author is from England, and he lives in Nanning, Guangxi Zhuang autonomous region.

The opinions expressed do not represent the views of the China Daily website.

[Please click here to read more My China stories. You are welcome to share your China stories with China Daily website readers. The authors will be paid 200 yuan ($30). Please send your story to mychinastory@chinadaily.com.cn.]