My treasured driving assistants
By Keith Hadley | chinadaily.com.cn | Updated: 2012-05-17 09:27
China Daily website is inviting foreigner readers to share your China Story! and here are some points that we hope will help contributors:

Even though I know the way, I ask Mei Ling to lay in a course from work to home.
I never drive anywhere in China without Mei Ling, even when making short trips near home. She can read the traffic signs faster than I can; she knows arcane details about the interchanges that baffle even seasoned locals (such as the intersection where you make a left turn from the far right lane); and she's usually the first to see the traffic cameras that can summarily dole out fines.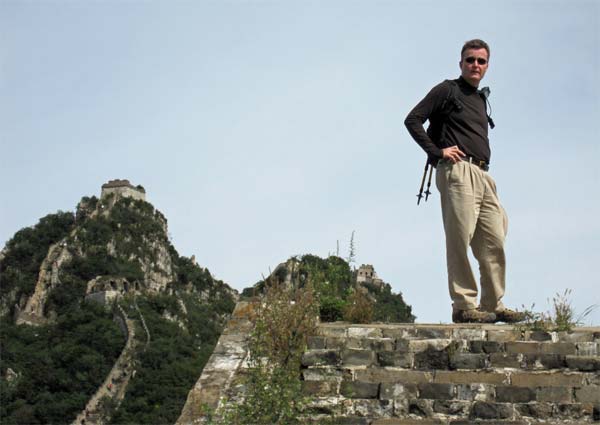 The author stands on the Jiankou section of the Great Wall in an undated photo. [Photo provided to chinadaily.com.cn]
Mei Ling and I are pretty good at spotting the cameras, but we have been nicked twice for speeding and once for making something called an "illegal turn". When you see how people drive here, you wouldn't think there was such a thing as an illegal manoeuvre, let alone an illegal turn. I suppose the municipality has to earn revenue somehow, hence the cameras. But I digress.
Mei Ling and I are a great team, but if I had one complaint, it would be this: Mei Ling can write some English, but she can neither read nor speak a word of it. She's been kind enough to provide some English labels that I can point at when I want her to do something, but all my other instructions have to be in writing... and in Chinese.
Sometimes I think it would be easier to travel with my American navigator, Jill.
Like Mei Ling, Jill is a no-nonsense, all-business kind of girl. She understood my every need when we were in North America, but she struggled here in China. At first I thought she might be having personal problems, because it wasn't like her to throw up her hands when faced with a challenge.
After a short time, the issue troubling her became clear: Jill can neither read nor speak Mandarin. As these are mandatory requirements for operating in China, I had to relieve her of duty and appoint the younger Mei Ling as my trusted advisor.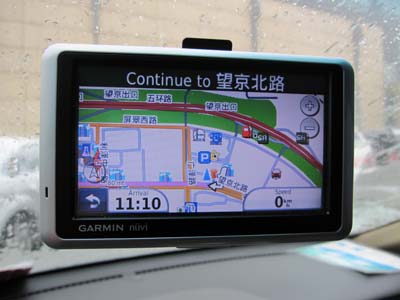 A photograph of "Mei Ling" in action. [Photo provided to chinadaily.com.cn]
Mei Ling and Jill both know that I am a man who has a keen eye for pulchritude. I sometimes forget that I am not alone when I am in the car, and they have heard me when I have unconsciously blurted out my detailed appreciation of pretty pedestrians. I feared they might believe my instincts had caused me to unfairly favour one over the other. I know that isn't true – but how could I convince them my maleness had nothing to do with their situation?
Yes, Mei Ling is younger, slimmer, faster – and Asian. And, yes, Jill is – how should I put this? – chunkier, older, and satisfyingly experienced. But that's not why I employed them. I employed them to do a job: to get me efficiently and safely from Point A to Point B.
I appreciate Jill for the skills she possesses that Mei Ling can only dream of acquiring. For example, I only have to press a button, and Jill will listen attentively to every word I say and then take action. And Jill knows my favourite music and will arrange to play it on the car radio, interrupting only when she has an important observation about an upcoming manoeuvre.
Still, Mei Ling has shown me secrets that Jill will never know, such as the exact choreography required to penetrate the enigma that is the interchange where Beijing's Second Ring Road meets Dong Si Shi Tiao. Besides, just touching Mei Ling... Just a hint of a caress is all it takes to stimulate a response.
How do employers keep their emotions out of day-to-day business?
I didn't want to hurt Jill nor favour Mei Ling. I told them both that I hoped we could continue to work together, but I feared that egos had been bruised.
I shouldn't have worried: Jill and Mei Ling are professionals.
I recently hired a car in San Jose without telling Mei Ling. When I arrived in California, I asked Jill to guide me on my travels, and she accepted without a hint of bitterness. She said and asked nothing about Mei Ling.
When I returned to Beijing, Mei Ling did the same, even though I'm certain she knew I had been with Jill.
I am relieved that both Mei Ling and Jill remain in my life, for, truth be told, I love them both.
We've worked together for some time now, but it occurs to me that I know nothing of Mei Ling's and Jill's personal lives. Where do they live? Do they have hobbies? Do they have boyfriends?
That last question pushes boundaries, and is probably inappropriate. Besides, Jill strikes me as someone who would have a girlfriend.
"Mei Ling" is the factory-installed voice setting on the Chinese version of the Garmin 1355, a GPS with a responsive touch screen. "Jill" is the voice of the Garmin 855, a GPS with built-in MP3 player and speech recognition module. These devices exhibit human emotions, incuding culture shock and jealousy.

The author is a Canadian living in Beijing.

[Please click here to read more My China stories. You are welcome to share your China stories with China Daily website readers. The authors will be paid 200 yuan ($30). Please send your story to mychinastory@chinadaily.com.cn.]