Extra! Extra!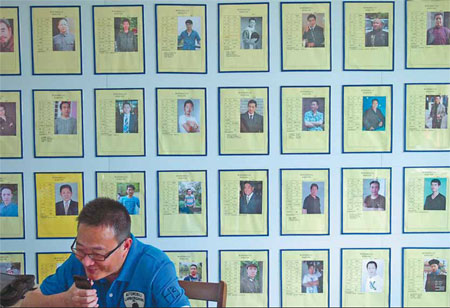 When production companies send out a casting call for extras, agents at the actors' union look into their databases to match talent to roles.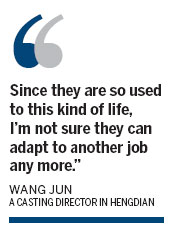 They arrive bright-eyed, with heads filled with visions of stardom. But reality in movie town can quickly send dreams crashing down to earth. Han Bingbin spends a week mingling with would-be stars on the film sets of Hengdian.
Night falls, and the heat subsides. In the dusky light, groups of young people slowly appear on the streets and gather to chat, play cards or simply loiter. Suddenly, a young man with clipboard and pen appears among them and there is a spike of excitement. The enthusiastic crowd closing in on him soon hides him from sight. It's a casting call, and the young people on the street are extras and bit-part actors waiting for work and a chance to live the dream of making it on the big screen. This is Hengdian World Studios, the biggest film set in China, located in Dongyang in the heart of Zhejiang province. In its 16 years of existence, it has become a crucible of hope for thousands of aspiring youths seeking their 15 minutes of fame. They want more, of course, and travel to Hengdian because they think it is the starting point of their journey to glory. In 1996, the Hengdian studios were built for director Xie Jin's epic film, The Opium War. They have now expanded into a full-fledged film base with 28 large-scale outdoor sets and 11 indoor studios built over 330 hectares. More than a thousand films and television series have been shot here since, and the numbers are increasing. Last year alone, 150 productions were filmed here, among which one fourth were major movies. That's the magnet that draws people like Meng Xiangkai. Amid the crowd milling about the casting director, he is noticeably short. Frowning at the jostling human wall a head taller than he is, the 22-year-old looks perplexed.
It has been a long hard journey from his rural Shandong home to here. Meng was unhappy with his job as an auto mechanic after he graduated from vocational school. He wanted the brighter lights.
After a frustrating failure in a provincial TV talent contest, he decided to try Hengdian to realize his acting dreams. But in the two weeks since he arrived, Meng has appeared in only two scenes - in which he played a bandit and then a laborer.
He was paid 200 yuan ($31), barely enough to cover his rent.
In contrast, Meng's friend Zhang Xinchi thinks Hengdian is still the best place to be. The 21-year-old from Sichuan province used to wait every day outside the Beijing Film Studio for a chance, but the talent pool in the capital is just too big and migrants like him are left out in the cold.
At least in Hengdian, he says, there is a support network for people like him.
Zhang and Meng met online in a chat room called The Same Dream. This group of more than 1,000 aspiring actors waits on the sidelines as extras and bit-part actors. They share their experiences online with newcomers, and provide real-time help and support for newbies at Hengdian.
The first day Zhang came to Hengdian, he was greeted by a chat room member named Le Tian who then helped him rent a room and got him registered with the actors' union.
Zhang and Le Tian are now neighbors in a four-story village house. Like many other houses in Hengdian, the apartments are partitioned into cubicles for the "Hengdian drifters", as the locals jokingly name the young actors.
The "drifters" are mostly young men from the countryside, not highly educated and with no formal training in acting. They come armed with nothing but dreams. Often, they have abandoned more profitable prospects back home, as well as their parents' expectations.
According to statistics from the Hengdian Actors' Union, there are more than 6,000 actors registered; about 4,000 are between the ages of 20 and 30.
In the world of films and TV, there are no steady jobs and the busiest period lasts only a few months, when there may be about 50 projects in production. This is when the extras are most needed.
In the hot summers and icy winters, when openings are fewer, most have to find other means of sustenance. Many become street vendors, or some may wander home to return only when there are more job opportunities. Or, they may simply find regular jobs elsewhere.
Le Tian is among the more fortunate.
His good looks mean he gets work even during the slower periods. He has been told he resembles Hong Kong actor Louis Koo. Just barely two months after coming to Hengdian, Le Tian was already making a steady income of about 2,000 yuan a month, which is impressive at his level.
But he is still at the bottom rungs. In the stiff hierarchy of part-timers and extras in Hengdian, Le Tian knows that stardom is still just a distant glimmer.
At his level, the best he can do is to fill the ranks when the script calls for massive troops, or itinerant hawkers to make a street scene credible. There are few chances for a close-up and even fewer for speaking roles.
Some of the veteran extras have progressed to "guest appearances" in which they actually get mentioned in the film credits against their characters' names. The younger extras are simply numbers - soldier No 1, street vendor No 2.
The veterans get a few lines, recognition and better remuneration. Some are often referred to as the Big Shots, "Hengdian dawan'er". They are often offered supporting roles and paid up to several thousand yuan for each scene so they can afford decent apartments, and cars.
Because most of the television serials or telemovies have historical settings, the supporting roles call for older actors. Hengdian's most popular guest actors are mostly in their 40s. Many are professionals retired from regional drama troupes.
To grasp the limited opportunities left to them, young extras have to work hard at getting the casting directors to notice them.
Their eagerness has resulted in a side industry that is booming in Hengdian - photography studios which help the hopeful compile their acting dossiers. Photos from past roles, with different poses showing off their acting versatility, are collated into attractive albums that will be handed in to the casting offices.
But Le Tian knows that every casting office is piled high with these albums and he knows there is little hope to stand out from the crowd that way.
There are shortcuts, but not all of them are workable. Or honest.
Veteran guest actor Bai Jincheng, 55, remembers when he first came to Hengdian in 2009. A casting director had demanded a kickback in exchange for a role. Though Bai insists that this is not a common occurrence, many young extras are aware of these shady deals behind the scenes. However, most of them are too proud (or too poor) to pay the price.
Their main task is to make the directors notice them. At Hengdian, many directors already have a pool of regular talents they draw upon - familiar people they can depend on to deliver what is needed, especially important when there is a tight deadline or a small budget.
It's about networking and contacts and interpersonal relationships.
"If you get connected to four casting directors, then you'd have a whole year of job offers," says Wang Jun, a casting director in Hengdian for nearly five years.
Wang says casting directors and actors usually become good friends. They network and strengthen bonds through dinner parties and poker games. The question for newcomers is how to break into these inner circles.
Wang is willing to give fresh faces a chance because he was an actor once and he knows how important that chance is to them. He's known as Big Brother Jun or "Jun'ge" because he has given many extras their first break.
For Wang, their acting skill may not be the prime consideration. He's also looking for the right attitude.
Many extras while away time between scenes by taking naps, but Wang says those who are really serious about their craft would stand behind the director as he goes through the rough cuts on the monitor. Sometimes, the young ones would humbly ask directors and lead actors for acting tips.
Occasionally, a director would throw a line or two of dialogue to the extras. Many would falter and shrink from the responsibility, and it is those who grasp the chance that leave a lasting impression.
Five years ago, the streets of Hengdian were clogged with eager young wannabes, but the numbers have been eroded by disappointment and disillusion. Many now leave after staying less than three months, Wang observes.
According to the worker's union, more than half of Hengdian's registered extras have passed through the revolving doors. Even those left behind stay because they are now used to the life there.
They eat the free lunch on the sets, do a street scene or two, then go back to sleep, Wang says. If they are asked to carry a coffin or shave their heads for a scene, they may ask for extra money.
"At a factory, they may have to work nonstop for at least eight hours a day. The pay is about the same, so they probably think of it as easy money in just another job.
"But that's also why many cannot rise to a better role. And, since they are so used to this kind of life, I'm not sure they can adapt to another job any more."
Contact the writer at hanbingbin@chinadaily.com.cn.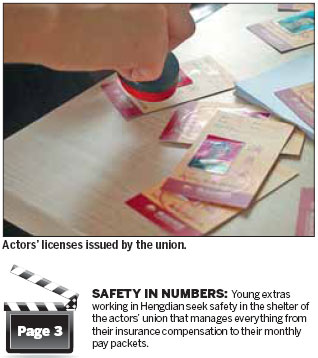 (China Daily 07/08/2012 page1)