My good old days with Chinese soldiers
By Mabbubur Rahman | chinadaily.com.cn | Updated: 2012-07-31 10:46
China Daily website is inviting foreigner readers to share your China Story! and here are some points that we hope will help contributors:
As People's Liberation Army (PLA) of China celebrates its 85th Founding Anniversary on 1st August, I can't help thinking of those old days when I stayed with Chinese soldiers.
PLA, true to its name always maintained its basic peoples' army character. It always bore in mind what Mao Zedong taught, army is more like a fish and people are like the water in a river. This has been the ethos of PLA and the essence of China's civil military relationship. PLA was never isolated from the broad masses and always remained deeply involved in all national developments and socioeconomic activities. It played a dominant role in national reconstruction and infrastructure building and combating natural disasters, like floods, cyclones, tornadoes, draughts and earthquakes. PLA always enjoyed the utmost trust, confidence, love and respect of the people of China. It is an all pervasive force with multidimensional characters. It is a fighting force par excellence with highest combat readiness. It is a productive force beyond comparison and skilled workforce, the colossus of which the world has not seen before.
I recall, I had the opportunity to live in a PLA unit in a garrison very near to Beijing for a month in mid 1977. It was a part of the study curriculum, during my study in Beijing Modern Languages Institute. President Ziaur Rahman, the visionary leader of Bangladesh, who believed in strong Sino-Bangla relation, sent me to China to study Chinese language for my future employment as military attaché in the embassy. In my outdoor study (kai men ban xue) I was sent to a PLA unit, I lived in the military barracks along with the PLA junior commanders.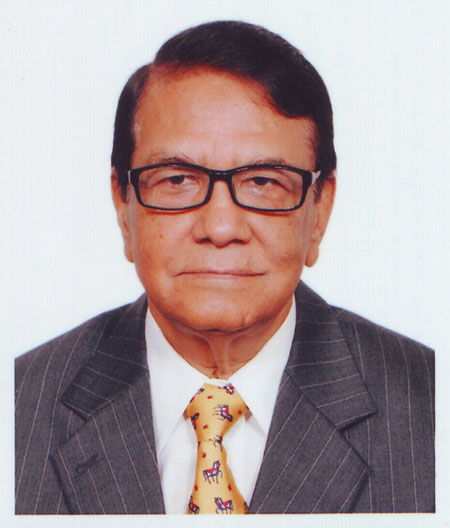 Lt.Gen.Mabbubur Rahman, former chief of army staff, Bangladesh[Photo provided to chinadaily.com.cn]
There was no rank system in PLA at that time and officers were called commanders and soldiers, the fighters. I put on their uniform, ate, worked, played and slept with them. I was introduced with the great master military strategist of ancient China, Sun Tzu and his epic work Art of War. I was given many tactical combat lessons. I was taken to the firing range to learn the skills of shooting. I found PLA soldiers were most accurate on to their targets and never missed any shot. The PLA unit where I lived was fully self-sufficient to cater its logistic needs. It had its own uniform and shoe making factory, it had its own agricultural fields to grow grains and vegetables, own farm yards to raise cattle and get meat and dairy products. The unit was even running a medicine factory to produce medicine for local use and surplus sold outside.
I remember, in my Chinese language class text book there were many easy reading short stories. I read stories of Lei Feng, the great soldier of PLA, who dedicated his life for the service of poor people and was always available to rush in their crises and difficulties. The motto of PLA, he firmly believed, was wei renmin fuwu, serve the people. Many such moving stories and their valuable lessons and my intimate stay with PLA soldiers enriched and helped me to know and understand them very closely. They all left a deep impression in my life and I still treasure them, cherish them.
Now as I reminisce my good old days in China in my leisure hours at my home in Dhaka, strange spells of feelings strike me, I get somewhat nostalgic. China, I always considered my second home, I lived there in the 70s and 80s for more than half a decade. About 35 years ago when I lived in China, she made a tiny footprint in global economy and political and military power. Today as I see China, I am totally amazed. What a wonder China has done! China today has emerged as a most vibrant and strong nation already occupying the center stage of world economy and power. China's phenomenal rise within shortest possible time (only three decades or so) is a miracle story. But miracles do happen. It happened in China. It happened because of country's wise and able leadership, pragmatic correct policies, national unity and solidarity and harmony. The unifying factor and the stabilizing core element have always been PLA, the liberator, the redeemer. It indeed always remained most patriotic, dedicated, most loyal and trusted to the people as the name PLA indicates. It never failed in its tasks and never fell short of people's hopes and aspirations.
China, to protect its land, air and sea is vigorously and unabatedly pursuing its modernisation drive and is fully confident to thwart any eventuality. However, PLA, with all its big technological advancement and modernisation changes, the basic people's characters has not changed, it remains truly the people's army, for the service of the people, for their welfare and wellbeing and for their security.
I recall, I was invited to China by PLA in 1996 when I was the Chief of Army staff. Brigadier Khairul Anam (now regular column writer in The Daily Star) was our defence attaché in Beijing. He arranged my meetings with top PLA leaders. I also had the honored privilege to meet His Excellency Jiang Zemin, the President of China and Chairman of the Central Military Comission, the highest military organ of the country. I remember, President Jiang said, "China has changed a lot. It is not the same China which you saw when you lived here in the 70s and 80s". He said, "It is a changed China, developed China and it is a new generation, a new leadership." He also said, "The world is changing. I heard Dhaka skyline has also changed. But in all these changes one thing has not changed and it will never change and that is our relationship with Bangladesh, our policy for Bangladesh." He continued, "I assure you General, China is your friend and will ever remain a friend. In time of need she will be always beside you." His words still ring in my ear. I treasure them. I believe this epitomizes our two militaries and two countries true relationship. Long live PLA. Long live Sino-Bangla defence cooperation.
[Please click here to read more My China stories. You are welcome to share your China stories with China Daily website readers. The authors will be paid 200 yuan ($30). Please send your story to mychinastory@chinadaily.com.cn.]