A Taste of Tibet
By Alexandra Thompson | chinadaily.com.cn | Updated: 2012-10-31 14:25
China Daily website is inviting foreigner readers to share your China Story! and here are some points that we hope will help contributors.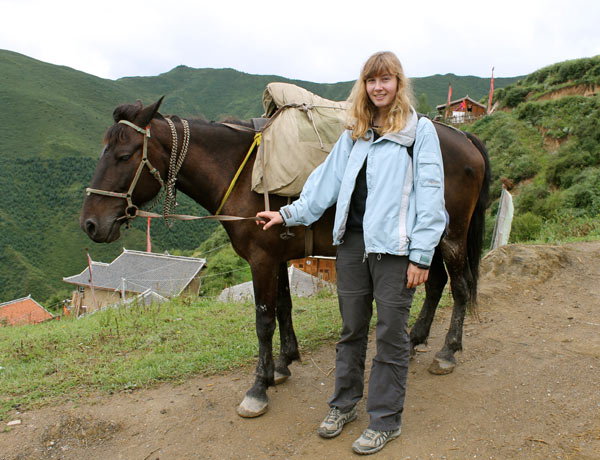 Alexandra Thompson poses with a horse for a picture during her trip. [Photo provided to chinadaily.com.cn]
The eminently Tibetan areas of northern Sichuan and southern Gansu provinces are home to one of China's most colourful ethnic groups and some of the country's most striking scenery. While bus-hopping from Chengdu to Lanzhou, stopping off at remote towns and villages along the way, I discovered places where the scenery was unspoilt and the people unfazed by the modern world. Temples soon took the place of high-rises, and 'Dicos' hamburgers were swapped for tsampa (roasted barley flour) and momo (boiled dumplings).
After a mere eight-hour bus journey north from Sichuan's capital, our first stop was the walled town of Songpan. Even on horseback, trotting through horizontal sleet, the town's surrounding mountain forests seemed luscious, and the blue-green lakes enticing. The "hot" springs we had been promised at Erdaohai after a long day in the saddle were more like just above freezing, but our guides, eager to please, offered us endless bowels of yak butter tea to warm us up, and kept us entertained despite a somewhat limited English vocabulary… "hello!", "smoke?", "f*** you".
The scruffy town of Ruo'ergai was next on our route, situated in the middle of sweeping, high-plateau grasslands dotted with nomads' tents and yak herds. Although the town itself did not have much to offer except, of course, an astoundingly large temple complex, this stopover allowed us to venture away from the security of the Lonely Planet guide to explore the first bend of the Yellow River near Tangke. That night we stayed with a Tibetan family who relied on their son to communicate with us in Mandarin as they only spoke Tibetan. Nevertheless they were incredibly warm and friendly, and really did help us out, as we hadn't anticipated that this 'tourist attraction' would have no accommodation for visitors! We sat around the open fire in their kitchen and watched the Olympics on a grainy television screen. The father, prayer beads in hand, muttered sutras to himself as the mother busied herself with preparing the yak stew we had for dinner. We then retreated to the beds in their garden shed and were asleep by 8pm. It all felt very remote.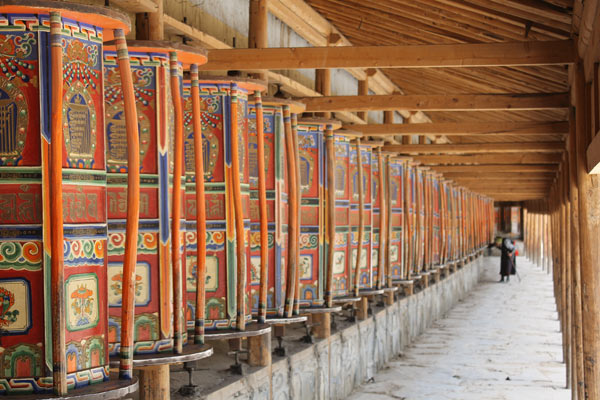 Photo by Alexandra Thompson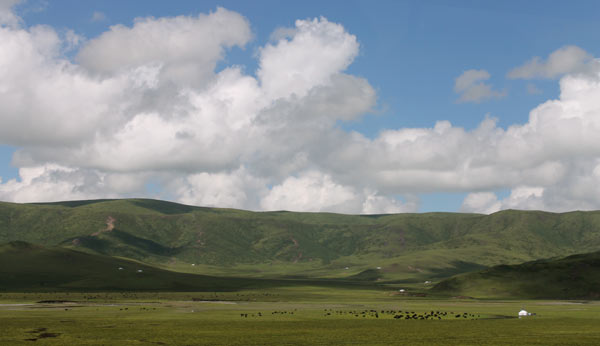 Photo by Alexandra Thompson
Langmusi, on the Sichuan-Gansu border, boasts not one but two enchanting eighteenth-century lamaseries, Serti Gompa and Kerti Gompa. The views from the hills on the edge of the village over the endless maze of gold-roofed monastery buildings and monks' dormitories are spectacular. Our second day here was spent watching some horseraces in the grasslands nearby. We hadn't anticipated quite how off the beaten path this event was, but luckily some Tibetans picked us up on our four-kilometre walk there from the nearest road. Until then I never thought it was possible to fit four people on one motorbike! The horses were showered in little pieces of paper before the riders rode bareback around a course marked out by flapping prayer flags. It was a relief to find a place where the invasion of fast-food restaurants all too evident elsewhere in China was nowhere to be seen. The nearest thing to a Big Mac here were the aptly named 'Big McYak Attack' burgers sold at Leisha's café, which are well worth the ¥25.
After a brief stop in Hezuo to visit the incredible Milarepa Palace, a nine-storey high temple, we arrived at our penultimate stop, Xiahe. The town's vast Labrang Monastery is one of the six great monasteries belonging to the Gelugpa (yellow hat) sect of Tibetan Buddhism. It attracts pilgrims who circle the three-kilometre kora (pilgrim path) around the monastery in a clockwise direction. It is possible to join an English-speaking monk for a tour around the complex, which I would highly recommend. Exploring the monastery was enchanting. Monks shuffled around the temple complex, chanting morning prayers in halls filled with the smell of yak butter. This fuels the lamps that illuminate the brightly coloured wall paintings in a dim yellow glow. We stayed in a guesthouse beside the holy monastery and instead of drifting asleep to construction noise as we did in other parts of China, we were lulled to sleep in the evenings by the sound of squeaking prayer wheels.
Altitudes are high in these areas, bus journeys slow, routes unpredictable, and English language skills sometimes non-existent, but this is all part of the fun. I would also add that the type of toilet featured on this trip is strictly long-drop only, and these can get a little bit fragrant to say the least. However, a wonderful insight into the thriving Tibetan culture more than makes up for this. The more I travel in China and learn about the country, the more fascinating it becomes.
The roads heading north from Chengdu to Songpan suffered severe damage in the 2008 earthquake and immediately after the disaster buses took up to thirty-six hours to complete this journey. Routes still affected by road repairs.
Alexandra Thompson is a twenty-year-old student currently studying Chinese at the University of Leeds, UK. She has just returned from a year abroad in China.