Unfortunate footwear and fortunes
By Mike Igoe | chinadaily.com.cn | Updated: 2013-02-25 10:18
China Daily website is inviting foreigner readers to share your China Story! and here are some points that we hope will help contributors.

Officially at least, the Chinese New Year celebrations are over. But it seems some are still keeping the "party alive" since I continue to hear a lot of fireworks. I suppose their argument could be that the spirit of the season should not last just a few days!! In fact, some sidewalk vendors are still selling fireworks.
In reflecting on what I've witnessed it this year, seems that in many respects parts of the Chinese New Year are a lot like the day after Christmas in America.
Many received their red packet envelopes with cash during visits to family members. So they're made good use of time off to "invest" that newly acquired cash in the economy. Yes, they're spending it in stores. Retails areas are well stocked shoppers hunting for the things they feel they must have. And stores had plenty of banners with promotions encouraging them to come on in. But while most retailers are seeing a steady surge of shoppers, one type of business was eerily quiet. That would be shoe stores. Stores alongside of them were filled with shoppers. Yet, the clerks in the shops specializing in shoes were standing around with nothing to do.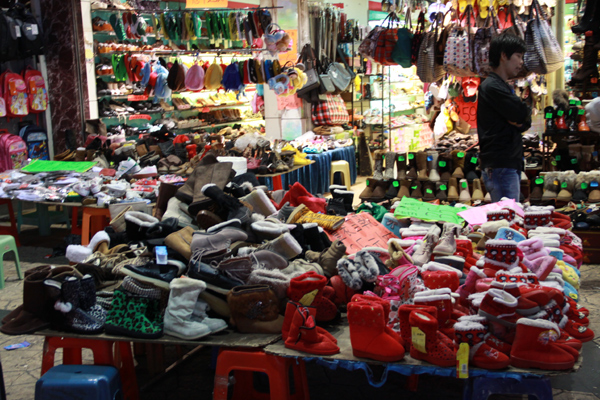 Since some Chinese consider buying shoes unlucky at the start of the New Year, these shoes may be not be doing any walking for awhile. [Photo by Mike Igoe]
It's generally not because prices are better at the competition. The foot gear places have the same banners proclaiming discounts as well as bargain bins set up out in front. Some clerks were even aggressively clapping their hands to draw attention. The problem is what's called "hai". It may sound like the friendly greeting of "hi" but this Chinese word means unlucky.
Traditional Chinese (especially the Cantonese) believe buying shoes during the beginning of the Chinese New Year is bad luck. The word "shoes" sounds the same as the word that means "rough" in Cantonese, or "evil" in Mandarin. Ironically, before the New Year arrives, many buy new clothes for all the festivities...including shoes. In fact, a shoemaker in the town of Tangjia who makes shoes by hand tells me he was swamped with orders. (He actually told my translator since my command of Chinese remains rather limited) But once the holiday arrives, new footwear becomes a no-no!
I guess even from an American point of view it makes some sense. Our expression of "getting the boot" is a bad thing!
Holy Men for Hire
While some shoppers are not be interested in their soles right now, it seems they are interested in their souls...or least something pertaining to their spiritual side. Americans who seek counseling from a member of the clergy, usually have to seek them out in a setting connected to their place of worship. Certain Buddhist monks make it easier for people to get advice.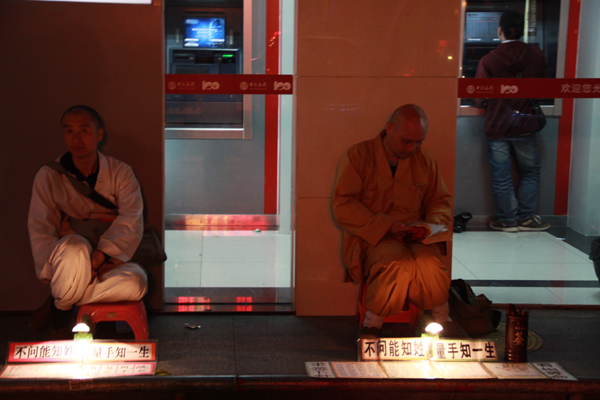 These monks are ready to predict your future. [Photo by Mike Igoe]
Walking Street in Gongbei (a shopping area) is one of the spots where you'll see several Buddhist holy men lined up ready to provide guidance. During the season when red packet money is abundant, so too are these Buddhists monks. You can pull up a stool and chat with them. But they are not dispensing blessings...they're telling fortunes. The monks examine your hands and your face to tell you what the future holds in store. Suan ming is the Chinese term for knowing your fortune. In some ways, this seems like the gypsy fortune tellers you used to find at state fairs and other carnivals in the US. But these predictions can cost considerably more. The fee can run as high as 150 RMB. That's about 25 American dollars.
Other monks roam the streets handing out prayer cards for which they expect a donation. Most passersby pass up these services. But apparently enough do stop that they monks continue to congregate in high traffic areas.
As for those souls who may feel they're working on salvation by hearing about their future, you can decide what's happening here. Is it a case of confidence building or just another example of that old expression: "a fool and his money are soon parted"!