Snowstorm on Huangshan
By Smith Samuel | chinadaily.com.cn | Updated: 2013-02-27 13:34
In the weeks, then days, then hours leading up to our ascent of Huangshan (Yellow Mountain) in Anhui province, I kept up a steady refrain to my girlfriend: "You can take the cable car; I'm going to take the Western Steps."
I should have known the folly of that statement; in the most temperate, comfortable weather the steep stone steps, thousands of them, still pose a challenge to the most seasoned and confident of hikers. Now, as we stood at the base of the mountain in early February, sleet falling around us, carrying a backpack full of food (including a whole fresh-baked French baguette), I didn't feel nearly as enthused – or competent – as I had in that abstracted, guidebook-fanboy sense, where you don't have to hump you and your stuff up four miles of near-impassable terrain.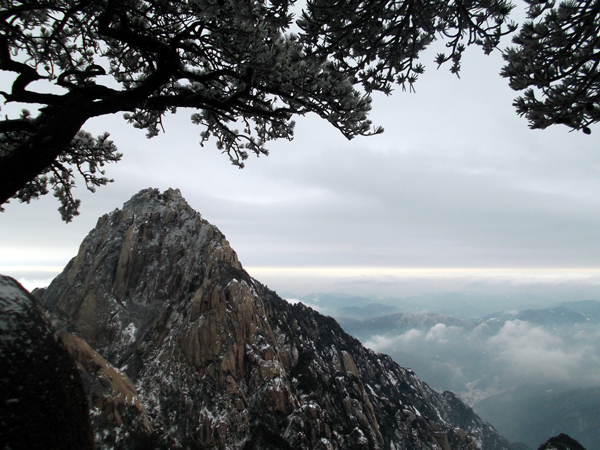 A view of Huangshan in Anhui province. [Photo by Smith Samuel]
Still, we had come from our warm and temperate home in Zhuhai for the sole purpose of climbing this legendary mountain, praised by Li Bai and a succession of Chinese literati down the centuries. Presented with the reality of the place, though, and gazing at the cloud-obscured summits, I was hastily reconsidering my choice.
This was a large, steep, cold hill.
In the end, I admit I took the cable car.
On top, it was snowing, and the wind was blowing hard. We attached metal grips to our shoes, to combat the ice that covered almost every step, and set off for Beginning-to-Believe Peak, the most scenic spot of a mountain famed for its overwhelming beauty.
What we found there did not inspire much of anything. We couldn't see the peak, for one; the combination of blowing snow, clouds, and mist allowed us only the faintest silhouette of the famous feature.
This was our experience for much of the day on Huangshan: Flying Rock was decidedly grounded, Bright Summit quite muted and gloomy. As we hiked, the wind blew into our faces, leaving us red-faced and runny-nosed. We were cold, miserable, and tired: we had been denied the scenic delights of a place we knew to be breathtaking, and that didn't feel good.
We reached our hostel and slumped down on our beds, beaten, dejected, possibly frostbitten. We ate our nearly-frozen baguette in stone-faced silence. Still, I hoped that on our way down we might yet see something to make all the discomfort worthwhile.
From my bed, though, as I watched the flurries of snow swirl and bluster outside, covering every sympathetic surface, I despaired.
We rose a little before 6 am the next morning, planning to climb back up to where we might see the sunrise, if that celestial orb did indeed deign to ever make an appearance. I think the fact that it costs 180 RMB just to get into Huangshan makes everyone an incredibly optimistic visitor.
It wasn't snowing as we began our hike. Climbing up in the silent blue-blackness of pre-dawn, we passed mountain stewards on the trail, cleaning off the inches-deep dusting of snow that obscured the steps. Arriving at the summit, we were greeted with a grayscale horizon – The Twilight Zone. I looked glumly at my girlfriend.
"Well, at least it's not snowing. And we've got those instant milk teas back in the room…"
We waited, eternally hopeful. And something did happen:
Shivering in the still-dark morning, it was surreal watching the landscape turn slowly from black and white to green and brown, light and dark blue, as the sun, still hiding behind the clouds, began to assert its influence.
Huangshan woke up as we watched, and suddenly, without snow or mist to mask them, the range's peaks revealed their full majesty. Covered in a uniformly beautiful dusting of snow, swathed in the famous yunhai - "sea of clouds" -, the peaks and valleys of the range left us breathless. At every turn of the steep and winding trail, we were rewarded by some new sight, or some old sight seen anew.
The sun even came out for an hour or so in the early afternoon, but by then, we didn't need it. It was our mountain now; we were part of the millions who had gazed down on the lowly earthbound from our seat in this wintery Heaven. I understand Li Bai's poem "Green Mountain" (Green, Yellow – pretty close!) quite well now:
You ask me why I dwell in the green mountain;
I smile and make no reply for my heart is free of care.
As the peach-blossom flows downstream and is gone into the unknown,
I have a world apart that is not among men.
And, yes, we took the cable car down the mountain as well. But only because we needed to catch a bus! Honest…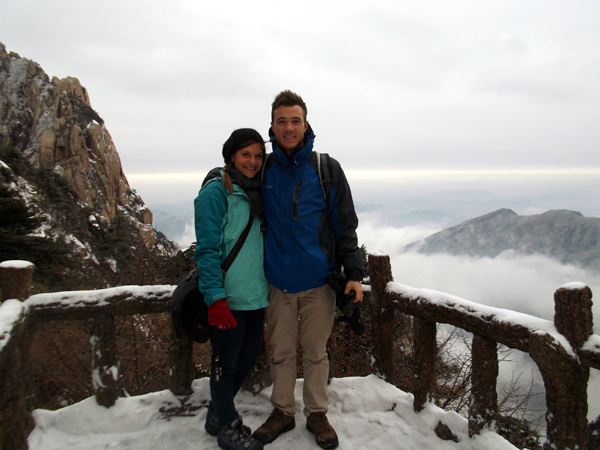 Smith Samuel and his girlfriend pose for a photo in Huangshan, Anhui province. [Photo provided to chinadaily.com.cn]