Chinese morals
By Best driver(pen name) | chinadaily.com.cn | Updated: 2013-05-13 11:31
Here a sad example (another) of how in China tradition and morals are losing their place to money and arrogance.
Last Thursday night I went out with my wife (a Chinese citizen) and our five year old daughter to a nearby supermarket to get some supplies. That is a short trip from home, say ten minutes, through generally peaceful roads. Unfortunately we met "god", the god of money, and an experience about which by now we would have already forgotten, turned into a nightmare that will last in our minds for many years to come.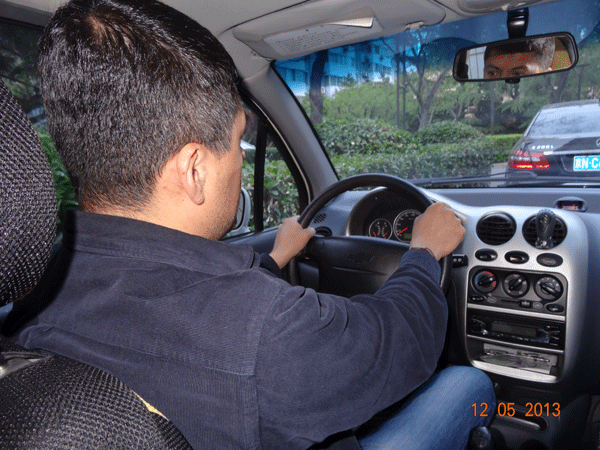 The author drives on May 12, 2013. [Photo provided to chinadaily.com.cn]
Less than two blocks away from the market, when passing by a crossroads I saw a white BMW 1 (120-hatchback) in my left rearview mirror. I was driving at a fair speed, not so fast, because generally in that area there are many pedestrians, but not so slow as to disrupt the traffic.
Since the BMW was coming a bit outside the lane (marked with a solid line that implies that one should not attempt an overtaking) I thought that maybe the driver would anyway try to overtake me, but then I thought he would not do it, simply because the rules of logic and of good driving said that it would not be possible, since we were coming into a crossroads (indeed a very small one), there were cars parked everywhere around and, most importantly, there was a metallic fence dividing the two lanes right ahead of us. There was not enough space.
To my huge surprise, the driver pushed the gas and, maybe in order not to crash into the fence, swerved wildly towards us. I had to swerve too, escaping narrowly being hit by the BMW, and then had to slam the brakes to avoid crashing against the parked cars. Luckily the car behind us was not so close.
Unfortunately, the next traffic light forced the driver to stop, and I took the chance to get off and go to talk to him (my first mistake). It turned out it was not "him" but "her". "Are you out of your mind?", I asked. She laughed at me and took off when the light changed. How funny, uh?
Unfortunately, again, we were heading the same way. I used all my strength to control myself and decided to get into the parking lot behind her and not through the parallel lane, to avoid a confrontation. I waited for her to turn and I went a different way.
Incredibly, though, after several minutes of wandering around looking for an empty spot we ended up parking about ten meters away, and then I decided to talk to her again (my second mistake).
"Don't you know that there are people inside the other cars, even children?", I said showing her my daughter's sweater.
"So what!", she said. And then added: "I didn't see!".
There you are, she didn't see, so it didn't happen. This enraged me, all I was looking for was for her to say sorry for the almost crash we had due to her reckless driving (my third mistake, actually), but suddenly it turned out that I was bothering her. By the way, my car is white too, and one of the reasons why I chose that color was its visibility.
"If you cannot see then you should not be driving in the first place", I retorted. And from then on we began a very heated exchange that included many things that I couldn't understand (in Chinese), as she couldn't understand parts of what I said (in English and in my mother tongue – it doesn't matter who I am or where I'm from, I'm just another human being). Actually, I'm happy we didn't understand each other – I've been smart enough never to learn the bad words in Chinese, and surely she wouldn't have liked to understand some of the things I said.
Flying with ire as I was, I realized that there was no point in trying to make her understand that she had been wrong and was supposed to apologize,so I took some distance from her and her companion, another young woman, and let them go away.
To my surprise, she kept on recriminating me, saying things that I couldn't understand about the men and women of my country. I lost my temper again and rushed past them trying to get away. But she kept going, following me close and shouting at me. She almost killed us, and then I was supposed to be happy about it, and, since I was not, now I had to bear her tantrum. I was being punished for demanding respect, how ironical.
To make things worse, when entering the supermarket we caught up with my wife, who entered the discussion telling her that driving a BMW did not give her the right to go around killing people.
And here is where the morals of the new generation of Chinese people (or should I say the new morals of Chinese people?) jump to the center of the stage. "Can you afford a BMW?!", she asked defiantly. Obviously that fuelled my wife's anger, and then I had to shift to control mode, worried that the confrontation could turn physical.
But not happy with her show of arrogance based on the lots of money she has (does she?) and her car's brand, she added: "Did you die?! ! Are you dead?!".
That was the last straw for my wife, whom I had to embrace tightly and remind that our daughter was present and it was not good for her to see that kind of spectacle.
"Just let her go, she's right, she's got a BMW!", I said for everyone to hear.
I deeply regret having looked for her after the near-crash. Actually these kind of incidents happen quite often (and surely every driver would have at least one of these horror stories to tell), it is just that sometimes they catch you at the wrong moment – most of the times you just ignore them, but sometimes you explode.
In the very early days of my time as an international student in Shanghai I was told by more than one of my new friends: "Never ever get into trouble with a Chinese. No matter if you are right and they are wrong, if you touch them the authorities will side with them and you will be in deep trouble".
That was the main reason why I chose to end the confrontation. That, plus the emotional stability of my daughter, the conviction that we were just wasting our time (and were not going to get any apology) and the security and wellbeing of my wife. Had this "lady" touched her I perfectly could be in jail right now, maybe facing deportation. And why? Just because a crazy woman driving a BMW chose not to see any car below hers level and decided that the fact of her being rich gives her the right to dispose of everyone else's lives as she pleases.
Unlike here, where it produces resentment and hatred, in my country driving a high-end car commands respect and admiration, mainly because people with that purchasing power had made their wealth working hard through the years - they did not inherit their parents' and their in-laws' savings of a life-time at the moment of getting married, neither got their lots of money due to a pretty face or good "guan xi". At least not all of them. There are very few worse things in this world than a nouveau riche. In my country they are called "donkeys with money", which I find quite appropriated.
Sadly, these cases are too common in today's China. Recently I saw an Internet video of a young girl who crashed a van with her BMW, and that, enraged when the van's driver asked her to accept her responsibility, got off and threw several one hundred bank notes to her face. "There you are! Isn't it money what you want? There it is!", she blared, before driving away. There was another video of a young girl that took her pet dog into a shopping mall and mercilessly hit an elderly lady who complained to her that her dog had scared her grandson. "My dog is more valuable than your grandson!", she shouted to the poor old lady, after she had let her lying on the floor with several injuries that eventually landed her in a hospital bed. And what to say of the young man that parked his Volkswagen CC sedan in the middle of a wet market alley while purchasing fruit, and had no problem at all to go out and tell all of the people that got stuck behind and was asking him to move his ship: "You in a hurry? Then take a detour. Otherwise, wait!". They had to do that for almost five minutes. I saw that, I was there, and, although angry, was happy and thankful that I was not one of those waiting for him.
As it develops into a world power, China is investing a lot of resources and effort into making its people better educated and more competitive both at home and abroad. But as these and so many other cases show, in the area of morals it still has a very long way to go, and in fact seems to be losing ground. Sadly too many of today's young Chinese are nothing more than spoilt brats (the sadly famous "little emperors" - and empresses) who think that money is the most important thing in life, and that having it gives them the right to, literally, go over the others. I cannot help but worry of what the country's (my family's country) future will be when it falls (!) into the hands of this one-child-generation.
After that sad experience we had a very long night, in which my wife talked to our daughter about the importance of morals and respect and the real value of money (something that we do very often) and recriminated me for not letting her solve the problem "the Chinese way". In all she wanted the crowd (!) to know what the young "lady" had done, and shame her in front of everybody for her lack of humility. Evidently my wife was angrier than I, because she couldn't hear the people, as I could, say things like, "yes, they think because they drive nice cars they're more than the laobaixing".
When leaving the supermarket, less than an hour later, and still very angry, I wanted to take a picture of her car and its plate to circulate it through the web with a warning. She was gone, though. But then, as I finally cooled off, I thought that the real problem is not that obnoxious girl acting as if she were the only one on the road, it is the pervasive decline of morals, ethics and most other virtues that are a signature of the Chinese culture, and that have conveyed the world's respect and admiration through many centuries. Things like this not only happen on the roads, they happen everywhere.
I have been living in this country for more than ten years and have met scores of lovely people: The person who opened the doors of China to me (my previous boss in a Chinese company back in my country), all of my wife's family members, virtually every one of my former classmates and most of my previous and current coworkers, and so on. Everywhere and very often I had crossed paths with the most wonderful people: neighbors, merchants, parents of other children taking arts classes, vendors, waitresses, the man in the street, most of them treating me as equal (the way it should be), and not few even showing more than the due respect just for the fact of me being a foreigner (which actually embarrasses me). But, sadly, way too often I have also had encounters with this kind of lesser human beings whose parents forgot (or chose not) to teach even the most basic rules of morals and raised as beacons of pride, egoism and arrogance.
Let money be king and see how your millenarian and still admired culture keeps losing shine, and maybe how your cemeteries get also overcrowded.