Athletes reunited after '73 trip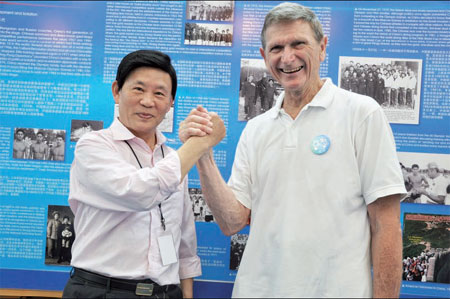 Former swimmers and coach Du Du (left) and Jim Gaughran, a San Francisco native and an American water polo player who competed in the 1956 Summer Olympics, share a moment at the International Swimming Hall of Fame in Fort Lauderdale, Florida. Zhang Yuwei / China Daily
In June 1973, a group of 10 American swimmers and divers embarked on what was then described as a "rare and unique" trip to China - an exchange meant to foster, through sports, a budding bilateral relationship just a year after US president Richard Nixon's historic visit.
Besides being one of the first exchanges between the United States and China before the two established diplomatic ties in 1979, the trip was significant because the American athletes faced possible sanction by their sports' governing body, the International Swimming Federation, which at the time didn't recognize the People's Republic of China.
"We thought that trip was bigger than sports, and this decision that would cancel our sports' qualification was OK if they wanted to because the trip meant more to us than sports," said Micki King, a diver on that trip who had won a gold medal, in the women's 3-meter springboard, at the 1972 Summer Olympics in Munich.
Soon after the Americans returned from their three-week trip to China, which included stops in Guangzhou, Changsha and Beijing, they received a disqualification warning from FINA, as the Switzerland-based federation is known. Despite the threat, back-and-forth communication prevented a disqualification, and the US group drew praise from the State Department for its effort to promote friendship with China through sports.
Premier Zhou Enlai and US secretary of state Henry Kissinger had proposed the visit by swimmers and divers.
"As soon as we got home, the US Senate said strongly that it (disqualification by FINA) shouldn't happen, so our government was on our side," recalled Jim Gaughran, a former Olympian in water polo who was the US swim team's coach on the 1973 trip.
"We thought they (FINA) were being silly that they didn't see the big picture," said King, who is now 78 and works with a program in Kentucky that deals with childhood obesity.
Over the weekend, King and Gaughran were joined by a few friends from that visit for a 40-year reunion at the International Swimming Hall of Fame in Fort Lauderdale, Florida. Also gathered were Chinese friends made in 1973.
ISHOF President Bruce Wigo said his yearlong effort to gather swimmers and divers from both countries grew out of what was initially an American-only event. "As I learned more about Chinese swimming history and Olympic history, there is a great story to tell about that development," he said.
"It's a testament that there are so many people here at this event," said Jan Berris, vice-president of the National Committee on United States-China Relations, which helped sponsor the 1973 trip.
A political dispute over Taiwan's status in the Olympics, the first appearance at a Summer Games since 1952 by athletes from the People's Republic of China wasn't until 1984 in Los Angeles.
Wigo also oversaw creation of an exhibit recognizing China's swimming and diving history since ancient times. Included are photos and other mementoes from various US-China swimming exchanges and events, including the 1973 visit.
"The feeling of 40 years ago that tied us together is very emotional and it's very difficult to put in words. We haven't forgotten and they haven't forgotten," King said.
There were emotional moments in Fort Lauderdale, as when Chinese swimmers and divers with their American counterparts of four decades ago showed gifts they had exchanged.
Du Du, 72, a former coach and swimmer, approached Bernie Wrightson, a 1968 Olympic gold medalist in diving, and showed him a stars-and-stripes towel he had given Du during the US teams' stay in Beijing.
"I carefully kept that towel for 40 years - and never used it. It means a special friendship and the fondest experience I shared with the American athletes," Du said.
"The reunion made it possible for me to express my gratitude for the friendship we formed a long time ago, one that has had a tremendous impact on me ever since," he added. "That trip was beyond a sports exchange; I was touched by their bravery to come to visit us (in the face of possible international disqualification) and their willingness to share techniques in swimming and diving."
The visit involved learning, sharing and diplomacy - with ups and downs - and served, in some small way, to lay a foundation for US-China relations into the 21st century. For the American athletes, it was an opportunity to glimpse a mysterious part of the world in the early 1970s.
"It was unique; it was early enough that few Americans were getting to China, so the moment you crossed the bridge from Hong Kong into Luohu (on the Guangdong side), you felt like you were entering another universe practically, it was so different," said Richard Williams, who as director of Chinese affairs at the State Department escorted the group to China.
Group members learned to use chopsticks, appeared in front of thousands of people in each city they visited and got to see people in everyday activities, including an early-morning tai chi session in a Beijing park.
"It didn't feel like three weeks; it was like three years," said Frank Heckl, a swimmer on the visit and now a physician in New Mexico.
Nicholas Platt, a career diplomat who served in the liaison office of the US government in Beijing at the time, was given the task of accompanying the athletes.
"It was a genuine move by them. Governments set the tone and the framework, but basically it's private people making private decisions to do things together - that makes a relationship go," said Platt, who took part in the reunion activities in Florida.
"We were not touched by the politics at all - sports is sports; athletes get along no matter where," said Ingrid Daland, a member of the coaching staff on the trip.
Like her American friends, 62-year-old Bai Xiufen still remembers many details of the exchange.
"They shared everything with us; they were so kind, helpful and genuine," said Bai, who now coaches swimming in Hong Kong, referring to gear such as goggles as well as US training methods in and out of the pool.
yuweizhang@chinadailyusa.com