Showing your love - Chinese style
By Alan Millett | chinadaily.com.cn | Updated: 2013-06-21 17:09
You are welcome to share your China stories with chinadaily.com.cn
When you take the chairlift and then climb Huangshan Mountain (Yellow Mountain) in Anhui province you come to a place where there are thousands and thousands of small padlocks on the wire fence. They are inscribed with the two names of the couple; whether that is girlfriend/boyfriend, husband/wife, betrothed/fiancé or any other combination.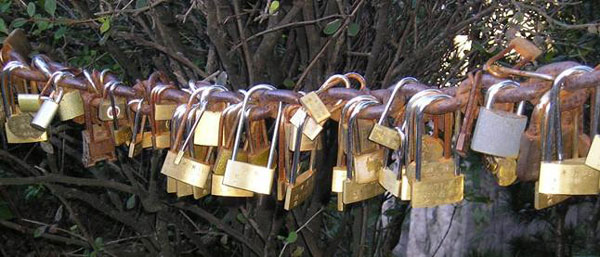 You pay a man 30 yuan ($4.89) and he inscribes your names onto the padlock and gives you two small keys. Then you find an available spot on the fence that seems auspicious and you fasten your padlock. To prove your love, you each throw away one key perhaps with romantic assertions. Metaphorically, your love will last forever as the lock cannot be opened. Apparently if you happen to keep your key you are not really serious, and in time the relationship will end.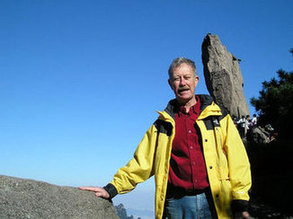 Alan Millett [Photo provided by the author]
Later I found out there are other such places in China and it's a growing trend.
Why do people do this? Well of course it's a romantic and a novel action. Men especially seem to need to prove their love to their partner; there seems to be much less doubt about the woman's love. And it seems to please the female to have this demonstrated in such a way.
Yes it's romantic, not expensive and entering into a theatrical act but there's another reason: the desire for permanence. We seem to need certainty, assurance, durability and knowing at least a part of the future. The future can contain storms and we want shelter - I'll look after you and you'll look after me and together we will face the storms.
For many of us, love starts as lust, infatuation, fascination and desire but where will it go from there? The Chinese see it in a practical sequence of steps: get married, buy an apartment, have your one and only child and keep the family name going. It's an arrangement. Only recently have the Chinese marriage planners added romance into the photographs and ceremonies. Underneath the new dreamy additions the Chinese view can be seen as unromantic but it's realistic and generally lasts a lifetime.
Most of us would like love to last a lifetime. 30 yuan for a binding padlock is a small price to pay.
Alan Millet is an Australian business & accountancy teacher who has been in China for four years. He loves travelling around China because of the spectacular scenery and historic buildings.