Curiosity sparks a journey of surprise
By Zahid Ali Memon | chinadaily.com.cn | Updated: 2013-08-22 09:28
You are welcome to share your China stories with chinadaily.com.cn
It was a cold evening in January, 2013 when my kids tried to pursue me to go out and visit some place. My wife was not interested, but too much pressed by children made me finally decide to set out and try to find some place nearby. Our apartment is located in Weiyejiayuan, at the Liangxiang East Road - a peaceful and relatively calm and quiet place in Beijing's Fangshan district. Feeling nostalgic that day, I had reluctantly bowed down to my daughters' insistence already, when the magnificent conical temple caught my eye. It is situated at the stone's throw from our flat and I wondered why we had not visited it yet. Fortunately, the kids also agreed to visit this historical and magnificent temple elegantly standing and looking at the passing days and nights for the past several centuries.
After five minute walk we were right at the gate. A friend had once told me of five Yuan ticket for each visitor, so we looked around to buy tickets little inside the boundary area. The watch man called from behind and asked us to buy tickets. At the first sight he was surprised to see me with little kids in the evening time here. I had then realized that my selection of this place might not have been appropriate. Anyways, so now we four had the legitimate right to enter the area with tickets in hand. "Wow, no people here around," cried my daughter. Papa, are we the only people to visit here today? I had no answer to her question, as I was still looking at all corners to find evidence of any more people there.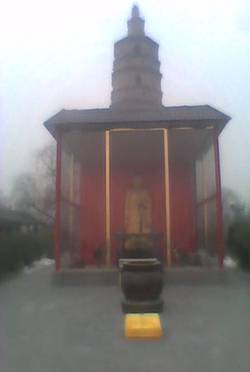 The temple was too far, at least 250 to 300 meters. In its lap was a grand park with play land in a dilapidated condition. It had not been maintained for years. I thought it would have been marvelous place for kids to play while their parents to roam around the temple. I then came to the conclusion, why there are no people. It seemed to me detached from the hustle and bustle of the city and Beijing citizens had ignored it altogether. The responsible personnel for the upkeep of such areas seemed to have seldom visited this otherwise worth seeing sight. May be after few years there will be a high rise here and behind that the temple would obscure its beauty and splendor; a thought occurred in my mind. Walking ahead, we were welcomed by wider stairs to approach the original spot we were all very excited to see. The edges of stairs were still partly covered with snow, as recently had a heavy snowfall and not many clear sunny days had been witnessed in the near past. Oh, what a statue, we all had our eyes opened in astonishment. I took my cell phone and caught a picture, to which my daughters complained: papa, yours has no good lens, why don't you buy new camera. We like this too much, and your cell camera is always blurred. But we had no other option except my old cell phone. It was a grand golden statue of Buddha, kept in big glass case, very beautiful and ready to be worshipped by the followers. A pillow for bowing down head was there in front of it too. A big round earthen pot was there to lit candles and fragrant sticks, as the half burnt sticks and candles could have been seen erected in the dried mud. That was the only evidence so far of having this place been visited by the reverend Buddha's believers at least in the past few weeks.
We had not yet reached the original place that had dragged our feet towards it - The Liangxiang Pagoda. It was a few meters behind the Buddha, an isolated place with a peculiar feeling, as we reached closer to it. Thank God at least a single visitor we could see - an old man taking rounds of the temple oblivious of our presence there. The kids felt a bit scary then. Situation was further worsened when the old man suddenly started to pull the rope of a big bang by the side of the temple. The big bang was installed inside a concrete shade with broken roof that was testimony to have been constructed in older times. The sound produced was immense – dhrum..dhrum..dhrum..dhrum. The old man put all his force which produced the echo that made us believe the area being haunted. We could see the dark zigzag stairs inside the temple through its windows. Its door was locked, apparently to prevent visitors from entering into it. This made us more curious. My younger daughter exclaimed: "Papa there seems to be monsters living inside the temple. We better go home. You see there are no other people here around," she further alluded.
So we rushed back through the same snowy path. While returning, we hurriedly had a couple of more snaps, one on the stairs, and the other one on a bench.
After having been home, the kids shared their experience with their mother, who being a very superstitious person, did not like the idea of visiting such an isolated place when the sun was about to set. I wondered why a remarkable place has been left in such a deplorable condition. One could relax, take a good walk, and get closer to nature there, but of course not with kids. The area needs face lifting, high degree of maintenance, and beautification to attract visitors and to ward off the impression we had experienced when we made the visit to this magnificent spot.
Zahid Ali Memon comes from Pakistan and is doing PhD in Beijing Institute of Technology. It is his third year of studies in Beijing.