Hospital search in Shanghai
By Fariha Samad | chinadaily.com.cn | Updated: 2013-09-23 15:18
You are welcome to share your China stories with chinadaily.com.cn
I believe my China story is different from the rest of the stories I have come across so far on this website, for the fact that while many stories are written by people who have been living in China for quite some years, my story is about a challenge I faced soon after arriving in Shanghai in April 2013.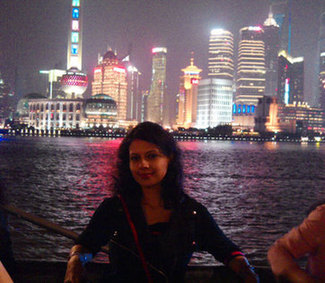 Fariha Samad
My husband has been working in Shanghai for over a year so I happened to join him soon after we tied the knot. Upon arriving in Shanghai I was mesmerized by the sheer vastness of the city. I'm sure many expats, like me, have lower expectations about China which are easily changed into pleasant surprises as soon as they reach here.
Anyway, when I came I was greeted with many surprises too. Firstly, Shanghai was big beyond my expectations and I was excited about discovering the city and learning more about its hidden secrets and treasures. Another unexpected surprise that came to me was discovering that I was going to have a baby! Being far from family, in a new city with hardly any friends so far, and where not many people can speak English and being pregnant for the first time seemed immensely intimidating at first.
Here I was faced with the daunting task of finding a reasonably satisfactory hospital. My initial search started with a general Google search about hospitals and health insurance systems in China; specifically in Shanghai. I came across several kinds of advice from foreigners on internet forums, most of them discouraging and dubious about local Chinese hospitals.
Here I learnt that there are two kinds of healthcare systems running simultaneously in the city; the international hospitals mostly targeting foreigners and having doctors from America, Australia, India and European countries, and the local Chinese hospitals, some of them having VIP Clinics for foreigners. While the standard of international hospitals was extremely and undoubtedly satisfactory, their services came at a huge price; something which I was not willing to pay especially since I didn't have health insurance at that time.
The other option I was left with was the local Chinese hospitals. My major concern was the language barrier that I was going to face in the local Chinese hospitals. Apart from that, several of our expat friends have warned us against going to Chinese hospitals, for they doubted the standards. However me and my husband did our own research and came across the VIP Clinic of the Shanghai East Hospital, Tongji University.
To our surprise when we visited the hospital we were impressed by the overall cleanliness of the place and the fluent spoken English of the staff and the doctors in the VIP clinic. Also, their services came with a reasonable price tag.
I have been visiting this hospital for several months and I must say those people who underestimate the Chinese local hospitals are at mistake because they haven't done their research properly. We managed to find an international level health care facility available at the local price tag. Also there is no shortage of facilities available in a city like Shanghai and while the cultural shock may be intimidating at first, you will find yourself in love with the city in no time!
Fariha Samad is an expat wife living in Shanghai since Chinese New Year 2013. Her hobbies include travelling, photography and exploring new cultures.