Beijing last link in love story
By Nigel Moffiet | chinadaily.com.cn | Updated: 2013-10-22 19:28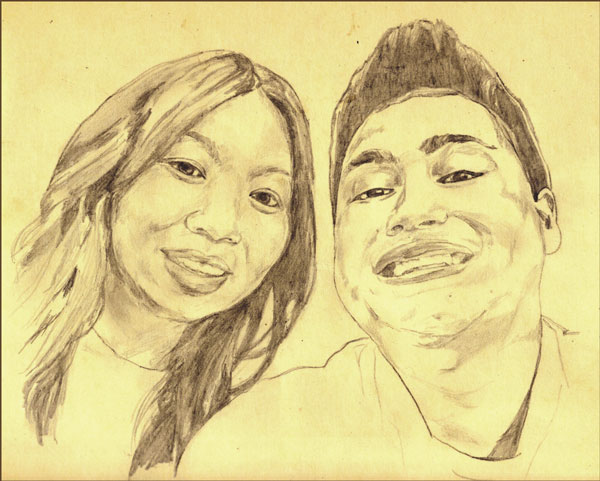 A portrait of the couple from a supporter in Minnesota, US. Photo provided to chinadaily.com.cn
You are welcome to share your China stories with chinadaily.com.cn
A young American man is asking the people of Beijing for help as he plans to propose to the love of his life.
Michael DeGroot and Thu Vo, both 27 from California, have been together since June 4, 2002, after a mutual friend introduced them to each other over the phone.
"We just hit it off, she was amazingly real and funny. We ended up going out two days later," says DeGroot.
Now wedding bells are starting to ring but DeGroot says he wants to do something extra special since they have been together for so long. He doesn't want an ordinary proposal - he wants it to be on a world scale.
Taking his wishes to social media, online forums, travel sites, government pages, and anything else he can use, he is asking people in different countries to place 'love locks' with the writing "Michael and Thu, June 4, 2002". He is also asking for simple messages of encouragement.
"The idea I have is for all the love locks to be spots we travel to on our honeymoon," he says.
DeGroot has been working on this idea for two months now and says the response he received has been "amazing".
"I have had so many people want to be part of this… when I talk with my friends about it we are blown away by what comes in."
He has received messages of support from all corners of the globe - all seven continents, in fact. Support has even come from Antarctica where an Australian research team sent a photo with the message "Congratulations Thu and Mike from Mawson Antarctica".
The couple has received photos, poems, pictures and buttons from more than 30 countries including South Korea, Hungary, Italy, France, Mexico, South Africa and almost every state in the US.
One message from Canada reads: "Best wishes for a lifetime of joy and discovery. Never stop the sense of wonder, explore always."
The worldwide response has been incredible, says DeGroot.
"I have received a lot of help from everywhere but love locks tend to be harder to get people to do, I'm more surprised by how nice and generous everyone has been."
Yet there is something missing in DeGroot's romantic plan. He is still waiting for someone to place a love lock for him in Beijing's most iconic location.
"The Great Wall of China is the last love lock I care about as it's a place that we both would love to visit and would be perfect for her to go see it and just have that symbol there for her."
DeGroot is hoping the people of Beijing will respond to his request.
When his last wish is fulfilled, he hopes to make a book with all the messages and photos the couple have received.
It will show "how so many people believe in what we have. That's the idea anyway", he says.
If you would like to send the couple your wishes email Michael DeGroot at: maddenmorrison@gmail.com.
Nigel Moffiet is from Auckland, New Zealand and is working as a foreign expert under an exchange program with China Daily and AUT University.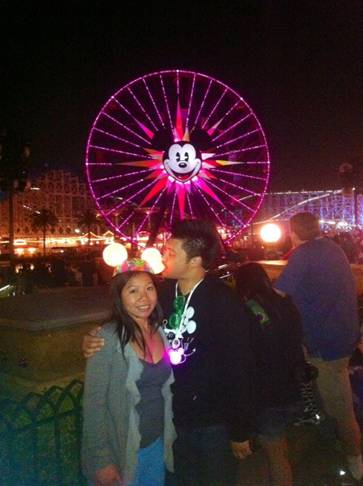 Michael DeGroot and Thu Vo enjoy a date at Disneyland. Photo provided to chinadaily.com.cn