How I feel Chinese in China
By Muhammad Abdullah | chinadaily.com.cn | Updated: 2013-10-29 16:19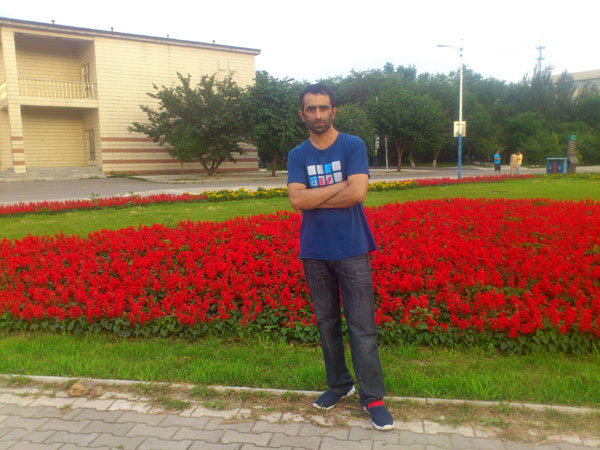 Muhammad Abdullah [Photo provided by the author]
You are welcome to share your China stories with chinadaily.com.cn
It was 2010 and the month of June when one day the doorbell of my home rang. I opened the door and saw a man in uniform standing in front of me. He was a postman and by passing a smile he handed over me an envelope. The words of "EMS" were clearly visible on the surface of the envelope and I was being surprised by watching a Chinese athlete portrait. After giving the postman the receiving signatures of the post, when I opened that envelop, I found a letter and it was not an ordinary letter but it was an admission letter. I was being mad with joy and happiness, yes; I was awarded admission in a public sector university of China on Chinese government scholarship scheme. The wording of the letter was actually an invitation for me to come to China and enjoy the fully funded scholarship to achieve the goal of completion of higher studies.
Higher studies had always been my dream and now this dream was going to come true. It was solely due to Chinese government which was providing an opportunity to millions of middle class students of different parts of the world to complete their studies in China on the funding provided by China scholarship council, an institute of Chinese central government to promote education and promote the friendly relationship between China and other countries of the world. All my family members were very happy to know this exciting news. My elder brother also shared this exciting news with his fast friend Mr. AzamRana whose guidance was the key reason behind this success as he provided me the right information about applying online for scholarship at the right time. He also blessed me best wishes and showed great happiness over this news.
There is a very famous saying in my country that you must get knowledge whether for this you have to travel towards China for this purpose. Perhaps it was said at old times as in old times it was not easily possible to move towards China from Pakistan due to the presence of Himalaya Mountains between Pakistan and China. But not I was going to China and my destination was city of ice, the provincial capital of Heilongjiang province; Harbin, located at Northeast of China. I used to feel myself cold when I used to think that I would be at Harbin soon. "How China would be" I often used to think. Would China be so as it looks in the movies of Jackie Chan and Jet lee? Do all the people of China practice kung fu regularly? Do Chinese people still drink hot boiled water? If so then how I would drink boiled water as it feels tasteless. How would be the height of people? Short as heard from many people or tall? How would I communicate with Chinese people? I would be unable to speak Chinese language there. Harbin is too cold then how I would survive there. These were the questions which used to rise in my mind and make me worry every day.
At last the day came when one day my all documents were ready and I had to go to Chinese embassy in Pakistan to apply for visa. Although there are a lot of Chinese companies and Chinese engineers are working in Pakistan but it was my 1st time to have a direct interaction with any Chinese so I was being a little nervous. On my turn when I entered the Chinese embassy located at Islamabad, I saw a Chinese who welcomed me with a very polite and friendly smile. That one smile won my heart and removed my nervousness completely. "Please show me your documents along with your passport," he asked me politely. He viewed my documents thoroughly and after making necessary verification, he handed over me a receipt and asked me to come again after 3 working days to pick my passport with stamped visa. After saying "Thank you Sir" as a turned back I was extremely surprised as I listened him saying "Thanks" but the real reason behind my surprising feelings was that the word "Thanks" was spoken in my mother language Urdu. I turned back and looked at him with strange feelings and he was amusing with my feelings and passing a friendly and meaningful smile. That moment is still in my mind and would remain forever. It was the beginning of my friendship with Chinese people. It is said that the 1st impression is the last impression and the 1st impression of Chinese remained very good in my eyes.
At the stated date, I received my passport with stamped visa of China. Finally that time also arrived when I had to fly towards China. The polite staff of China southern airline warmly welcomed all the passengers of flight. Besides my seat in the plane, there was a Chinese person going back to China from Islamabad, the capital city of Pakistan. I started chat with him and he provided me very useful information about China in a very friendly manner. Before this time I had heard that Chinese people are very friendly and they mix up with strangers very soon and now this thing was proving true. After a short flight of two and half hours, I was at Urumqi international airport. The dealing and behavior of immigration staff was very nice and cooperative. I had a night stay at Urumqi city and the next day I had to get my flight to Harbin. The Chinese friend travelling besides me also helped me to locate the counter of Airline Company as they had to provide me transportation towards hotel.
Next day at 4 pm, I was sitting in plane which had to fly towards Harbin and I was worrying by thinking how I would arrive at Harbin city from airport and how I would find my university in the city of ten million people. Although my university was providing pick and drop service for fresh international students but due to our religious festival of Eid, I was late for a few days so now I was unable to avail the facility provided by university. With worried face I moved my head and found a Chinese man sitting beside me along with a graceful lady. I guessed they were husband and wife. He asked me something in Chinese language and I replied him in English language "what are you saying".
It was something interesting and by considering that we both were facing language barrier he suddenly offered me tomatoes of small size to eat. I was surprised to look at these tomatoes. Feeling my hesitation he started eating tomatoes, perhaps it was a practical demonstration to motivate me to do same as being done. I suddenly replied "but we only use tomatoes while cooking". Due to cultural shock my voice was a little louder and luckily I spoke this sentence in English rather than in my mother language. The word luckily is being used because my voice was heard by another passenger and she started laughing and by controlling her laughter, she said something in Chinese language to my neighbor passengers and they also started laughing. At that time I decided to follow a famous saying that "in Rome, do what Romans do" and I started eating tomatoes. Later after spending sometime in China I came to know that Chinese people also eat tomatoes as fruit. From that time, that woman started translating our conversation as she was an English teacher at a school in Harbin. When I told them that I belonged to Pakistan and came here for higher studies, they showed great pleasure and enthusiasm. About the friendship of Pakistan and China it is also said that "The friendship between Pakistan and China is higher than the Himalaya and deeper than the depth of sea". That nice couple showed great politeness and cooperative behavior with me. During that journey I even did not feel that I was sitting between strangers, I felt as they were my own.