One great chance
By Ratkoglo Anna | chinadaily.com.cn | Updated: 2013-11-08 09:14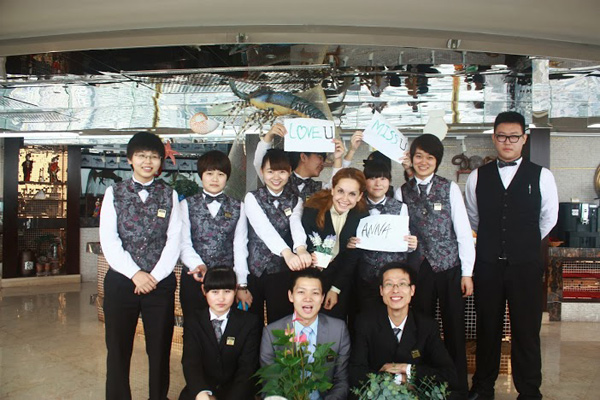 Ratkoglo Anna (C) and her colleagues. Photo provided to chinadaily.com.cn
You are welcome to share your China stories with chinadaily.com.cn
I have been in love with China since 2010 and I think this is endless love. Some people can be surprised, some people can understand and support me. I have many reasons to live in China and to be happy in this fascinating country. First reason is people, different, curious, open minded and very kind.
After one year in Zhejiang University, Hangzhou, which was my first year in China, I got a great job opportunity - to work as assistant manager in big hotel in the center of the city. Best part of this job was that this is Chinese hotel, not an international chain, there were only two foreigners -me and my friend, so I got a good chance to understand Chinese culture and practice my Chinese.
But to be honest I have got even more than I supposed to, I have got the valuable experience, devoted friends and the feeling that I am not laowai anymore.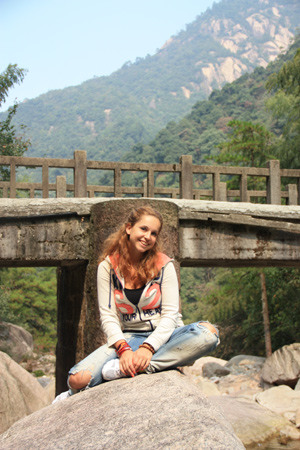 Ratkoglo Anna. Photo provided to chinadaily.com.cn
My daily routine started from 11 am every morning from Wednesday to Sunday. Thanks to very good location and my habit to wake up early, I had 20 minutes bicycle trip along West Lake, one of the most beautiful places of China. I had my breakfast sitting on the bench in front of the Music fountain, enjoying sunlight, good book and coffee. No need to have the fantastic imagination to understand how incredibly inspired and excited I felt myself during the whole day.
I parked my bike next to the back gate of the hotel and entered to meet new workday. Women with a big smile met me on the check-point, wishing good day.
I put on my form, name badge, got important information about new guests from my colleagues and went to the lobby. And here was the place where life and movement never stop. Lines for checking out and checking in, guests waiting for taxi, having coffee in the lobby-bar, etc. My main responsibility was to meet foreigners, to make their stay with our hotel comfortable, memorable and without nonsense. And I did my best.
First, new guests were pleasantly surprised to see me there, because this fact made their life much easier, because I was concierge, interpreter, trip adviser, restaurant guide in the same time. If say I enjoyed my duties means say nothing, I loved it. I met people from all of the world, who came to China for first time, or who knows China better than me. Thanks to my Chinese colleagues, who had answer to every my question about culture and rights, I could explain why you should bargain before buy, why you should have only cash, why they prefer bicycle rather than car and don't let guest pay for dinner, why it is impossible to book a taxi and why is better to catch it on the street. I had chance to discuss political issues, global crisis and development of China.
Ninety percent of my daily time I had to speak mandarin and my new teachers: waiters, housekeepers, receptionists and managers were not only my friends, but most of time my teachers. If I need help, they were pleased to help me, I enjoyed our small conversations, because people I used to work with were kind and educated. I was very proud and happy of the fact, that all of them trust me and don't fell embarrassed or confused anymore.
I have learned how important hierarchy is. How much respect and homage they have to top-managers, in my opinion this treatment is too honorable, but this is an important part of culture and I am not the right person to judge any of its features.
Actually, I have never supposed that work in hotel is something more than smiling and be helpful to guests, but this is a huge system, with uncountable rules, standards and demands. You have to be ready for everything and have enough loyalty, empathy and patience, because every guest is unique and need special treatment. And regarding to common opinion that Asian hospitality is the best in the world, I can say I was taught by high level professionals.
The best part of my job was to see people coming back to hotel, when they recognized me were happy to share their adventures, burdens, thoughts with me. It means the world to me.
I spent there 8 month and it was period when I have defined myself as a person of 3 nationality: Russian-western-Chinese, and proud to be who I am.
Ratkoglo Anna is 25 years old, her major and main passion is journalism. She explores the world and gather stories about unique people from all over the world.