Liu helps launch Confucius center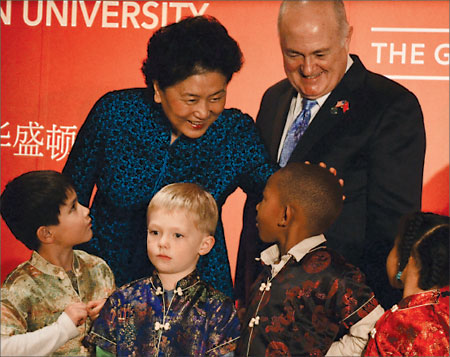 Chinese Vice Premier Liu Yandong greets elementary school students from the Confucius Classroom at Washington Yu Ying Public Charter School with Steven Knapp, president of George Washington University, looking on. Cai Chunying / China Daily

The Confucius Institute, a non-profit educational institution that promotes language learning and cultural exchanges, unveiled its US center on Wednesday in a ceremony attended by visiting Chinese Vice-Premier Liu Yandong.
Xu Lin, director-general of Hanban, the non-profit agency that administers Confucius Institutes worldwide, was elated about the opening of the first regional center of the Confucius Institute.
The US now hosts more Confucius Institutes and Confucius Classrooms than any other country in the world. Altogether, there are 98 Confucius Institutes in universities and colleges and 355 Confucius Classrooms in elementary and high schools in 48 US states, compared to the total number of 436 Confucius Institutes and more than 640 Confucius Classrooms in some 120 countries.
China's Minister of Education Yuan Guiren said people all over the world have become more interested in China with the growing exchanges between China and the rest of the world in political, economic, cultural and educational fields.
"Chinese language learning is gaining great momentum," said Yuan, who serves as vice-chair of the Council of Confucius Institute Headquarters based in Beijing.
Yuan said these institutes and classrooms have played an effective role in teaching the language, introducing Chinese culture and promoting people-to-people exchanges between China and the US.
"They are widely welcomed by the universities and communities where they are located," he said.
John Thornton, chairman of the board of trustees of the Brookings Institution, praised Vice-Premier Liu for her op-ed which appeared in USA Today three days ago.
"The key to sound relations between countries lies in the amity between their peoples based on mutual understanding. Sincere people-to-people exchanges can rise above differences in history, culture and social system to give a strong boost to relations between nations," Thornton quoted Liu's op-ed as saying.
Thornton, who is also professor and director of global leadership at Beijing's Tsinghua University, said there is no more succinct description of the importance of Hanban and the Confucius Institute.
Citing the growing number of student exchanges between the two countries, Thornton believes more efforts are still needed.
"Despite these positive trends, I believe the exchange between our peoples still trail the growing consequences of the relationship between our nations," said Thornton, who also serves as senior consultant for the Council of Confucius Institute Headquarters.
Steven Knapp, president of George Washington University, said the Confucius Institute has provided a platform for invaluable cultural exchange.
"It's hard to imagine a better way to build partnership between our two great nations," he said.
Before coming to the unveiling ceremony, Vice-Premier Liu visited the Confucius Institute at GWU. Set up in April, it was the first in the US capital.
In front of Liu, the university's graduates who studied Chinese as a minor, and dozens of elementary students from the Confucius Classroom at Washington Yu Ying Public Charter School, staged a performance of poetry recitals and songs, all in Chinese.
"Having heard such fluent Chinese and having seen the deep attachment of teachers and students toward Chinese language and culture, I want to extend my most sincere gratitude for your support and commitment," Liu said.
"I myself have two twin grandsons. When I get back, I will tell them, they must learn English as well. I have confidence that in the future our kids will have little language barriers," she said.
Liu said the Confucius Institute will be featured prominently in her Thursday talk with US Secretary of State John Kerry during the 4th China-US High-Level Consultation on People-to-People Exchange. She hoped that the Confucius Institute will play a more important role in bringing people closer together.
Liu, who is also chair of the Council of Confucius Institute Headquarters, promised three things for the Confucius Institute at George Washington University. They include inviting 30 faculty members and students to attend the "Chinese Language Bridge" summer camp in China; awarding 10 scholarships to the best students to study in China; and donating 1,000 books in Chinese culture.
Contact the writers at chenweihua@chinadailyusa.com and charlenecai@chinadailyusa.com
(China Daily USA 11/21/2013 page1)