Have I become a 'dama'?
By Nelly Min | chinadaily.com.cn | Updated: 2013-11-26 10:19
While perusing some stories trending across China this morning, I came across one about Chinese words becoming popular in the West. Such as tuhao, guanxi, dama --- wait a minute, this one hit a nerve. The Wall Street Journal describes dama as "bargain hunting" middle-aged Chinese women who "keep a tight grip on the family purse and an eagle eye on the gold prices in jewelry shops."
OK, I don't keep my eye on gold prices, but I do like a bargain. And as I pondered the definition of the word dama, I began asking myself, have I been in China too long?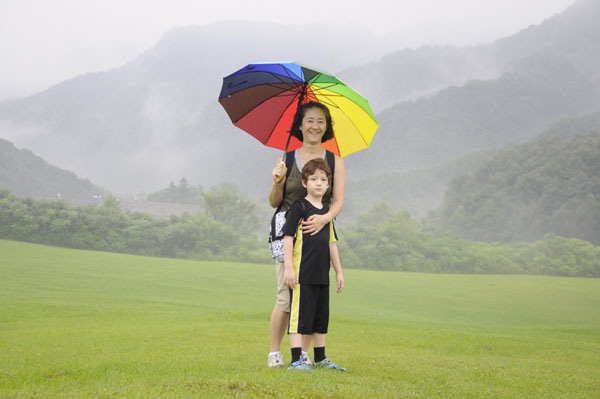 The author with her son at Yudu Mountain in a surburb of Beijing, July 27, 2013. [Photo provided to chinadaily.com.cn]
You see, I had been involved for a week now in a battle of wills with my local street vendor over some global brand knockoff sneakers. Basically, he wants to charge me more than twice what I want to pay, based on past purchases of said sneakers from other street vendors. I felt he was trying to "rip me off" with his inflated prices. But really, was $30 too much to pay for super comfortable stylish sneakers? Back in my American life, I never hesitated to drop $100 to $200 on running shoes or sneakers. Is this what almost four years of living in China does to one's sense of economy?
This started me thinking about other aspects of my life and my thinking that had undergone profound changes over the last four years. I no longer flinch when strangers invade my private space, I'm not bothered by people punching the 'close' button repeatedly on elevators. Crossing the street illegally while weaving between speeding vehicles – not a problem. Stepping off the curb into oncoming traffic – no sweat. No toilet paper in the public loo -- well, you get the idea.
I suppose assimilation is bound to occur anywhere you end up living. But this incident with the shoe vendor made me question whether I had become too local, in other words, too Chinese. And is that a bad thing?
Of course, being here hasn't just been about getting used to uncivilized behavior. For me it has also been a personal journey of finding my true identity. As a first-generation Korean-American who grew up in California, I've spent most of my life trying to get away from all things Korean and believing that I was actually American. But when I came to China, it was pretty clear that I would never be perceived as American here.
Instead I've come to embrace my Korean roots over the last four years. We are now part of the huge and growing Korean community in Beijing. More than 2 million Koreans live in China, including Chinese of Korean descent and Korean expats.
Still, we live quite a different life from other more traditional expats living in China. I work for a local state-run media, live in the company dorms, eat in the company-subsidized canteen, and send my son to a local Chinese school. Former colleagues from America live in the diplomatic residential compound, work for overseas media and send their kids to international schools. (Ditto for Korean expats, except for the working part. Most of them are housewives.)
Lately I am noticing the differences more acutely, and my condition can only be described as expat envy.
Still, living in Beijing has given us access to multi-cultural communities and friends, and exposed my son to three languages at an early age. If he can also end up learning and absorbing the Chinese reverence for one's elders, the infinite patience of Chinese men, and Chinese students' will to succeed, I think our time here will have been well spent.
Meanwhile, I think I will splurge and buy those shoes -- but only if he gives me a better price.

Please click to read more My China Stories