Taking the longer road home
By Greg Saylor | chinadaily.com.cn | Updated: 2013-12-23 17:57
Please click to read more My China Stories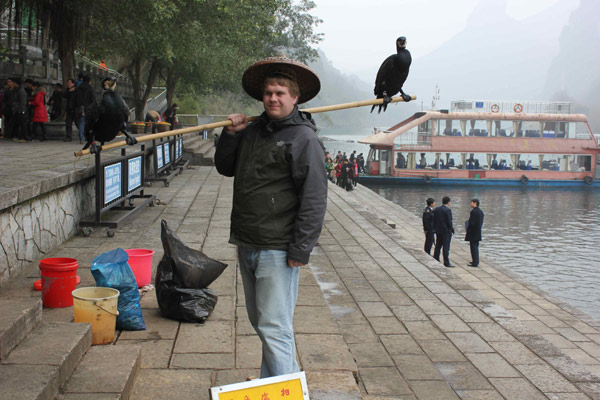 Greg Saylor. Photo provided to chinadaily.com.cn
Apart from the major Chinese cities: Beijing, Shanghai, Guangzhou, etc. there is one place in China that I never stopped hearing about, Guilin, and as an extension, Yangshuo. I was told of the beauty of the Lijiang River and the breathtaking mountains that make you think you have arrived on some alien planet. I was told of the world class rock climbing and the people who go there from all over the world just to get the chance to climb. I was told of so many amazing things, but my experience in Yangshuo was one that no one could have prepared me for.
A friend and me, both students at Wuhan University, set off during the Spring Festival holiday to make our way to Guilin in the most Chinese way possible, on the slow train. Travelling, especially by train, near to the Spring Festival holiday is enough to get its own story, but to make a long story short, lots of people, and then a few extra people to top it all off. After successfully arriving in Guilin I was certain that I had some kind of super power, it was my first time traveling during the Spring Festival and I didn't loose anything or anyone along the way! In Guilin we did all the regular things: saw the twin pagodas, walked through the interestingly lit reed flute cave, and visited the elephant nose mountain (angrily watching all the people who didn't buy tickets ride bamboo rafts to get into the park). Now that my camera was full of photos it was time to ride a boat down the Lijiang River to Yangshuo and see all the beautiful mountains along the way. We being poor college students of course decided to take the "Chinese tourist" boat to save a little money, besides the toilet that didn't work and the included "lunch" that maybe was the reason the toilet was clogged, the experience was great, different boats, same mountains.
Now we find ourselves in Yangshuo, the famed city full of foreigners and bars and coffee shops, all of that being true by the way. After making a quick run down the main street and buying an incredibly large ice cream (mostly for taking photos) and some posters of Chairman Mao my friends and I decided we wanted to get out of the city and see Moon Hill, and what better way than by bicycle. We hit the road and before long saw ourselves on the side of the highway looking straight at Moon Hill, a stunning sight even from the road. While discussing whether to buy tickets and get up close we remembered we were cheap students and decided to skip buying a ticket and hiking to Moon Hill and go for a different experience, go and see a part of Yangshuo not many people get to see. It was decided; we were taking the longer road back and stopping at some small villages along the way. As we are pedaling down the highway on our way toward some small villages I was thinking to myself, "no foreigners? – check! no Chinese tourists? – check! Chickens? – check!" now I knew we were in the right place.
Along the road there were many sights to behold: more mountains, factories, small towns, farms, and much more; there was no lack of reasons to stop and snap a few pictures. We decide to take a small side road away from the "main" road and go dive right into a small village and see what we can find. Its late afternoon and we are a little worried about how to get back so we stop a few people along the road to check and make sure this side road will eventually connect us back to the main road. As we are stopped pondering our situation on the side of the road a woman walks by carrying a small child, trying to be a nice foreigner I say Ni Hao to her, as I am sure everyone reading this knows it means Hello, but she returned quite a puzzled look. Was she shocked by seeing a group of foreigners in this remote place? Could she not believe that a foreigner would be able to speak such good Chinese? (That is me shamelessly complementing my own Chinese skill level) Could she not understand Mandarin Chinese because she was an older woman who seemed to be a member of one of China's many minorities? I don't think I will ever know that answer to those questions. Equipped with the newly acquired knowledge that this road will in fact eventually get us back, we press on down the road toward the experience that was really the reason why I decided to write this story in the first place.
We pass a few small villages on the road but we decide not to enter and keep riding, I believe both out of nervousness and also indecision. We pass one village and we decide amongst ourselves "the next village we come to we are riding through no matter what." Not long after we find ourselves at the entrance of a small village named Miaobei Village, and being bound by our previous agreement, in we go. As we pass the threshold and enter the village, one thing becomes very apparent, there are no people! The streets are empty and all the houses we can see down the street also appear to be empty. Did the zombie apocalypse start while we were on the road? As I start recalling all of the zombie fighting rules that I will need to survive I am brought back to reality by my friend who tells me its time to ride down the road some more and see what's up ahead. As we get to the next intersection I see a pig peeking at us over the wall of his pen in the building across the street from someone's house, he looks pretty cute so it is time to go over and take some pictures, especially with me making V's with my hands like everyone in China likes to do. Time to move on again, we are coming up to a corner in the road, so I can't see around the corner, but I can see that the road is covered in red. When I first saw all of the red from far away I was guessing maybe it was rose petals but I really had no idea. Upon closer inspection it turned out all of the red was from fireworks, for some reason people had been blowing up thousands and thousands of firecrackers on the street. That got me thinking as we were riding around the corner of the road where once turning the corner all of the pieces of the puzzle came together at once.
Around the corner in a small public square there were hundreds of people all gathered together around tables eating dinner! Many of those eating saw us turn the corner and were staring at us like aliens had just landed in the middle of their village. After a short time of awkward staring and wondering what to do next, a middle aged woman and young man come out of the crowd to talk to us. They were extremely nice and after we shared some introductions they began to explain to us what was happening in the village that evening. To our relief the young man was college aged and was at home visiting for the holidays, his English was good and between his knowledge of English and our knowledge of Chinese, we were able to communicate rather effectively. What we found out was this was a small village made up of people coming from the Zhuang ethnic minority and everyone that lives in the village is surnamed Li. Zhuang is the largest ethnic minority in China behind the Han people who obviously make up the majority. The special thing about this night is they were celebrating a wedding, the marriage of a man in their village to a woman from another village. Much to my surprise however, is that neither the bride nor the groom were present at the dinner, they had not arrived in town yet, the middle aged woman I was speaking to turned out to be the older sister of the groom. As a total surprise they invited us to stay with them for the evening and join them for dinner, they even offered to give us a place to stay overnight, which as you will come to find out would have been an incredible offer to have accepted if we didn't have to return the bicycles that evening in Yangshuo and catch the late bus back to Guilin.
Not wanting to miss out on this incredible experience we accepted their gracious offer, which in reality they weren't really allowing us to refuse, and we were led into the groom's parent's house to sit with all the most important guests of the dinner. Apart from being overwhelmed by the cultural experience at the time, I was very excited for the food. I personally love home cooked food, being one of the biggest things I miss since leaving the United States. Me and other friends of mine from the US often talk about the food we miss, and we always seem to come to the topic of Thanksgiving dinner where we all get to eat amazing home cooked food until we can't possibly eat any more. This dinner is the closest I have come to that feeling since I arrived in China. We are sitting around the table talking to everyone about where we are from, why we came to China, and how we arrived in their village, and then the food starts arriving. The dinner was amazing, all of the dishes that were served were placed over top of a pot of boiling soup: pork belly, another pork dish, duck, fish, and a side dish of pickled vegetables that remains one of my favorite dishes in China even up to the day I am writing this story. After all of the dishes were consumed we ate the soup, which contained many parts of animals that you will never find on a dish in the United States, but the meal just wouldn't feel right without them. During dinner we were also fortunate enough to receive a few visits from the host of the dinner, the father of the groom, traditionally the host of the dinner will carry around a container of rice wine and toast with every table. I knew he was doing a fantastic job because when I left the dinner later that night he was still working his way around to every table and he was quite a bit drunk by that point. The rice wine was another real treat that night, homemade and very tasty, and I found myself having drank quite a bit by the end of dinner. Chinese people while at the dinner table will keep toasting the whole time, and the alcohol never seems to run out, as if it is being magically refilled when no one is looking. At the end of dinner my friend and me were both on the slightly drunk side from all the rice wine, and we had mere hours to get back to Yangshuo by bike to return the bicycles to the rental company and catch the bus.
After dinner was over the older sister of the groom took us to a side room for the last ritual of the wedding dinner party, giving a traditional red envelope (hongbao) to the bride and groom as a wedding gift. Everyone that attends the dinner does this, usually writing a short message on the envelope and putting some money inside. Once the money was stuffed and the message was written (requiring more than a few consultations of my iPhone dictionary) we both received a small gift bag from the hosts and we had to get ready to part ways. We made our way out the door and stopped by to say goodbye to the host, and at his request drink another cup of rice wine.
We get to our bikes and it is now dark outside. Now we have about two hours to get the bikes back to the shop along roads we have never ridden on before without flashlights and while slightly under the influence of rice wine. Fortunately with my excellent sense of direction we made it back safely and without incident. What a great way to burn off those calories from dinner!
This story shows how the best and most memorable experiences aren't planned, aren't shown on the map with a star, and don't require tickets. This experience is one that I will remember and I am sure I will recount countless times over the course of my life. I had the opportunity to see and experience a culture off the beaten path, and I was floored both by the unexpected nature of the day's events and the unbelievable kindness and openness showed by the residents of that small village outside of Yangshuo. Apart from me and my friend having a fantastic story and life experience, I am sure the dinner guests also got a good story of their own of the day two random foreigners stumbled across their wedding dinner party. All of this happened because we decided to take the longer road home.
Greg Saylor is a Ph D student studying Environmental Engineering at the University of Cincinnati in the USA. He studied Chinese language for one year at Wuhan University under a Confucius Institute Scholarship. He is currently back in the USA working to finish his degree but hope to come back to China again soon for study or travel.