Florence Fang: Daughter of two 'moms'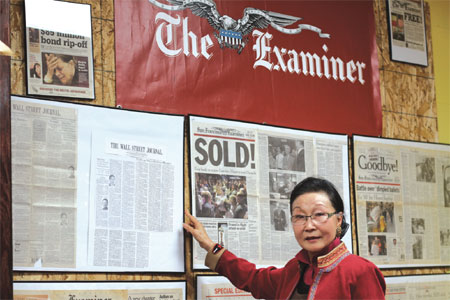 Florence Fang, chairwoman of the Florence Fang Family Foundation, stands in front of the newspaper replicas which reported her family's purchase of the San Francisco Examiner in 2000. Chang Jun / China Daily
Florence Fang is a daughter of two "moms."
"I was born in China and adopted by the United States," said the chairwoman of the Florence Fang Family Foundation and a legendary entrepreneur and philanthropist in the San Francisco Bay Area and beyond.
"There is no such thing that my love to one country overweighs the other. The portion and quality of my loves for the two moms are the same," said Fang, 79, adding that she strives to connect the two nations closer.
That strong sense of mixed-nationality, nurtured by ups and downs of the US-China relationship, might help explain why for years she has been so giving with her time and effort to promote better communications between the two countries, as well as with her financial support, which has escalated to more than $6 million.
Her most recent achievement, Fang said, was in late November when she flew to Washington to attend the first annual meeting of the 100,000 Strong Foundation as one of its founding members who had made a $1 million donation in January 2013. The non-profit Foundation is dedicated to sending 100,000 American students to study in China within four years.
"I was given the honor to introduce Vice-Premier Liu Yandong to attendees (of our meeting) including the Secretary of State John Kerry," said Fang, explaining that Liu was on a tour of the US while attending the fourth China-US High-Level Consultation on People-to-People Exchange, which coincided with the Foundation's annual meeting.
Liu touted the 100,000 Strong Initiative as a remarkable fruit on the big tree of China-US people-to-people exchanges. More than 68,000 American students in the past three years have gone to China to study under the initiative, which was first announced by the US President Barack Obama in Shanghai in November 2009 and formalized in 2010 by the then-Secretary of the State Hilary Clinton.
"The establishment of the 100,000 Strong Foundation has provided not only a new path but also a fresh drive for implementing the initiative and deepening people-to-people exchanges," Liu said in remarks to an audience of some 200 people in the School of International Service at American University on Nov 21.
"Today on China's college campuses, we can meet more and more young Americans studying under the initiative and their progress often amazes us immediately," Liu said.
"Together with their Chinese counterparts, they form a fresh force dedicated to closer friendship between the two peoples," Liu said, adding that she has seen in them an unlimited vigor of youth and an infinite charm in the ongoing people-to-people exchanges.
A report by the Institute of International Education released in November indicated that Chinese students studying at US universities and colleges numbered 235,000 in 2012-13, accounting for roughly 30 percent of the international student population in the US.
"Chinese students studying in the US outnumbered those US students studying in China," said Fang, adding that she and other passionate supporters of the 100,000 Strong Foundation are helping to narrow the gap. "To me, this means much," she said.
Fang applauded the far-reaching significance of the 100,000 Strong Initiative. "The future of the US-China relationship is in the hands of the young generation," she said. "We need to prepare our children for the future leadership, cultivating them in terms of understanding the history of the two countries and respect each other."
Fang's vision of fostering mutual understanding among the young generations can be traced back to 2008 when she started financing the five-year construction of a building at Peking University for teaching foreigners Chinese language and culture.
Fang put $2.5 million into its completion, and the only request she made was for the installation of an open area in the building to function as an international hall where students and scholars from all over the world could sit and meet. "A club house to be accurate, open-mindedness prevails in an accommodating and internationalized environment," Fang said.
On Oct 16, 2013, Fang attended the completion ceremony of the building in the School of Chinese as Second Language on the campus of Peking University, a six-story learning center named the Florence Lee Fang Building.
Fang vividly remembers that ceremony.
"The whole building was covered by a gigantic piece of red cloth, an auspicious color by Chinese tradition," she said.
When she and Wang Enge, president of Peking University, slowly pulled down the cover, the four Chinese characters of her name, Fang Li Bang Qin, emerged one by one.
"I was carried away by strong emotions at that moment - I realized one of my long-cherished dreams, an important part of my China Dream was fulfilled," Fang said, her eyes sparkling.

"I had dreamed of becoming a student of Peking University at quite an early age, and I hope the completion of the building will make a contribution of promoting Chinese culture to the entire world," Fang later told more than 150 distinguished guests at the ceremony, including Oakland, California Mayor Jean Quan and her family.
"The 21st century is a century of internationalization, and it's an inevitable trend for the Chinese language becoming international," Fang said. "The School of Chinese as a Second Language plays an important role in promoting cooperation between China and other countries."
Fang said she selected Peking University as a sponsor because teaching Chinese as a second language started at the university in 1952. "The long history is obvious and it's a shimmering branding itself," said Fang.
"I believe positioning is very important, no matter in business, scholastic research or even daily lives," she said. "By meticulously examining the situation, one would be prone to position him or herself wisely."
Among 40 internationally acclaimed people who have studied in China, 60 percent chose to study at Peking University, including former US Treasury Secretary Timothy Geithner, and Barry Marshall, who was awarded the 2005 Nobel Prize in Medicine.
Fang said her instinct and business acumen have always guided her to make good choices.
"When I think, I reason like a man with logic; when I execute, I'm a woman applying soft approaches," said Fang, the former publisher of the San Francisco Examiner. When she took that post in 2000 under a change in the newspaper's ownership, it created major headlines across the US, including a signed article on the op-ed page of the San Francisco Chronicle lamenting "the most visible manifestations of Chinese Americans' rise to power in the city."
Mellow and soft-spoken, Fang said the traditional Chinese education she had received in her childhood, the three obediences and the four virtues specifically, had shaped her way of thinking in her 20s and 30s.
A set of basic moral principles specifically for women in Confucianism, the three obediences for a woman were to obey her father as a daughter, her husband as a wife and her son in widowhood. The four feminine virtues, however, require a woman to be in possession of morality, speak properly in public, work diligently with household chores, and always be modestly mannered.
Then, she said, her favorite creature on Earth was the peacock, and she would associate the "gracious gestures and elegant motions" of the bird with the utmost feminine beauty. "I would consider myself a peacock in my previous incarnation," she said.
However, fate did not allow her to play a role of graciousness and elegance, instead bestowing on her a string of adversities.
Born in 1935 in Zhengzhou, Henan province, Fang's adolescent years were filled with bitter war-related memories - first the Japanese invasion of China in 1937 when her whole family had to flee amidst piercing sirens; then the Chinese Civil War (1945-49) during which she fled the Chinese mainland with her family for Taiwan.
In 1960, she married John Fang, then a journalism major at the University of California Berkeley, and gave birth to three boys in four years. When John died in 1992 after a three-year battle with skin cancer, it was Florence who shrugged off competitors' smears and retained the family publishing business and expanded it into real estate, dining and trade.
Her accomplishments would see her awarded the California Woman of the Year in 1990 and 2003. In 2006, she donated $3 million to the East Asian Library at the University of California, Berkeley. With Bill Gates, she is an honorable trustee at Peking University, and an honorable trustee and an honorable professor at Wuhan University, to which she gave about $100,000 in 2008.
As for the biggest and most important accomplishment in her life, she said it is raising her three sons: "I'm traditional deep at the bottom of my heart. For a woman, her legacy is her children."
Now her oldest son, James Fang, is a Bay Area Rapid Transit board member and serves on the Shanghai-San Francisco Sister Cities Committee, where he is doing what his mother has always done: promoting China-US exchanges.
junechang@chinadailyusa.com
(China Daily USA 01/10/2014 page11)