Jack Li: Building a bridge for the future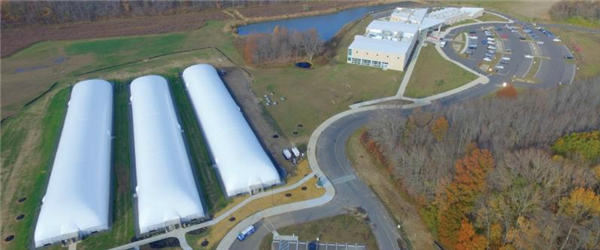 The aerial view of the site Jack Li bought to set up the Sino-US Science, Culture and Sports Association (SUSCS) in Princeton, New Jersey. Photos provided to China Daily.
Opened Sino-US Science, Culture and Sports Association in New Jersey in 2014
New efforts are underway in New Jersey to promote China-US science, culture and sports communication and exchange.
Businessman Jack Li spent more than $20 million setting up the Sino-US Science, Culture and Sports Association (SUSCS) in Princeton in 2014.
"It couldn't be a better place for holding any kind of event, be it related to science, culture or sports," Li said giving a reporter a tour recently.
Occupying 83 acres, the site has a large field with 12 tennis courts and a man-made lake.
The central building is separated into two functional areas: half is the Wilberforce School, a K-12 Christian education school with fully-equipped conference rooms and a large multimedia room; the other half is the Windsor Athletic club, with an indoor swimming pool, two basketball courts and gyms.
"In recent years, with a growing number of people-to-people exchanges between our two countries, there is a growing demand for professional non-government agencies and platforms overseas that can provide systematic services," Li said.
"It's hard to find a better place than this with such complete support facilities that can satisfy all kinds of requirements for Chinese and US non-governmental groups to get together and interact," Li said, proudly giving a tour of the facility.
The venue has 112 locally hired employees; team managers are Li's former classmates from the University of Pennsylvania's Wharton School of business. Li's title is CEO.