A cheerful idea that was conceived in ashes
The horror of seeing her business go up in flames fueled a Swiss businesswoman's desire to put wine within reach of the masses
Claudia Masueger's great grandmother started the family wine business the hard way, driving a horse-drawn carriage over rugged Swiss mountain passes into Italy. There she bought barrels of wine then hauled them back to Switzerland, running the business even as she raised her two children.
One hundred and ten years later, in 2008, Claudia Masueger made a trip with very different logistical challenges. Instead of heading south like her great grandmother, she boarded an aircraft with two suitcases full of wine and headed east.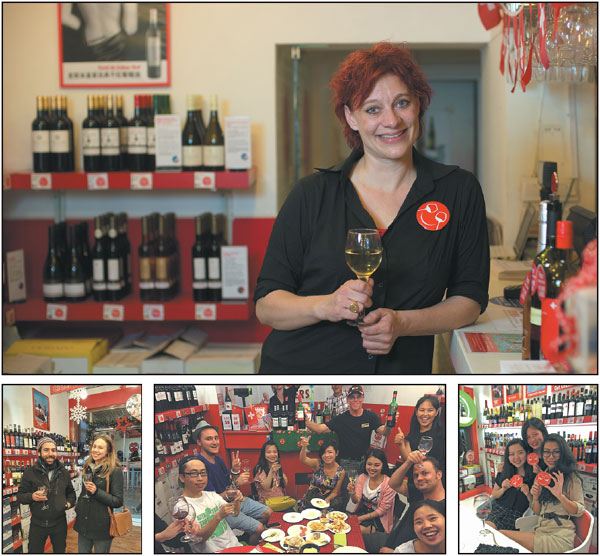 Clockwise from top: Claudia Masueger, CEO of Cheers wine shop chain; VIP customers drinking in Cheers Shanghai; Swiss Night with fondue & raclette in Cheers Chengdu; happy customers enjoy the free wine tasting in a Cheers store in Beijing. Photos Provided to China Daily
Unlike her widowed great grand-mother, who is likely to have known whom she would be buying her wines from, Masueger says she had had no idea when that aircraft eventually reached China about whom she would be selling her wines to.
Instead she traveled the length and breadth of the country finding out how the wine business worked, stopping people on streets to get them to sample her wine. She then set up a company called MQ Wines, a wholesaler.
That may have been the easy part, for a little more than two years after she arrived in the country, in November 2010, disaster struck when MQ Wines' warehouse burned to the ground.
"As I stood with my driver Mr Li watching the fire, I saw tears in his eyes,"Masueger says.
"I consoled him, saying, 'Don't worry. Cheer up. We'll find a way through this.'
"But Li stopped me saying, 'No, no, no. These are not tears of sorrow; they are tears of joy.' He explained that in Chinese culture a fire portends very good fortune."
In the event, the fire put Masueger out of business for several months as she awaited the arrival of new products, and it was in this time, she says, that she could reflect on the business.
At that time, in 2010 and 2011, younger people were ademographic largely overlooked by the wine industry in China, she says, a huge proportion of deals being the result of bulk buying by government departments and organizations.
"I always felt that the wine business was full of snobs. The wines were so overpriced and unfair, and I wanted to bring fairly price wines direct to consumers. I also wanted to make wine-drinking fun. In the business-to-business trade, I realized I was not happy. I twas full of ganbei wines."
With that, Cheers was born in April 2011 and has become one of the most recognizable wine shop chains in China, with 30 outlets nationwide, and an annual sales volume of 500,000 bottles.
Cheers eschews the fancy decor and presentation such as dim lighting and reproductions of antiques often seen in wine bars and wine shops, and the stuffiness of many wine showrooms. Instead the emphasis is on colorful, simple venues with affordable wine for young buyers in particular. The company motto, "Cheers makes you smile", dovetails with its logo, a warm smile formed with two wine glasses.
"We were successful at the beginning though the whole wine industry was laughing about us at that time," says Masueger, who is the company's chief executive.
When the Chinese government's anti-corruption campaign swung into action in late 2012 the business-to-business trade collapsed, industry players scrambled to find new ideas and they ended up concentrating on a business-to-consumer model. However, Masueger says, Cheers had essentially stolen a march on its rivals, because it already had consumers at the heart of its marketing strategy so was relatively unscathed by the austerity drive.
Masueger says her philosophy is to make drinking wine fun and accessible to everyone. Under these guiding principles, buyers should not be left alone perplexed by what is in front of them on wine shelves. The idea is for anyone who enters a Cheers store to be given a helping hand, including having the opportunity to taste wines before buying.
"Are you going to drink it alone, or with friends? Will it be for a dinner or a party? Having found out this kind of information we can make recommendations, and then let the customer try something on the spot. When you give a new drinker a heavy Bordeaux red wine, they may not like it and stop drinking it."
Moscato and Lambrusco sell particularly well because many of Cheers' customers are wine novices, and they tend to like sweeter wines, she says. They then develop their tastes.
Masueger says Cheers online stores on Taobao and WeChat are just a complementary service to offline consumers.
"For new drinkers, buying online is very risky, like a lottery. You have to go to an offline store, experience it, try it, and then decide."
The most important thing for new drinkers is to discover, to explore, and try different tastes first, which can be a lot of fun.
Every Wednesday starting at 6pm, all Cheers stores nationwide open the same bottles of wine and host what are called mini wine schools. They are open to the public and free.
Also, every day at Cheers, wines are open and are free for tasting.
"We are not just a wine store. It's more about introducing a lifestyle to people and creating a community," Masueger says.
As a wine retail outlet chain expanding nationwide, Cheers itself is a wholesaler of imported wines. Wines are reasonably priced, all imported directly by Cheers from wineries from all over the world.
Every wine Cheers buys for China has to go through headquarters in Switzerland for approval, Masueger says, a process backed up by four generations of knowhow.
Afford ability is one of the most important things, the starting price being just 28 yuan ($4.25) a bottle. The price range stretches to 800 yuan, and most of the wines cost about 80 yuan.
Ahead of afford ability in importance is quality, Masueger says, fol-lowed by warehousing. Many bad wines on the market are the result of poor storage, she says.
"For example, if you put wines in truck on a summer's day and drive for several hours, the wine is going to be bad. Some dealers in China treat wines like Coca-Cola."
As Cheers flourishes, Masueger says, the company is on the lookout for many copycats, those who try to replicate the interior design of its shops, its products displays, and even staff T-shirts.
"We realize others are copying us, so we have to innovate all the time, and be on top of the market."
She is now looking for new franchises, her modest goal this year being to open 60more stores. Of its 30 present outlets, half are directly owned and half are franchises.
Then, perhaps harking back to that portentous message her driver delivered five years ago about beckoning good fortune, Masueger, laughing heartily, says: "My dream goal is to open 888 stores."
dongfangyu@chinadaily.com.cn
(China Daily USA 02/08/2016 page10)