Bing brings jianbing street food to New York
Pour batter onto a round griddle, crack an egg on top. Sprinkle on chopped scallions, sesame seeds.
Flip. Add chili paste, spices, crispy wafers. Beijing duck, barbecue pork or drunken chicken.
Enjoy.
Sweet, savory, soft and crunchy, the crepes are called jianbing in Chinese. Having dominated Northern China's breakfast market for more than a century, the mouthwatering street food staple is finally heating up in the US.
Mr Bing, a New York City food stand serving traditional Beijing jianbing, was named "Rookie of the Year" at the 2016 Vendy Awards, an annual recognition of the Big Apple's best food carts.
Brian Goldberg, AKA Mr Bing himself, is a New York native who fell in love with jianbing in 1998 as a student in Beijing. He enjoyed them for breakfast every morning from a vendor parked outside his dorm.
"I was obsessed," he said. "I realized that this didn't exist in New York, and I knew people were going to love it here."
After tasting 40 different street crepes in Beijing and Harbin, Goldberg settled on his favorite and purchased the recipe from a young street vendor. He then flew the vendor to Hong Kong, where the first Mr Bing booth opened in 2012, so the "master" could teach his employees how to make authentic jianbing.
Honoring the street food tradition, in 2015, Goldberg brought Mr Bing back to his hometown, where he began the mission to popularize his favorite Chinese food in America.
"We had to make a few changes," said Goldberg, "because jianbing was for breakfast only. But here, we are having it for lunch or dinner. We need meat, protein."
He was right. New Yorkers are constantly hungry for portable, exciting and exotic food options, and jianbing fits the bill, albeit a Westernized version.
Goldberg said the craziest time for Mr Bing was during this year's Vendy Awards -there were 40 to 50 people in line at a time. He sold hundreds of jianbings.
"This is very good," said Lindsey Kemmerich, a young professional trying jianbing for the first time at Madison Square Eats during lunchtime. "Good texture, good flavor I really enjoy it."
In the food capital of New York, even jianbing attracts competition. Last October, a food truck called the Flying Pig opened, serving jianbing to Columbia students and Upper West Siders alike. And Jian Bing Company, started by a couple of Americans who fell for Shandong-style crepes, was launched at Brooklyn's Smorgasburg in April.
"I think it's a good thing to see competition," said Goldberg with a smile. "Doing Mr Bing in New York really is a natural extension of me and my personality. The competition only proves that I was right - there's demand."
At the intersection of West 25th Street and Broadway, Mr Bing is open daily from 11 am to 9 pm, and jianbings range in cost from $8 (vegetarian) to $15 (Beijing duck).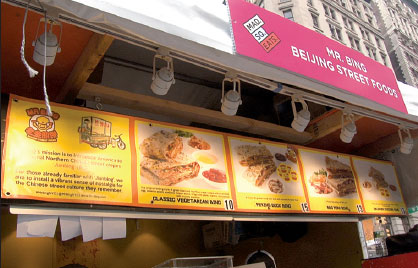 Mr. Bing, a fast food stand serving traditional Chinese jianbing, at Madison Square Eats last week. Zhang Xiaotian / China Daily
(China Daily USA 10/05/2016 page1)