Reading is a habit and keeps the mind alive
China Daily | Updated: 2017-04-25 07:08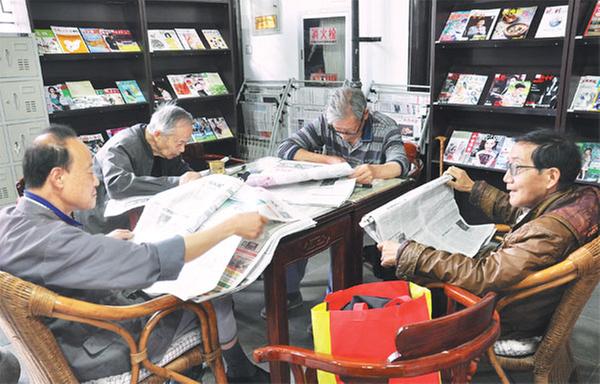 Readers at the Zhaoqing Temple library. Photos by Zhu Genrong / For China Daily
The 22nd annual World Book Day fell on Sunday. Although, on average, Chinese adults read 7.86 books in 2016, 0.02 more than in 2015, the number still lags far behind countries such as Japan or Germany.
And although Chinese are spending more time reading paper books in recent years, the increase has been far outpaced by the surge of reading on mobile devices. In 2016, an adult Chinese read paper books for an average of about 20 minutes. They read up to about 74 minutes on mobile devices, 3.7 times higher than paper book-reading time.
We now have more information at our fingertips than ever before. So, why should we value reading? An important reason is that, compared with knowledge that is fragmented or acquired through passive reception, reading provides systematic knowledge and encourages holistic thinking.
Officials should read more. The information explosion has made it all the more important for leading officials to read and improve themselves. But the current reading situation among leading officials is not very promising. Some officials don't do a good job of reading and they give a variety of excuses. Some blame their failure to read on their tight schedules or lack of time. But reading and study should be taken as a "life attitude, responsibility, and spiritual pursuit."
The low-level of reading nowadays is worrisome. People are bending their heads down a lot, but mostly for on-screen "shallow" reading; and while libraries are getting better and better, good books are more and more difficult to find. We need to put our minds together and figure out how to improve the supply of book resources, so that people's quality of reading is improved. More important, we must beat the addiction that some people have to their mobile devices and the internet, so that reading enriches our spirit and our lives.
For the question, "Where'd all the time go?" President Xi Jinping has a simple answer: Make time outside of work to study. When he worked in rural Shaanxi province, he walked 15 kilometers to borrow a book, he would read while eating, and he frequently recommends books to officials. Reading is a habit. It's a way of life. "Reading keeps the mind alive, gives people wisdom and inspiration, and cultivates a noble spirit."
The article first appeared on the website of People's Daily.