Creating a future for small rural schools
By Berlin Fang | China Daily | Updated: 2017-04-26 07:01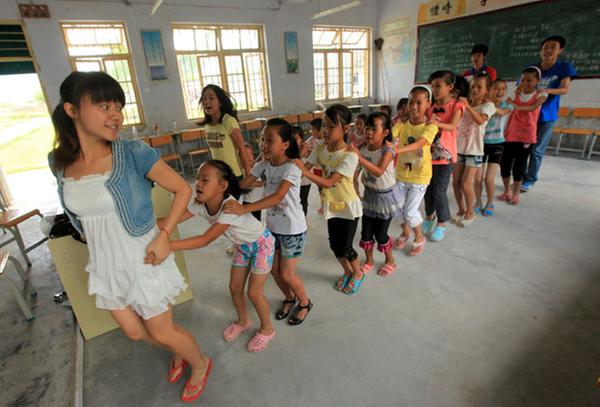 Students from Guangxi University of Science and Technology play with pupils in Tantou township, Liuzhou city, Guangxi Zhuang autonomous region, in July. English, dancing, painting and calligraphy classes were held for the pupils during summer vacation. Tan Kaixing / for China Daily
Hengshui High School of North China's Hebei province, known for its large size and success in preparing students for the national college entrance examination (gaokao), recently set up a branch in Zhejiang province, stirring up a heated debate on school sizes and choices. As the big, super schools grow and small rural schools face closure and consolidation, one wonders if such a change means social progress.
From Confucius to Socrates, all great teachers in history had a limited number of students around them. They could have enrolled more students or disciples if they wanted to but knew the impact of education would diminish with the increase in the size of their classes.
Today, college-ranking organizations make class size an important criterion. Princeton, for instance, has a 1:5 teacher-to-student ratio. For Caltech, it is as low as 1:3. Less-selective universities, on the other hand, do not prioritize small classes, nor can they afford to do so given their smaller endowments. They have fewer fulltime teachers and hire adjunct faculty members or teaching assistants to serve more students. Which really compromises the effectiveness of learning.
The dwindling of population in China's rural areas may have contributed to the closure of some smaller schools. But more frequently, it is just bad judgment by those who associate school consolidation with the scale of the economy or efficiency of management. Craig Howley, of Ohio University, argues that larger schools are not necessarily cutting costs. After a certain point larger schools become expensive, as more middle-management personnel have to be hired to keep such schools running.
Operational efficiency and academic results also motivate decisions to close or consolidate schools. Hengshui High School, for instance, is known for its semi-militarized management style that produces better results at gaokao. But performing excellently at gaokao should not be the sole aim of either the school or its students.
Schools help students develop healthy character and good habits, as well as broad skills, knowledge and attitudes for a fulfilling and productive life. Research shows that for broader educational objectives, small classes can deliver better results. As size increases, it is more difficult to personalize and individualize education, or to pay attention to problems in students' growth.
Local authorities should replace their rushed decisions to close small schools with creative ways to help small schools succeed. First, they should address the staffing needs. Also, they should refrain from thinking on industrial or business lines about "efficiency". A teacher serving a few students is not a waste; instead, it is a privilege that should motivate parents to choose such schools.
Besides, rural communities should use technologies to bring the best educational resources to schools, which is not so difficult to accomplish given the technological infrastructure already in place. Ideas can also be borrowed from Tang Min, the author of MOOC
Revolution, who has compiled cases to show how the internet can bridge differences between urban and rural schools.
Keeping schools running in rural communities is an effective way to attract adult workers back to their hometowns to develop robust economies in China's less-developed areas. China has to use small schools strategically, because forced closure of schools will worsen the problems of extreme urbanization.
The author is an instructional designer, literary translator and columnist writing on cross-cultural issues.