Tencent launches AI initiative
By OUYANG SHIJIA | China Daily | Updated: 2017-05-04 07:38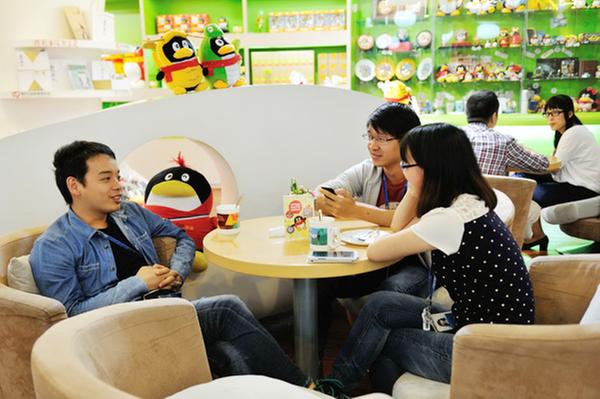 Visitors talk at Tencent's image product shop in Shenzhen, Guangdong province. YU GE / FOR CHINA DAILY
First US-based research center to be led by former Microsoft scientist
Chinese internet titan Tencent Holdings Ltd said it is gearing up its expansion in the artificial intelligence sector, seeing the red hot field as the next frontier of growth and innovation in the internet industry.
Tencent, the tech giant best known for its WeChat messaging service and gaming, announced on Tuesday that it will open its first US-based AI research lab in Seattle, which will be led by former Microsoft scientist Yu Dong.
Yu Dong, appointed as deputy director of Tecent's AI Lab division, will run the new facility and is expected to drive the fundamental research on speech recognition and natural language understanding, the company announced.
Before joining Tencent, Yu was the principal researcher at the Microsoft Speech and Dialog Group and an adjunct professor of Zhejiang University.
"We hope the AI lab will not only be a laboratory, but also a connector to bring together the world's leading talent," said Zhang Tong, the newly appointed director of Tencent's core AI Lab and the former big data director at Baidu Inc.
Lu Yanxia, research manager at IDC China, said the new lab will help Tencent to lure top international staff and have better access to the world's leading AI technologies, currently dominated by the US.
"The move shows that the company is betting big on the hottest area of technology and innovation: AI," Lu said.
"It will help the company to create new momentum in its key market."
By opening the new lab, Shenzhen-headquartered Tencent joins the army of Chinese tech powerhouses-including Baidu Inc and Didi Chuxing-in their quest to attract global talent to the booming AI sector.
Baidu was the first among Chinese tech giants to open an AI lab in Silicon Valley in 2014. In March, Baidu reportedly launched its second AI lab in Silicon Valley, right after Chinese ride-hailing giant Didi Chuxing opened its first AI facility in the same area.
Lu said although Tencent's arrival to the AI sector was relatively late compared with its rivals, it was catching up fast by increasing investment, including the appointment of Yu Dong and the newly established AI lab in Seattle.
"The competition will be fiercer as more tech powerhouses gear up in the AI rush," Lu added.
Tencent set up its core AI Lab in April 2016, dedicated to providing AI technical support for Tencent products and services.
The Shenzhen-based lab currently has more than 50 researchers and over 200 engineers, according to the company.