Southwestern Xinjiang student reaches for the stars with new language under her belt
By Cao Yin | chinadaily.com.cn | Updated: 2017-05-11 21:35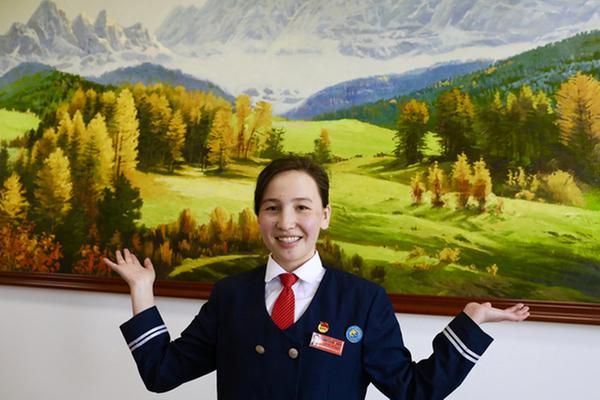 Tajinsa Abuduany poses for a photo during an interview with China Daily in Urumqi, Xinjiang Uygur autonomous region, on May 11, 2017. [Photo by Zhu Xingxin/chinadaily.com.cn]
Tajinsa Abuduany did not speak a word of Mandarin before she moved to Urumqi, Xinjiang Uygur autonomous region.
"I wanted to speak Mandarin, as I dreamt to talk to others from other areas eastern in our country," the 14-year-old said.
However, thanks to the education available at the No 66 Middle School in Urumqi, Tajinsa has excelled at communicating in Uygur and also now Mandarin.
The school, established by the local government in 2004, aims to provide better education for children in lower-income families residing in southwestern Xinjiang, such as Kashgar and Turpan.
Now, 3,373 students,from across 13 ethnic groups around the region, benefit from attending the No 66 Middle School in Urumqi.
"About 90 percent of students are from ethnic groups. They can be enrolled after an examination," Qu Mingcai, the headmaster of the school, said.
He added students learn cultures both in Xinjiang and other places of China "because we hope to provide them with a wide horizon to see the world."
"It helps a number of children from southwestern regions of Xinjiang to learn Mandarin, and encourages them to further study the national histories and other developments in this way," Qu said.
Tajinsa said she worked hard to keep her grades up when she was in her hometown, as she was an only child in a single-parent family.
"My mom gave me support to go to school, and believed the education could bring me a bright future, even though some of my relatives did not agree," she said.
Tajinsa told China Daily she was also shy to speak Mandarin at the beginning, and even wrote down her experiences of anxiety in a dairy.
"When my teacher talked to me at the time in Mandarin, I had no idea what she was saying," she said.
"I wanted to speak, but I worried I couldn't make it, and to my surprise, the teacher was patient and she never gave up."
"She explained what the classes were in Uygur to me again and again."
After conquering her fear, and learning and remembering the language, Tajinsa then received the top score for speaking Mandarin in a competition in her class.
She said she was encouraged, and became confident to learn other courses well, as her classmates applauded her for her performance.
Tajinsa added, in her eyes, Mandarin was a channel to know more about the world "as well as to make my dream come true." She currently also studies English.
"I wish I could be a doctor;saving people's lives and alleviating their pains," she said.
"I want to go to more places in China and then go abroad to understand their medical knowledge, which also needs me to communicate with them in their languages."
Her classmate, another girl from Kashgar, agreed with her. She said her dream was to become a translator or interpreter to contribute to the Belt and Road Initiative, raised by the government.
"I'm practicing my languages and will go outside to see our neighboring countries, or even go further to see other different nations," she said.