Elderly donors give gift of life
By Liu Kun in Wuhan | China Daily | Updated: 2017-06-21 07:28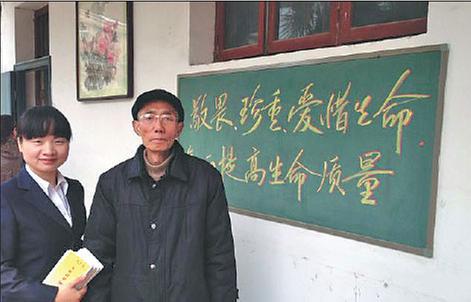 Zou Daoyi, a founder of the "Leaving Love in the World" group, poses with an employee of an eye hospital in Wuhan, Hubei province.Provided To China Daily
A group of senior citizens in Wuhan, Hubei province, have banded together to offer up their bodies for organ donation and medical research upon death.
The group, which dubs itself "Leaving Love in the World", was initially founded by 19 people, but has since seen its membership more than triple.
Wu Min, one of the group's founders, described it as a volunteer civil organization that provides counseling and promotes organ donation. All members are registered with the Red Cross Society of China, the 66-year-old retired nurse said.
Xia Guangzhong, another of the group's original members, said he was inspired to join by two of his friends, Li Peilan and Zhang Shouling, who died in 2006 and donated their organs after death.
"When I reached 70, I made three big decisions: not to dye my hair anymore, to take plenty of exercise and to be come an organ donor," said the 78-year-old retired principal from Ezhou, Hubei province.
"Organ donation is done out of consideration for social and medical needs. Even if my organs are aging, my skeleton, corneas and skin can all be donated."
Since making the decision, Xia has taken up swimming, hiking, brush calligraphy and the piano to keep his body and mind healthy.
"I started playing the piano at age 70 and love playing The Butterfly Lovers the most," he said.
Ming Wei, a Wuhan Red Cross Society coordinator, said the group's optimism was "touching".
But it has not always been easy to promote organ donation, with some members quitting after complaining the group was obsessed with death. Xia rejects this notion, however. "We are not a group awaiting death; instead, we live life anew everyday," he said.
Organ donation can still be somewhat of a taboo subject in China, especially among the older generation.
Xia said some of the group's members had difficulty convincing their family members that organ donation was the right thing to do. One had even signed the paperwork, but was forced to rip it up by his wife.
Another had forged his son's signature on the consent form, but was eventually able to convince the younger man to change his mind.
So far, seven of the group's members have donated their organs upon death.
"We are proud to be donors," said Xia, as he took the donor card that the Red Cross Society had given him out of his wallet. "We are proud to donate our bodies for transplants and medical research after death."
Xin Wen contributed to this story.