New radars displayed at trade show
By Zhao Lei | China Daily | Updated: 2017-06-22 07:39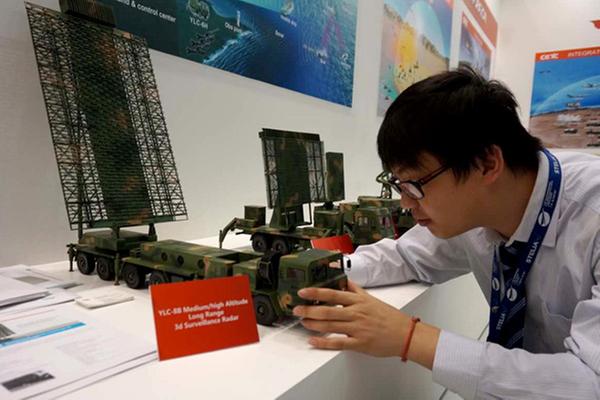 A worker at China Electronics Technology Group Corp sets up a model of the YLC-8B air-defense radar on Wednesday at the 52nd International Paris Air Show at Paris-Le Bourget Airport. Provided To China Daily
Advanced equipment can detect stealth aircraft, cruise missiles
China has been marketing a number of advanced air defense radars capable of detecting stealth combat aircraft, such as the United States' F-22 and F-35, at the ongoing 52nd International Paris Air Show.
China Electronics Technology Group Corp, one of the major defense contractors of the Chinese military, has models of three large anti-stealth aircraft radars on display at the show, which will run until Sunday at Paris-Le Bourget Airport. It was the first time the State-owned defense giant took part in the show, which is said to be the largest and most influential of its kind in the world.
The three radar types - YLC-8B, SLC-7 and SLC-12 - all developed by the company's Nanjing Research Institute of Electronic Technology in Jiangsu province, integrate the traditional detection method of mechanical scanning with two-dimensional active phased-array technology, making them capable of detecting virtually any aerial target including stealth fighters, unmanned aircraft, cruise missiles, ballistic missiles and rockets, according to CETC. The company said the radars can also guide air defense missiles to their targets.
The research institute is the country's largest developer of military surveillance radars. Its products have been sold to more than 20 nations in North Africa, Southeast Asia and western Asia, said Ni Guoxin, deputy director of the institute.
"Exhibits from my institute have the cutting-edge technologies in this field and represent China's overall capability in electronics," he said. "Only a handful of nations, such as the United States, France and Israel, are able to develop such technologies and make advanced radars. It's fair to say we are a leader in this field."
Wang Hongzhe, a senior designer at the institute, said the three radars work on different microwave bands, so if they were all deployed together they would form a massive surveillance network that no stealth aircraft would be able to sneak through.
"They are fourth-generation air surveillance radars - the latest and most advanced of their kind. Compared with the third-generation models, they have stronger capabilities and larger fields of detection and can detect more types of targets, even some low-orbiting satellites," he said.
Moreover, all of these radars are mounted on ground vehicles, which enables them to be deployed in a rapid, flexible manner, Wang said.
zhaolei@chinadaily.com.cn