Illegal imports pose risk to public health
By Zheng Jinran | China Daily | Updated: 2017-06-22 07:36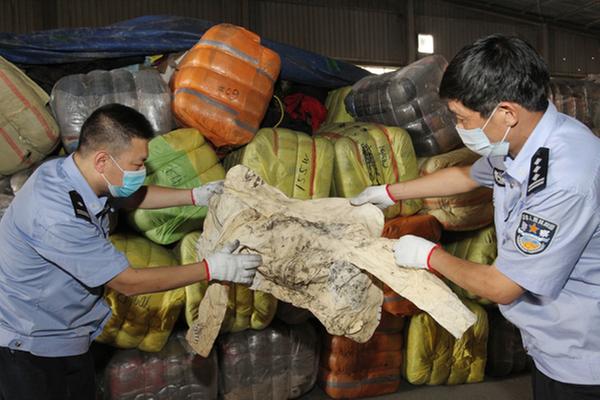 Members of the anti-smuggling unit of the Xiamen Customs, Fujian province, uncover illegally imported waste material. LEI GUOHUA/CHINA DAILY
Frequent cases of the illegal importation of used clothing, including items collected from morgues, have resulted in the introduction of stricter measures, and the central government is expected to issue a new action plan soon.
On May 26, the customs in Xiamen, in the southeastern province of Fujian, detained a group of smugglers who had shipped 500 metric tons of used clothing to China from Pusan Port in South Korea.
The anti-smuggling unit discovered 3,596 packs of used clothing inside the vessel. The filthy clothing, which emitted a strong smell, contained items such as furs, sweaters, denims, children's wear and even bloodstained underpants.
"All these used clothes were collected overseas, at secondhand markets and morgues. These places don't have sanitation procedures, so some of the items harbor bacteria," said Zhang Ruiyu, an officer at the anti-smuggling department of the Xiamen Customs, according to a report in Legal Daily.
When the clothes had been sorted and washed, they would have been sold in small online shops or at late-night stalls, "posing a huge risk to human health", Zhang said.
Irrespective of the condition or origin of used clothing, it's importation to China is prohibited, because its poor sanitary condition can pose a severe threat to public health, and processing the items may also damage the environment, according to experts.
Despite that, many cases of illegal importation are still being uncovered. In March, customs police and officials from the commerce department, the anti-smuggling unit and border patrols in Shantou, Guangdong province, discovered 96 tons of used clothing in storage.
The smugglers are motivated by the huge profits available. Items in good condition can fetch tens of yuan per kilogram, or less than 10 yuan ($1.40) per item, in Jieshi township in Guangdong, a center for outlets that process and sell discarded clothing, including illegally imported goods.
When resold in stores, the price soars, often by a factor of 10, producing huge profits for the vendors, according to a report published by Xinhua News Agency on Friday, which estimated that stores can make about 200,000 yuan a year from these activities.
Liu Jianguo, a professor at Tsinghua University's School of the Environment, said the utilization of solid waste, including discarded clothing, results in higher costs to the economy and the environment because the waste can contain high levels of pollutants.
When he reported to the nation's top legislators in May, Chen Jining, a former minister of environmental protection, conceded that "the environmental problems resulting from illegal imports are still serious".
Chen said special investigations in places suspected of heavy involvement in the illegal importation of solid waste will be a major task for inspection teams dispatched by the central government.
In April, the government approved a new action plan to tackle the illegal importation of solid waste. The plan will allow the authorities to adjust the list of banned imports and take comprehensive measures, including economic, legal and administrative tools, to combat the problem.