Panda pair heading to Zoo Berlin in 15-year agreement on conservation
By Huang Zhiling | China Daily | Updated: 2017-06-24 08:18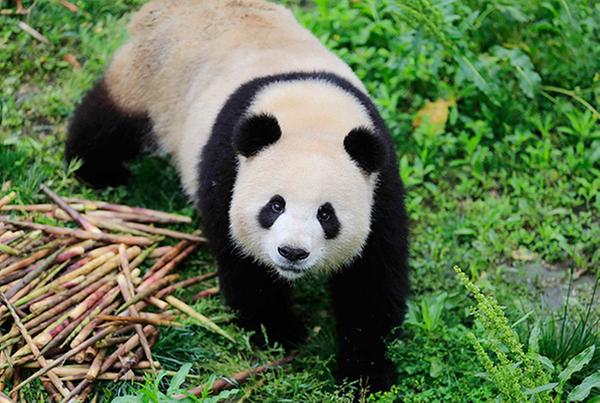 Meng Meng, 5, a female panda, plays at the Chengdu Panda Research Base on May 3, 2017. [Photo/Xinhua]
On Saturday morning, a pair of giant pandas will leave Chengdu, capital of Sichuan province, to make a 12-hour journey across the globe.
The destination: Berlin, Germany, where they will reside at Zoo Berlin for 15 years, a time that will include joint scientific research between the zoo and the Chengdu Research Base of Giant Panda Breeding, according to Chen Cheng, an information officer with the base.
Jiao Qing, 7, a male panda, and Meng Meng, 5, a female, will depart from Chengdu Shuangliu International Airport at 8:40 am on Saturday.
During their flight, they will be accompanied by two keepers from the Chengdu base and Andreas Ochs, a senior veterinarian from Zoo Berlin.
The flight's "meal service" will include ample bamboo and water, Ochs said, adding that he and the two Chinese keepers will keep close tabs on the two pandas during the flight.
A send-off ceremony for the pandas was held at the Chengdu base on Friday afternoon. In attendance were Ochs and representatives of the China Wildlife Conservation Association and the Sichuan provincial forestry department.
The pandas' trip was made possible by a cooperation agreement on panda conservation signed on April 28 between the conservation association and Zoo Berlin, marking the beginning of a 15-year relationship.
China's fourth panda census showed 1,864 wild pandas and 375 captive pandas worldwide as of the end of 2013, according to results released in 2015. Most of the pandas are in Sichuan.