Women making gains but more work needed at the top
By Liu Hui | chinadaily.com.cn | Updated: 2017-06-28 20:01
Editor's notes: In a modern society where women can be business executives, media tycoons or anything else they set their mind to, why are women still under-represented in the senior ranks? What does it really take for women to rise to the top of their field?
A group of prominent players in the politics and business community gathered in Beijing for the 2017 Women Leadership Forum on June 26.
Here are some of the participants' views on the issue.
Empowerment
Julie L. Kavanagh
Acting Deputy Chief of Mission, US Embassy Beijing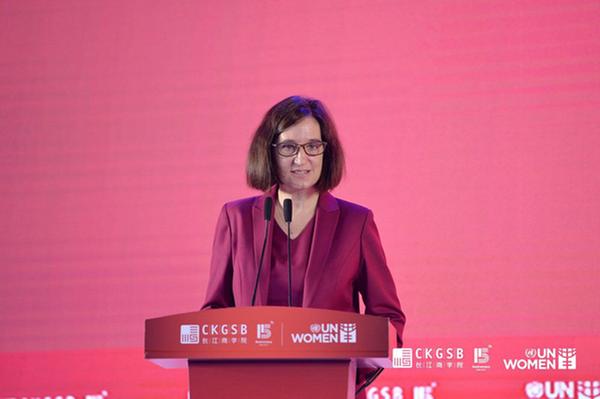 Julie L. Kavanagh delivers a keynote speech at the 2017 Women Leadership Forum on June 26 in Beijing. [Photo provided to chinadaily.com.cn]
Historically, diplomacy has been the preserve of men. Today, diplomatic leadership roles still heavily skewed towards males, but that doesn't mean females aren't making any progress.
Taking the United States as an example, women made up only 4.8 percent of US Foreign Service officers in the 1970s. Nowadays, more women than ever are serving in the foreign policy arena. As Kavanagh points out that women accounted for 36 percent of 158 ambassadorships in 2016.
"While women's political status has definitely improved since, there's still a long way to go," she said.
Citing a report released by McKinsey Global Institute in 2015, Kavanagh said that if women performed an identical labor role to their male counterparts, the world's GDP would skyrocket to $28 trillion in 2025.