Authorities warn of new flood risks
By Hou Liqiang | China Daily | Updated: 2017-06-29 07:23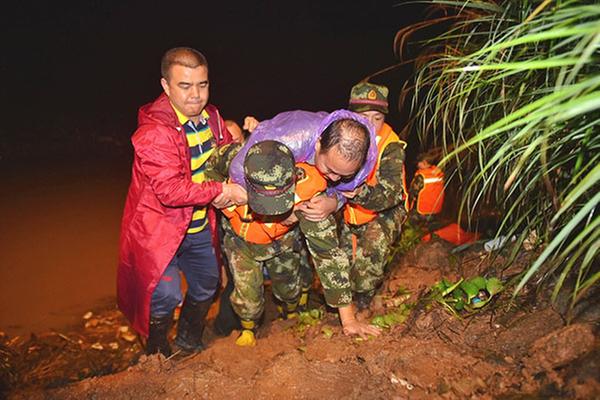 Rescuers help villagers to safety on Tuesday night in Zhiping village in Shaoyang city, Hunan province, where roads to the village were cut off by landslides triggered by heavy rainfall.Tang Jun / For China Daily
Areas surrounding the Pearl River, Taihu Lake and the Huaihe River are at risk of flooding in the aftermath of heavy rainfall, according to warnings by flood control authorities.
Following heavy rainfall in southern parts of China from Friday to Wednesday, the rain band will move northeast, leading to heavy downpours in central and eastern parts of China from Thursday to Sunday.
Heavy rainfall will hit Jiangxi and Hunan provinces, raising the possibility of severe flooding in areas surrounding Dongting and Poyang lakes, and the lower reaches of the Yangtze River, according to Liu Zhiyu, deputy director of the Ministry of Water Resources' hydrographic bureau.
There have been 19 heavy rainfalls this year, with "an extremely uneven distribution of rainfall" and "high frequencies of extreme weather" raising risks of flooding, Zhang Jiatuan, spokesman for the State Flood Control and Drought Relief Headquarters, said on Wednesday.
The headquarters asked flood control officials to be on shift around the clock from March 1, a month earlier than in previous years, while the central government has allocated 812 million yuan ($119.4 million) in funding for flood control and drought relief this year, Zhang added.
Flooding this year has resulted in direct economic losses of 22.9 billion yuan, and left 47 people dead and another 10 missing, according to the authority. It has affected 982,100 hectares of crops and more than 14.9 million people, with more than 1.3 million people being evacuated.
Compared with the same period since 2010, the number of casualties this year fell by 84 percent, while the area of affected crops decreased by 62 percent, Zhang said.
Though all of the 175,700 structures that were damaged or destroyed in floods last year had been repaired by the end of May, and 50 suspect sections of dikes along the Yangtze River have also been reinforced, most of them have yet to be tested by major floods, the authority said.
The large number of small and medium-sized reservoirs and hydroelectric power stations, as well as water conservancy projects under construction across the country also provide challenges for flood control work, Zhang said.
Many leading officials in the new term of local governments lack experience in flood control and drought relief, and this may also affect efforts this year, he added.
Zhang's headquarters and the ministry have drafted a revised plan for using major reservoirs, including the Three Gorges and Danjiangkou Reservoir, for flood diversion and storage, as well as detailing a plan for reducing reservoir storage to prepare for floods based on rainfall analysis.
According to the State Flood Control and Drought Relief Headquarters, more than 2.35 million hectares of farmland are currently drought-stricken, which is less than one-third of the average for the same period in recent years. To alleviate drought in Shandong province, a total of 445 million cubic meters of water has been transferred to the region from the Yangtze and Yellow rivers.