Online marketplace gives farmers new outlet
By Wang Xiaodong in Kangxian, Gansu | China Daily | Updated: 2017-06-29 07:23
Editor's note: In the run-up to the 19th Communist Party of China National Congress, China Daily sent six reporters to villages nationwide to live for a month and take a look at how people are working to ensure that China's poverty eradication plan succeeds.
Xu Dan, a township government employee in Longnan, Gansu province, feels lucky to have opened the first online store in his community three years ago.
"At that time, the government had started to put more emphasis on developing e-commerce as a major poverty alleviation measure," he said. "I was assigned to open the first online store in Wangba township."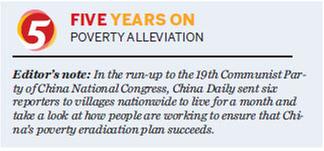 Xu opened the store on Taobao's online marketplace and began selling dried mushrooms, walnuts and honey - products he bought from local farmers. Within the first year, he had recovered his entire investment, including promotion fees, which came to just under 5,000 yuan ($730).
He now sells 250 kilograms of locally produced honey a month to customers as far away as Zhejiang and Guangdong provinces and Shanghai, he said.
"Some villagers also opened online stores, seeing it really could make money," he said. "Now there are about 30. Most owners are college students or young people who returned from working in big cities."
As of the end of April, the number of online stores based in Longnan had reached 10,703. The number of e-commerce platforms created by the city or in partnership with it had climbed to 32, according to the city's commerce bureau.
The stores have generated sales of 5.2 billion yuan from 2014 through April, benefiting 97,000 villagers living under the poverty line, it said.
To promote local agricultural products such as olives and tea, and to help farmers increase their income, Longnan decided to focus on the development of e-commerce at the end of 2013, the bureau said.
That was made possible by technology: As of April, 2,632 villages - 83 percent of the city - had access to broadband, the bureau said.
In Wangba, part of Kangxian county, total sales of agricultural products through e-commerce channels last year reached 70,000 yuan, according to Li Rui, the township's Party chief.
Because the community is located in a mountainous area more than seven hours by car from the provincial capital, Lanzhou, many agricultural products produced by its farmers went to waste, he said.
To help farmers sell their products, the township invested more than 500,000 yuan last year to establish a model e-commerce store, he said. Owners of the online stores in Wangba sign agreements with farmers so the farmers can concentrate on growing and farming, and not worry about sales, Xu said.
Feng Mingzhi, deputy head of Wangba, who established a tea-processing factory, said he started to sell tea online two years ago.
"Last year, we sold nearly 1 million yuan's worth of tea through the company's online store on Taobao," he said.
Feng also said some obstacles remain for his company in exploring the market online, as costs are high for promoting and managing online stores.