Globe-trotting couple meets fans
By TIAN XUEFEI/ZHOU HUIYING | China Daily | Updated: 2017-06-30 06:36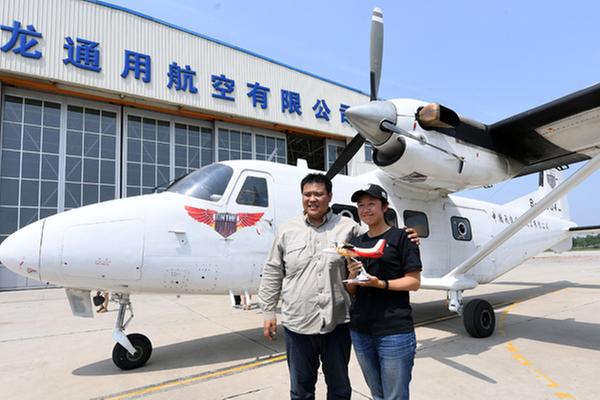 Zhang Xinyu and his wife, Liang Hong, display a model on Wednesday of a Y-12F aircraft, the newest generation of the plane they used to complete their round-the-world trip. China Daily
An adventurous couple who recently completed a round-the-world flight in a Chinese-made plane met with more than 400 fans at Harbin Engineering University on Wednesday to discuss their travels.
Zhang Xinyu and his wife, Liang Hong, the stars of online travel show On The Road, have spent the past five months traveling 60,000 kilometers in a Y-12-a twin-engine turboprop utility aircraft.
After departing on Jan 29 from Harbin, the capital of Heilongjiang province, they arrived back in the city on June 24.
The couple's itinerary saw them travel across four continents-Asia, North America, South America and Africa-and the Pacific, Atlantic and Indian oceans, encountering some of the world's most breathtaking natural scenery.
Zhang, 40, was the pilot on their trip, while Liang was copilot and responsible for communicating with ground control. To prepare, they completed a six-month training course to learn about night flying, plane maintenance and how to handle complex weather conditions.
The couple said they faced numerous challenges during their world tour.
"At the end of February, as we flew from Costa Rica to Ecuador, we encountered a cumulonimbus," said Liang, 38, referring to a type of cloud that can produce lightning and even cause tornadoes.
"The conditions were very dangerous for flying," she recalled. "To avoid the danger, we had to ascend sharply until the plane was almost vertical. Fortunately, we escaped to safety."
After years of running a successful jewelry accessory business, the couple decided a decade ago to follow their dream of traveling the world. Over the years, they have driven through war-torn Somalia and visited the radiation-racked Chernobyl Exclusion Zone, as well as sailing the Pacific, Atlantic and Indian oceans.
In 2013, they began recording On The Road to document their adventures, which became popular with viewers on video-streaming websites in China.
"My 14-year-old daughter is a huge fan of the show and the couple, who have had some truly unique experiences," said Zhong Zhixian, who drove 110 kilometers to the university with her son and daughter from Wuchang county.
"When I heard about the event, I asked my children's teachers if they could take half a day off school so I could bring them here. I hope they will be as brave as the couple in chasing their dreams."
Zhang and Liang said that only about 300 people are thought to have completed a round-the-world flight, and that they are the first to do it in a Chinese-made plane.
"The Y-12 is 100 percent Chinese. It was built by Harbin Aircraft Industry Group, which is why we chose Harbin as the location to start and end our trip," said Zhang, who added that the plane was used for 32 years for missions such as scientific explorations and aerial photography before the couple bought it from China Flying-Dragon General Aviation.
"The sturdy old plane didn't disappoint us. It proves that Chinese-made planes are reliable."
The couple said their next adventure will be to travel the world using different forms of transport, such as a sailboat.
"We also hope there will be more young people joining us in doing something more creative," Zhang said.