Diplomacy drives poverty alleviation
By WANG XIAODONG | China Daily | Updated: 2017-06-30 08:53
Editor's note: In the run-up to the 19th Communist Party of China National Congress, China Daily sent six reporters to villages nationwide to live for a month and take a look at how people are working to ensure that China's poverty eradication plan succeeds.
He Hengjun is an official in Anmengou township, Gansu province, but spends most of his time in a village 10 kilometers away.
In the past two years, He, 45, has been to Zhongjie village almost every day to conduct tasks such as introducing poverty alleviation polices, helping villagers solve day-to-day problems and mediating disputes.
"Helping lift villagers out of poverty has been the most important task for me in the past two years," said He. "I was assigned as a liaison to the village because I was born there and most of the villagers know me well."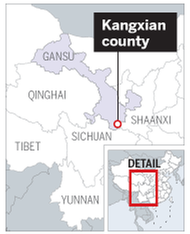 Like many other villages in Kangxian county, Zhongjie sits deep in the mountains and used to be cut off from the outside world due to a lack of roads, while public facilities were almost nonexistent. Most villagers lived in mud houses until 2008, and it was not until 2011 that the first cement road in the village was built, He said.
"The county government decided to step up poverty alleviation efforts, and the first move was to improve infrastructure and living conditions in the village," he said.
In 2015, He was assigned to the village and tasked with working alongside village officials to implement poverty alleviation measures.
He also has an assistant-a college graduate-who helps him with computer work, such as recording information about villagers, including their names, addresses, family members, income and causes of poverty, which is then passed on to the township government.
"She is younger and more skilled at computing than me," He said. "I spend most of my time communicating with the villagers, as this is what I am good at."
The township government has also assigned one or two officials to each of the other villages under its jurisdiction to supervise and help with poverty alleviation efforts, he said.
A large part of He's job involves persuading villagers to cooperate with the development of public facilities, he said.
"For example, when constructing roads, sometimes it is necessary to demolish houses, cut down trees or occupy farmland," he said. "Some villages refuse to cooperate and it can be very difficult to persuade them otherwise."
Last year, He persuaded nine villagers to agree to the demolition of a pigsty and the cutting down of trees to make way for a new road, but one villager insisted the road be built elsewhere so she could keep her walnut tree.
"No matter how hard I tried to convince her, she would not agree, even when I told her she could have a truck loaded with building materials parked next to her house the following year when she renovated it after the road was built, so that she would not have to carry building materials a long distance," He said.
In the end, He had to give her one of his own walnut trees just so construction of the road could go ahead.
"Her husband and son, who migrated to cities to work, later apologized to me when they returned home," he said. "But our two families still maintain good relations."
To help villagers increase their incomes, He established a cooperative to provide seeds and technical guidance to villagers about growing herbs.
Dealing with conflicts between villagers is also a major part of He's job.
"Winter is the busiest time for me, when villagers tend to drink more alcohol," he said. "Migrants usually come back home in winter and they frequently gather together after having been apart for a year. But incidents such as fighting or drunken driving often occur after people have been drinking."