CFA launches probe over club's match-fixing claims
By Sun Xiaochen | China Daily | Updated: 2017-07-03 07:02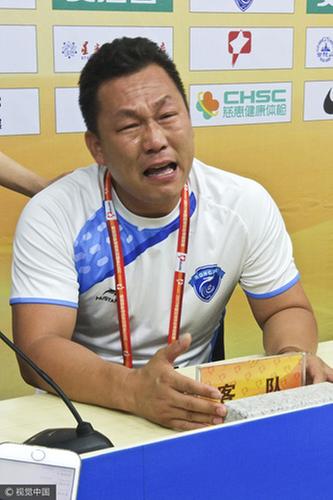 Meng Yongli, chairman of Baoding Rongda FC, questions the officiating of a soccer game in the nation's second-tier league which saw his club draw with the opponent as a result of a controversial penalty in the injury time, July 1, 2017. [Photo/VCG]
The Chinese Football Association launched a probe on Sunday into allegations of match-fixing made by a second-tier club after a controversial penalty decision.
In response to a claim by Meng Yongli, chairman of Baoding Rongda FC, that his club's 2-2 draw with Wuhan Zall on Saturday was manipulated in their opponent's favor, the CFA said it has called on the professional league council and the referees' committee to investigate, adding that it will severely punish anyone found involved in match-fixing.
"We will handle the case seriously and respect the club's concerns. But we urge the club and the fans to remain calm. The result of the investigation will be released in a timely manner," the CFA said in a statement on Sunday.
In a post-match news conference, Meng questioned the officiating of the game, in particular a controversial decision by the referee to award Wuhan Zall a penalty during eight minutes of injury time, which resulted in the game ending in a draw.
"We can't afford for the game to be played like this any longer. If it continues, eventually no one will play," Meng said before bursting into tears, bringing the news conference to an abrupt end. He later assembled media on the stadium's pitch and announced the withdrawal of the club from the second-tier league in protest.
"We want to present a strong reminder to the governing body that we need a clean and transparent environment to play the game," he said later on Sina Weibo.
People within the soccer world urged the club to hold back from making any rash decisions and to cooperate with the CFA probe.
"The penalty was a 50-50 call. There was contact between the two players. It was also scored in the third minute of stoppage time, so it is unreasonable to question the eight minutes of added time," said Zhao Zhen, a commentator with goalchina.net.
Li Yi, a former China national team striker, said on Weibo: "Controversial calls are part of the game. If the club quits the league, it is the players and fans of the team that will suffer."
sunxiaochen@chinadaily.com.cn