3-year-old riding a donkey sparks nationwide discussion
By Liu Dong  | chinadaily.com.cn | Updated: 2017-07-04 17:24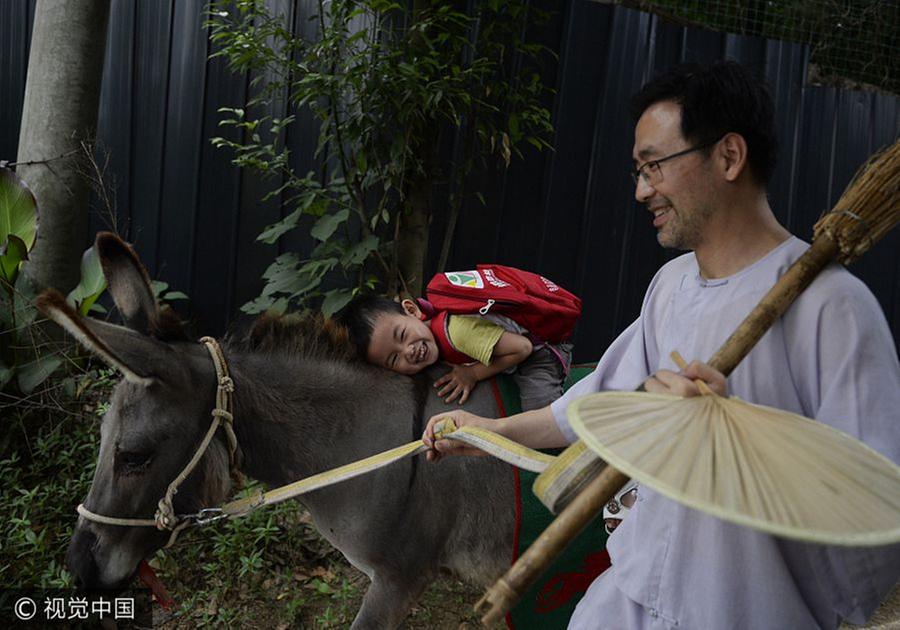 Li Li's 3-year-old son lies on the donkey's back as his dad holds the reins in Chengdu, June 23, 2017. [Photo by Guo Guangyu / Chengdu Business Daily]
Wearing traditional-style dress and cloth shoes, a man shoulders a broom and holds a big fan in one hand. With the other, he leads a cow carrying his child on its back along a road in Chengdu, Sichuan province.
The picture of the father-son-cow trio was a stark contrast to the cars roaring past them on the road. It was soon posted on the internet and generated some heated discussions.
Father Li Li often accompanies his 3-year-old son Li Qilin as he rides a cow to kindergarten. Li says his son began to ride camels at home at the age of 2. Since last winter when his son started kindergarten, Li began to pick him up with a cow or donkey. He teaches little Qilin to recite ancient poetry classics on the way. "This is communication of people and nature," Li says.