Building a legacy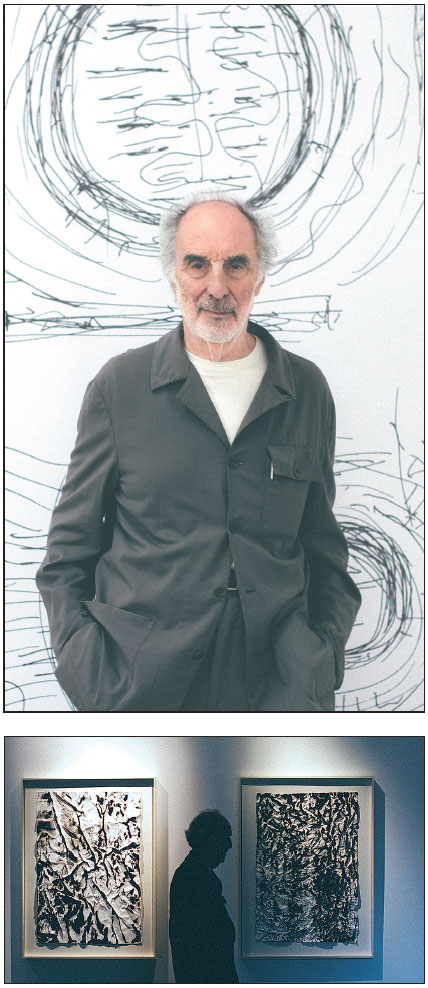 Born in Bordeaux, France, Parisian architect Paul Andreu has a great desire to do things with his hands and with his head, and to always keep discovering something new. Photos by Trudy He / For China Daily
Renowned architect, writer and (most recently) painter Paul Andreu held his first art exhibition, Dialogue avec le Papier, this summer at Beijing's Yishu 8, where Philippe Dova sat down with him for an exclusive interview.
French architect Paul Andreu has designed so many iconic buildings in China that it's easy to lose count. Among his best known are the National Centre for the Performing Arts in Beijing, the Shanghai Oriental Art Center, the Jinan Grand Theatre and Shanghai Pudong International Airport. Now nearly 80, Andreu continues to develop projects in China, including a revolutionary undertaking to bring new life to an impoverished village in rural Shandong province.
How was it that you went from architecture to writing - and more recently to painting?
I have a desire to create, for continuous renewal. While I can't say that I know everything there is to know about architecture, I no longer have much to prove or discover. For me, painting is just as important, creatively, but it's something you do alone in your workshop, with a piece of paper and a pot of ink or acrylic paint - it's terribly refreshing.
Why did you wait so many years to start painting?
It was a kind of need. I felt saturated and I partially compensated for this by writing. But writing is a very long process - it takes at least a year to write a book. Painting is faster. Being alone with yourself during the day, in the light, and then putting yourself in a situation where you produce something of which you know nothing and for which no one has asked - it's a kind of freedom you rarely have in life.
Are you still as busy as ever in China?
China is still building, but at a less frenetic pace. They have trained their own architects, who for the most part are very good, so there's no longer a need for foreign architects to contribute. Today, China is part of a great movement of very open exchanges with other countries - and that's a very good thing. After the National Grand Theatre (National Centre for the Performing Arts) in Beijing, I did a series of projects in different cities: a sports complex in Guangzhou, the Shanghai Oriental Art Center, a performing arts complex in Jinan, a museum in Taiyuan, office buildings and so on. I'm not involved in quite so many projects now, but I still love coming here.
What are your projects in China right now?
With the Beijing Institute of Architectural Design, I've submitted a project to design a new area in the city of Nantong. There's a cultural component - performing arts facilities, an art museum, etc. - as well as convention and exhibition centers and a hotel.
There's a project in the Zhuhai-Macao area that's especially close to my heart - a cultural-commercial urban development project on Hengqin Island. The Chinese engineering and construction company Zhuhai Da Heng Qin approached French architect Thomas Coldefy and asked him to think about the project, recommending that he work with an architect who's already known in China. He asked me if I'd be willing to do some of the work. I very seldom collaborate with French architects, but if this project goes ahead, then it will have both our signatures on it. We're now in the preliminary phase, and we'll present the project before December; the planned completion date is in 2019.
You're going to be working on a project to redevelop a rural village, too?
China has given me a lot - and I've always wanted to give something back. Some Chinese friends from Yunnan spoke to me about the province's magnificent landscapes and asked me if I could help out by coming up with a way to preserve them. I publicly accepted this challenge, but they never followed up. Then, the industrialist Dong Fangjun, who is a big patron of cultural projects and very involved in efforts to save his native village in Yiyuan, in Shandong province, asked me if I'd be willing to work with him on that.
The village is located on a peninsula that he calls "Peach Blossom Island" - it's full of orchards and little market gardens. I went to visit the village and as soon as I saw it, I wanted to bring it back to life. Not by introducing an abstract kind of life for flashpackers to come and look at, but by making sound, established agricultural operations even more viable by giving them an artistic aspect - by offering other alternatives to the people who live there. I'm going to be totally committed to this project.
What will you do specifically?
I don't know yet. For now, they've put red flags with our names on them along the roads to welcome us. It's going to be organized in a very sensible way, with the China Global Philanthropy Institute drawing up a plan and setting the budgets.
The project will kick off soon. While I know it's not going to be some huge, neverto-be-forgotten project, I find these kinds of small, very humble things very tempting.
What do Paul Andreu the architect, Paul Andreu the writer and Paul Andreu the painter have in common?
They're all the Paul Andreu who was born in Bordeaux almost 80 years ago and who, little by little, grew within different branches, each of which he considers to be of equal importance. With a great desire to do things with his hands and with his head, and to always keep discovering something new.
Your most beautiful memory?
Delivering the National Grand Theatre in Beijing. This project represented an enormous amount of work. I put my whole self into it; I thought constantly about every detail. Some things in the theater I even made with my own hands - there are some bronze plaques in the floor that I engraved myself. I was very happy at the opening.