Zhang banging on history's door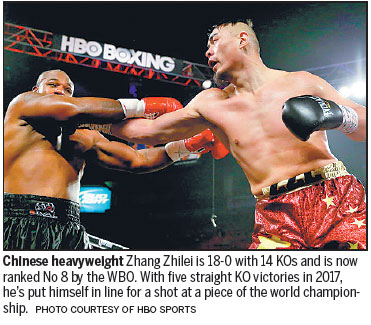 Chinese slugger moving closer to shot at world heavyweight crown
Zhang Zhilei is tantalizingly close to making boxing history.
China's 2008 Olympic silver medalist has scored five KOs in as many fights in 2017. If he keeps winning, the southpaw slugger from Zhoukou, Henan province, will go from pretender to contender - and could become the first Chinese to challenge for a piece of the fragmented world heavyweight championship.
Now 18-0 with 14 KOs, Zhang captured the WBO Oriental crown in January and is ranked No 8 in the world by the global sanctioning organization.
On Saturday in Guangzhou, he's scheduled for a 10-rounder against former European Boxing Union title challenger Herve Hubeaux of Belgium (28-2, 14 KOs).
The co-main event on the five-bout card in the gymnasium at the Asian Games complex will see Wang Zhimin of Wuhan, Hubei province (9-2), square off against Anthony Sabalde of the Philippines (12-6) for the vacant WBC Asian Boxing Council lightweight title.
Another impressive win would solidify Zhang's place in line to challenge WBO titleholder Joe Parker of New Zealand (24-0, 18 KOs), who dropped a 15-7 decision to him at the 2011 world amateur championships.
That's the challenge that makes the most sense for Zhang, but what he and his handlers really want is another shot at the man who scored a narrow 11-5 victory over him in the quarterfinals of the 2012 London Olympics: Britain's Anthony Joshua.
Joshua, who has won all 20 of his pro fights by knockout, holds the WBA, IBF and IBO titles, while Deontay Wilder of the US (39-0, 38 KOs) owns the WBC belt.
"I want to fight Joshua very, very much ... and as soon as possible," Zhang told boxingscene.com after stopping American trial horse Brian Polley in one round on Sept 23 in Park City, Kansas.
"I can't say enough how much I want to fight him. When I'm punching the heavy bag, I imagine it is Joshua."
At 6-foot-6 and 250 pounds, Zhang and Joshua are exactly the same size, though the 28-year-old Brit is six years younger.
"I've been training very hard in the gym every day for just one goal," said Zhang, who started boxing at age 14 after getting too big to comfortably continue pursuing his first athletic love - canoe racing.
"Right now, Joshua, Parker and Wilder have all the belts, and I want them. That's why I'm training so hard.
"I was overanxious against Joshua at the Olympics; all I had on my mind was offense, and I forgot about defense. He's from England, so I thought I had to take him out. I thought the judges would give it to him otherwise."
Zhang's trainer/manager, former light heavyweight contender Shaun George, has a long history of working with China's Olympic boxers. He has tremendous respect for Joshua - but he's also convinced that Zhang is the real deal.
"He lost to Joshua in London, but that's a fight that, with the right game plan, he could win," George told boxingscene.com. "Anthony Joshua is very impressive; he's a young guy who can punch, and he's doing great things for boxing. We're definitely not underestimating him.
"But when Zhang gets into the ring with him, they're gonna know this is a hungry fighter - a real hungry, aggressive and smart fighter. Zhang is big and he can really punch ... and his defense is gonna be much better.
"He's at a higher level now, mentally and physically. What it comes down to is being mentally prepared, and Zhang is. He shows it in the gym, and he shows it by his willingness to learn. He's willing to fight anybody out there."
murraygreig@chinadaily.com.cn