New York faces down fierce storm, trudges through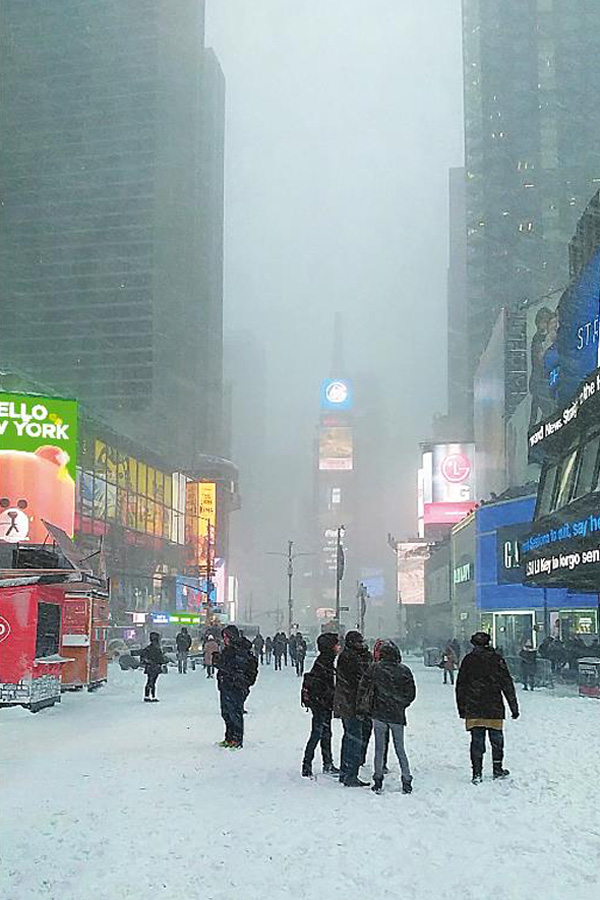 The city that never sleeps also doesn't sit still for a blizzard - correct that, a "bomb cyclone" or "bombogenesis".
Four days after one of its coldest New Year's Eve countdowns in history, New Yorkers and their fellow omnipresent tourists marched through the whipping winds and blinding snow of an epic storm that slammed the Eastern Seaboard of the United States on Thursday.
Times Square had an otherworldly, misty backdrop, but the Xinhua News Agency sign still was visible through the icy glaze. Icicles formed on some of the old-fashioned lampposts near one of the square's subway entrances on 43rd Street, creating a 19th century-like postcard view.
The pedestrians were out in decent numbers, and if you're visiting New York for what might be the first time, why not embrace the beast instead of holing up in your hotel room?
The fact that people were out and about (the Starbucks in Times Square was packed, filled even more by parka-wearing patrons) was because the trains and buses were running.
Without mass transit, which is the city's circulatory system, businesses have a tough time opening.
"We're fully running normal service, and we'll continue to do that throughout the day," Metropolitan Transportation Authority Chairman Joe Lhota said on Thursday morning.
For this storm, the authorities didn't abruptly shut down mass transit at a certain hour, as they did for some big storms the past few years, one or two of which turned out to be duds.
In 2012, they had no choice, because some of the stations were submerged during Superstorm Sandy.
Chen Weihua, China Daily USA's deputy editor and chief Washington correspondent, was faced with a dilemma on Wednesday evening. He had been working in New York the past couple of weeks and was due back in Washington on Thursday. But had he left on Thursday morning, he'd be driving into the storm.
So he saddled up the SUV and headed south on Interstate 95 on Wednesday evening. He made it back safely around midnight after a four-hour drive.
"The drive, after a whole day's work putting out the newspaper, was not as challenging as I had expected. I was quite awake, partly thanks a lot to the oolong tea I prepared. It energized me," Chen said via WeChat.
"Driving out of New York from Dumbo (down under the Manhattan Bridge overpass in Brooklyn) via Staten Island at night also allowed me to view the beautiful New York at night, just hours before the storm."
As for the bombogenesis, it occurs when a storm rapidly intensifies over a 24-hour period, according to the National Oceanographic and Atmospheric Administration (NOAA) in the US Commerce Department.
"It's a mid-latitude cyclone that rapidly intensifies, with a central pressure that drops at least 24 millibars over 24 hours," the NOAA website says. (A millibar measures atmospheric pressure.)
"The term is a meteorological one and doesn't describe the impacts of the weather system, which often include high winds, heavy precipitation and even storm surge," the NOAA says.
Winds gusting as high as 55 mph were reported, the type of gusts that forced the NYC Ferry service to call it a day, although the Staten Island Ferry, with its much heftier boats, was running on a modified schedule.
The National Weather Service said a winter storm warning would remain in effect until 1 am Friday, with snow accumulations of 8 to 12 inches possible; however, by 3 pm Thursday, the skies in Midtown Manhattan were clear.
Once the temperatures warm up (the forecast is for near 40 degrees Fahrenheit on Monday), what we'll probably hear next on TV is how close we are to spring.
Contact the writer at williamhennelly@chinadailyusa.com