Team China sets its gold standard
Short-track speed skating, figure skating, freestyle aerials targeted
Team China is focused on medals in short-track speed skating, figure skating and freestyle skiing aerials at next month's Pyeongchang Winter Olympic Games, but is taking nothing for granted in its quest for glory, according to a senior official.
In an exclusive interview with Xinhua, Sun Yuanfu, deputy director of the winter sports department of the General Administration of Sport of China, warned that China faces stiff competition in South Korea.
"We need to be fully prepared for the challenge at Pyeongchang. If we are lucky, we can get some gold medals. If not, we may get none. We have to work for the best and be prepared for the worst," Sun said.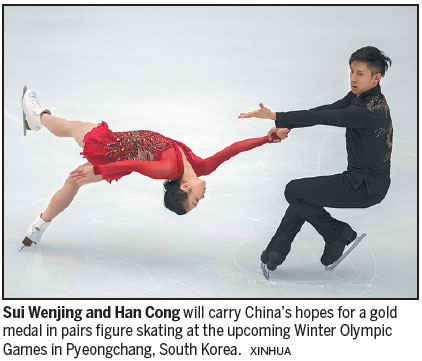 China's short-track skaters have won nine golds at the past four Winter Olympics, but Sun cautioned that medals this time around will be no gimme.
"It is right that we are good at short-track speed skating, but we should also remember that the host of this year's Winter Olympics is also very strong in this sport," said Sun.
"There are still some very good skaters from Europe and North America. The competition will be very fierce in Pyeongchang and we will have to fight really hard for every single medal," Sun said.
China's reigning world champions Sui Wenjing and Han Cong are considered title contenders in the pairs figure skating event, and Chinese athletes will also have title hopes in the men's and women's ski aerials.
"In these events, the medals will be decided by the judges. In other words, nothing is guaranteed. First, we have to perform to our best standard. Then we will need a bit of luck," Sun said.
Fifty-three Chinese athletes have secured their tickets to Pyeongchang, while Sun expects another 15-20 to qualify over the next few weeks.
"The number of Chinese athletes competing at Pyeongchang will be more or less the same as the last Games in Sochi. The good news is that our athletes will probably have the chance to take part in some events for the first time ever, namely freestyle skiing half-pipe, snowboarding parallel giant slalom, bobsleigh and skeleton."
Sun said it will be very difficult for China's athletes to outperform their Asian neighbors Japan and South Korea at these Games.
"South Korean athletes are competing at home, they are very strong in short-track speed skating and speed skating. I think they can get four to five gold medals in short-track alone," Sun said.
"As for the Japanese delegation, I guess they will take home about four gold medals.
"As the host of the next Winter Olympics in 2022, we have a lot of work to do and we have to work really hard over the next four years."
At the 2014 Games in Sochi, China collected three golds, four silvers and two bronze, while South Korea pocketed three golds, three silvers and two bronze and Japan finished with one gold, four silvers and three bronze.